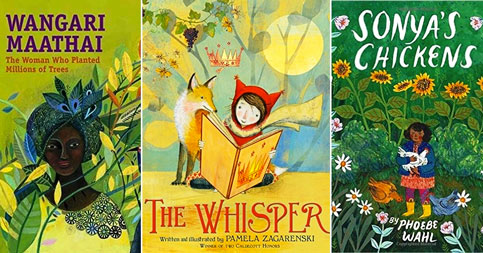 By Katherine Handcock, A Mighty Girl Communications Specialist
2015 has been a fantastic year for new Mighty Girl books! We're thrilled to see so many authors, illustrators, and publishers producing books that celebrating brave, intelligent, creative, and confident girls! In fact, our 2015 Year In Review collection features nearly 200 titles!
In this blog post, we're showcasing many of our favorite 2015 girl-empowering releases for toddlers, preschoolers, and early elementary-aged children, including board books, picture books, and early chapter books. With a wide assortment of books featuring diverse characters, engaging stories, and creative artwork, there's sure to be a title to delight every child!
And if you're looking for a tween or teen, stay tuned, check out our blog post,
Top 2015 Mighty Girl Books for Tweens and Teens, for our favorite new releases for older readers. You can also browse our entire 2015 Year In Review collection for options for all ages.
2015 Mighty Girl Books for Young Readers
Brush Your Hair, Medusa
Medusa refuses to take proper care of her long, curly hair, which gets knottier and dirtier with every moment. Her hair is so twisted and matted that, when her grandmother finally arrives, she's frozen in surprise! Grandma knows the solution, though, and after a hairdresser bravely does battle with her locks, Medusa is sporting a brand new — short and easy to maintain — hairstyle.
I Am A Big Sister
When a new sibling is on the way, Mighty Girls may need a little support in adjusting to their new expanded family — and this book is sure to help! With cheerful illustrations and fun rhymes, Church celebrates all the things that a big sister can do to fill a special role in the family, from helping push the stroller to fetching supplies at feeding time. It's a great way to prepare soon-to-be big sisters for the new arrival.
Wolfie the Bunny
When the Bunny family finds a baby left on their doorstep, they're all smitten — except for little Dot, who's alarmed that no one sees that their little wolf baby could eat them all up! And on top of her fears, Wolfie turns out to be an annoying little brother, tagging along whenever she does anything. But when it's Wolfie whose being threatened, will Dot overcome her dismay at the new addition to the family long enough to save the day? This funny book has a heartfelt message about the importance of family.
Once Upon A Cloud
Celeste wants to give her mother something very special, but she can't think of just the right thing. As she lies in bed, though, she finds herself whisked off into the sky, where she searches the sun, moon, and stars for the perfect gift. Finally, from her viewpoint high above, Celeste sees the perfect thing — and the next morning, after some careful gathering, her mother is delighted by Celeste's surprise. Keane, who worked on the Disney films Tangled and Frozen, uses soft pastels to excellent effect in this dreamy story of the love between mother and daughter.
Ask Me
As they go for a walk through their neighborhood, a patient father encourages his daughter to ask him all of the questions she is brimming with as they explore the world. This wise dad knows that there's much beauty and love to share in this idle walk and rambling talk. And with each new sight prompting another train of thought comes something else: the confidence and joy that comes from knowing that your father is really listening. This poetic and gentle picture book is sure to prompt your own sessions of "ask me."
Special Delivery
Sadie's Great-Aunt Josephine lives alone and must be terribly lonely, so Sadie decides an elephant would make the perfect company. But it turns out that it's not as simple to get an elephant to her aunt as Sadie thought! Sadie tries mail, plane, train, and even alligator delivery, but despite all the obstacles — and kooky characters — she encounters, she's determined to get her gift where it belongs! This hilarious and quirky story, paired with fun, cartoony illustrations, features tons of crazy sound effects and wacky situations that are sure to get kids laughing!
Interstellar Cinderella
In this unique retelling of the Cinderella story, Cinderella works all day repairing simple household robots, but at night, she sneaks off to study rocket mechanics. When she gets left behind -- without her tools -- while her stepmother and stepsisters go to the Prince's Royal Space Parade, her fairy godrobot appears to give her a helping hand in the form of new tools and a space suit. After she fixes a broken ship with her gifts, she's off to space! But when she encounters the Prince in his broken down ship, Cinderella might just discover a new calling —  as the new chief royal mechanic! This fun story with its retro-style illustrations is sure to delight kids with its tinkering heroine.
Butterfly Park
When a little girl moves to a new town, she misses the butterflies that flittered around her rural home. She's delighted to find Butterfly Park... but when she opens the gates, there are no butterflies. Catching butterflies and bringing them to the park doesn't work; it's flowers that will encourage them to come and stay. Soon, she and her neighbors are working together to plant a butterfly garden, something that makes the butterflies — and the little girl — feel right at home. With astonishing "lightbox diorama" illustrations, this book is a visual treat and it even includes a guide to planting your own butterfly garden.
One Day, The End: Short, Very Short, Shorter-Than-Ever Stories
This little storyteller has plenty of energy, a thirst for adventure, and boundless energy! But when she tells her stories, she's in such a rush that she occasionally leaves a few things out... Fortunately, the fun illustrations captures the details of her terribly short stories, which provided unexpected and surprising storylines in the midst of a seemingly simple tale. Her final tale? "One day... I wanted to write a book." Kids will giggle at the antics in the pictures, but they'll also be inspired to play with their own shorter-than-ever stories.
Girl Power 5-Minute Stories
This terrific collection of ten stories is perfect for storytime! Each fun, brightly illustrated story takes about five minutes to read, so you can sneak in a few with ease. This volume includes some of the A Mighty Girl community's favorite picture books, including Karen Beaumont's I Like Myself, as well as out-of-print favorites like Monica Brown's Chavela and the Magic Bubble. The deluxe cover makes this collection perfect for gift-giving.
The Princess and The Pony
Princess Pinecone wants to be a warrior princess, but every birthday, all she gets are fuzzy sweaters. So this year, she's completely clear about what she wants: a horse. A big, strong, ferocious war horse! Instead, she gets... a roly-poly pony that's more than a little smelly. While she's disappointed, there's one thing Pinecone knows — a true warrior can take advantage of any opportunity! This silly story from the author of Hark, A Vagrant! is not only fun but also sends the important message that gentleness can often have a greater impact than force.
Drum Dream Girl: How One Girl's Courage Changed Music
Long ago, a girl lived on an island filled with music... but everyone knew that girls could not be drummers. And yet the girl heart drumbeats wherever she went, until finally she couldn't help herself and began to practice in secret. And when the Drum Dream Girl finally dared to play her music for everyone, they danced, sang — and agreed that music was for everyone, boys and girls. This story, inspired by the childhood of Chinese-African-Cuban drummer Millo Castro Zaldarriaga, will delight and inspire any child whose heart holds a dream.
Marilyn's Monster
Some of the children in Marilyn's class have monsters... in fact, more and more do every day. But Marilyn's hasn't shown up yet, and it's not like she can go looking — everyone knows that your monster has to find you, not the other way around. But when Marilyn gets tired of being patient and trying to be the kind of girl a monster just can't resist, she decides to break all the rules and go hunting for one herself! This charming story tackles two of the hardest parts of childhood — waiting and wanting to belong — in a funny and heartfelt way.
Sonya's Chickens
Sonya's father gives her three little chicks and tells her that taking care of them is her responsibility. And Sonya does her job well: soon, they're full-grown hens and she even finds an egg hiding in the straw! But one night, after she hears tremendous noise from the hen house, one of her chickens is gone, stolen by a fox. Fortunately, her caring father is there to show her how her own loss means growth and renewal for the fox and her kits. This thoughtful and gentle story teaches an important lesson about the interconnectedness of all living things.
I Am Lucille Ball
Lucille Ball could famously make any situation funny and her comedic genius made the world laugh. But she was also a trailblazer in other ways — her business acumen allowed her to break new ground as the first woman to run a television studio. This picture book biography, part of the Ordinary People Change The World series, will show your kids that anything — even a great sense of humor — can be the jumping off point for a career that changes the world. Fans of the series can also get this box set containing the first four volumes: Abraham Lincoln, Amelia Earhart, Rosa Parks, and Albert Einstein.
One Word From Sophia
Sophia has only One True Desire for her birthday: a pet giraffe. But she has Four Big Problems in the way: Mom (a judge), Dad (a businessman), Uncle Conrad (a politician), and Grand-mama (a strict disciplinarian). She gives each member of her family an individualized presentation — complete with pie charts — but none of them are swayed. Not until she adds the most important word of all: "Please!" (And follows it up with "Thank you!") This clever book featuring a loving multiracial family blends kindergarten with the board of directors to hilarious result.
This Is Sadie
Sadie has a big imagination, and nothing sparks it more than the remarkable stories in her beloved books! In fact, Sadie loves stories most of all, because unlike in real life, in a story you can build anything and go anywhere — and always find your way home. In this charming picture book, kids will watch Sadie show how the power of creativity can make even the ordinary moments extraordinary. Younger kids will enjoy the vivid illustrations, while older kids can start spotting references to Alice's Adventures in Wonderland, The Jungle Book, and many more.
Sidewalk Flowers
A little girl walks through the city with her father who is distracted by errands and pays her little attention as she finds colorful wildflowers nestled into the cracks and crevices of the pavement. Her hands are soon bursting with flowers and she starts to give her treasured blooms away — to a man sleeping on a bench, to a friendly dog, to a dead bird on the sidewalk, and to her mother and siblings when they finally arrive home. By the time the story ends, her small acts of kindness have brought color and joy to the whole neighborhood. This gorgeous and emotionally powerful wordless picture book is sure to be shared over and over.
Mahalia Jackson: Walking With Kings and Queens
Even as a young girl, Mahalia Jackson loved singing gospel music: no matter how difficult her life was, gospel made her heart feel light. And as she got older, she realized that her voice also had the power to bring joy to everyone around her and she wanted to share it with the world. Eventually, Jackson's determination took her all the way to Washington, where her voice helped inspire Martin Luther King Jr. and everyone else during the famous March on Washington for Jobs and Freedom. Full of rich, colorful illustrations, this poignant, inspiring story will fascinate kids.
Stella Brings The Family
Everyone in class is excited about the big Mother's Day party... except Stella. She has two daddies, who help her with homework, tuck her in at night, and make her feel more loved than anyone else could. She also has lots of other people who love her: a large extended family who support her and encourage her in everything she does. She just doesn't have a mom to bring to the party. But thanks to that same supportive crowd — and a little inspiration from a classmate — Stella finds the perfect solution to celebrate her very special family.
The Tea Party in the Woods
When Kikko realizes that her father left behind the pie he was going to take to Grandma's house, she offers to take it to him. But on her journey through the woods, she finds a mysterious house and a little lamb carrying a purse and asking if she's there for tea! Perhaps there's something quite magical going on in the woods today... With its gentle story and enchanting illustrations, this original story has the flavor of a classic fairy tale that's sure to be beloved for years to come.
I Am Helen Keller
When Helen Keller was very young, she lost her sight and her hearing, leaving her unable to communicate. That is, until a dedicated teacher, Miss Annie Sullivan, came into her life six years later. And once Helen learned how to express herself, she had an important message to say: people with disabilities have big ideas too! Another entry from the Ordinary People Change The World series, this book captures the power of any person who is willing to advocate for others. Fans of the series can also get this box set containing the first four volumes: Abraham Lincoln, Amelia Earhart, Rosa Parks, and Albert Einstein.
Monster Trouble
Winifred Schnitzel isn't scared of the monsters in her bedroom, but she sure is frustrated — she needs her sleep! Every night they're there, making a ruckus, despite the cleverest traps that Winifred can think up. Perhaps Winifred will have to get a bit more creative to deal with her monster problem (Hint: monsters hate kisses!) This funny bedtime story will have kids giggling — and contemplating how they might deal with their own exasperating fears.
The Specific Ocean
A girl's family is vacationing by the Pacific Ocean and she is not happy about it — at first. Who said she wanted to leave her friends in the city for a boring, freezing ocean anyway? But as she slowly allows herself to be coaxed into exploring the seaside, she discovers that the ocean has its own rhythm, once that defies rushing and hurry and encourages her to pause and enjoy its beauty. And when she has to leave, she realizes that she can take that gentle ocean — this specific ocean — with her wherever she goes. This lyrical picture book by the author of Virginia Wolf also conveys an important message about the power of natural spaces.
The Princess in Black and the Perfect Princess Party
Princess Magnolia (aka, The Princess in Black) is back in the second installment of this funny early reader series! It's Magnolia's birthday, and she's hosting a very proper princess party... which means that this is a terribly inconvenient time for the monster alarm to go off! Not only does it happen once, but again, and again. Her guests are getting suspicious and Magnolia is getting exhausted! How will she maintain her secret identity and still protect the kingdom? Fans of the first book, The Princess in Black, will be thrilled to see this daring princess back in action again!
Stone Angel
When Nazi soldiers invade Paris, a little girl family has to flee to avoid being sent to a concentration camp. After finding resistance fighters in the woods, they make a dangerous trip over the mountains and across the Channel to reach England. All the while, the girl remembers the stone angel near their apartment; she's sure that it's watching over them, guiding them to safety. Yolen, who is famous for her depiction of Holocaust history from The Devil's Arithmetic, provides a gentle picture book introduction to the topic that captures the sorrow and fear of the time, while still maintaining a sense of hope and triumph.
Sewing Stories: Harriet Powers' Journey from Slave to Artist
As a slave girl on a plantation in Georgia, Harriet Powers learned how to sew and quilt — so when the slaves were freed, it only made sense to turn to her skill with a needle and thread to support herself and her family. She eventually started making pictorial quilts, illustrating everything from Bible stories to local legends. Today, these quilts are priceless examples of African American folk art. This conversational biography about an important but little-known figure from the American art world will give kids a new perspective on the power of sewing stories.
Anne Frank and the Remembering Tree
In Amsterdam, next to a building that is now a museum, there stands a tall tree — a tree that was witness to one of the remarkable stories of World War II. The building is the Secret Annex, and within it, with little to see but the tree's branches, Anne Frank, her family, and her friends hid from Nazi soldiers. Through the unique perspective of this tree, author Sandy Sasso tells the story of Frank's life, death, and legacy — and communicates a powerful message about the importance of empathy and compassion.
The House That Jane Built: A Story About Jane Addams
Jane Addams wanted to find a way to change the world, but she didn't know what that would be until she saw Toynbee Hall in London, a settlement house dedicated to social reform and working towards a future without poverty. Inspired, she returned to America and bought a run-down house in a Chicago neighborhood that became Hull House, a community center where newly arrived immigrants could find medical care, English lessons, athletic classes, and more. Her house transformed the neighborhood and, through her anti-war activism, Addams' helped transform the world — so much so that she became the second woman in history to be honored with a Nobel Peace Prize.
The Whisper
As a little girl runs home with a new book from school, all the words go tumbling out of the book! But when she stares, perplexed, at pages full of nothing but pictures, she hears a whisper that tells her to imagine her own words. Tentatively at first, but emboldened by the voice's assurance that there are no rules, the girl decides to give it a try and discovers the power of imagination and storytelling. Zagarenski, a two-time Caldecott Honor artist, makes an impressive debut as an author in this contemplative and beautifully-illustrated tale.
Juna's Jar
Juna and her best friend Hector love to go on adventures together, collecting the things they find in empty kimchi jars. Then, one day, Hector moves away — and Juna doesn't even get to say goodbye. Her older brother Minho tries to heal her heartbreak with gifts, but nothing helps until her jar leads her on a magical journey far away where she can see that Hector is safe and happy. This sweet story captures the power of the imagination to reassure kids when their world changes.
Lillian's Right To Vote: A Celebration of the Voting Rights Act of 1965
Lillian may be 100 years old, and the walk to the polls may be a "long haul up a steep hill", but nothing will keep her from filling out her ballot! As Lillian walks, she remembers key moments in her family's — and the country's — history, from the passage of the Fifteenth Amendment and her great-grandfather voting for the first time, to a younger version of herself, marching in a protest from Selma to Montgomery. This compelling story takes one woman's determination to climb a steep hill and uses it as a metaphor for the ongoing journey of the Civil Rights Movement.
Queen of the Diamond: The Lizzie Murphy Story
Lizzie Murphy was phenomenal at baseball, better than any of the boys — but in the early 1900s, baseball wasn't a game for girls. Lizzie didn't care; she practiced with her brother, talked her way onto the boys' team, and impressed everyone with her hard catches and fast pitches. So when she turned eighteen, Lizzie dared to take an even bigger step: she tried out for a professional team. Perhaps women could play baseball after all... This story of the first woman to play in a major-league exhibition game is sure to delight baseball fans.
One Plastic Bag: Isatou Ceesay and the Recycling Women of Gambia
In Gambia, when people used woven baskets, they would toss them out when the broke, and the baskets would break down. But when they did the same thing with plastic bags, the bags never went away. In addition to the mess, they resulted in mosquito-borne diseases and the deaths of livestock. It was Isatou Ceesay's innovative idea to recycle the bags by crocheting them into purses, and soon, the streets were clean again. This real-life story of a clever woman's solution to both an ecological challenge and a way to find employment for local women is sure to inspire young readers.
Swing Sisters: The Story of the International Sweethearts of Rhythm
In 1909, a doctor opened a home for African American orphans called Piney Woods Country Life School. There, they would find friends, education — and music! The most hard-working young musicians were the school's all-girl swing band. When the girls were too old for the school, they decided to move to Washington, D.C., to try to make it in the world of music. It wasn't easy in an era before integrated music groups, but eventually they became the International Sweethearts of Rhythm and a total sensation! This inspiring story of a pioneering band is sure to intrigue music-loving children.
Little Robot
A little girl who loves to tinker and fix things finds a robot in the woods — and is shocked when the push of a button activates him for the first time! Soon, the pair are the best of friends, but the little robot is also curious about its own kind. Unfortunately, the large, sinister robots at the factory that made the little robot are looking for him too and they don't care who they hurt along the way to get him back. Now, the two new friends will have to fight for the little robot's freedom! This fun and charming story, which stars an inventive and intelligent Mighty Girl, will be a hit with any young reader who's imagined having their own robot friend.
New Shoes
Ella Mae is excited when she outgrows her hand-me-down shoes — for the first time, she'll get a new pair of her very own! But when they go to the shoe store, Ella Mae and her mother discover the shop owner only allows white people to buy. Determined to fight back, Ella Mae and her friend Charlotte create their own business, gathering used shoes and repairing and polishing them to perfection. And at their shoe sale, the African American members of their community get to "try on all the shoes they want." This story provides an introduction to the concept of segregation, but also a powerful message of optimism.
Swan: The Life and Dance of Anna Pavlova
As a child growing up in Russia, Anna Pavlova was captivated by the ballet dancers her mother took her to see one winter's night. But a child like her — not only poor, but also small, thin, and frail — surely couldn't be a ballerina. Pavlova's determination and love of dance changed the ballet world forever, and to her dying day, she lived and breathed the graceful, exquisite Swan. This astounding picture book biography of the woman who was determined to share the art of dance with the world will delight young readers, in particular, lovers of dance.
An A From Miss Keller
Trisha is nervous about being selected for Miss Keller's special writing class: "Killer Keller" is infamous for being demanding of her students, and rumor says she's never given out an A. Trisha tries, but it seems there's no pleasing Miss Keller. Then, when Trisha is touched by a tragedy, she pours her heart out into her writing — without worrying about her grade — and receives rare, high praise from Miss Keller: "you've given your words wings." This autobiographical story will speak to any student who is pushing to reach their full potential.
Ada Byron Lovelace and the Thinking Machine
Thanks to her mathematically talented mother, Anne Isabella Byron, young Ada had the opportunity to develop her remarkable intelligence. Even when a bout with measles left her temporarily blind, her mother would keep Ada occupied by quizzing her with math problems that she would calculate in her head. Years later, when she met Charles Babbage, the inventor of the first mechanical computer, he named her the Enchantress of Numbers for her astounding mathematical skills. Little did either of them know that, when she designed an algorithm for Babbage's Analytical Engine, she would be making history — by writing the world's first computer program! With vivid artwork and intriguing anecdotes about Lovelace's genius, this picture book biography pays homage to a little-known but deeply influential figure in computing history.
The Only Child
In this wordless picture book, a little girl, lost and alone, follows a mysterious stag deep into the woods, where she finds a strange and beautiful world. But after she enjoys the wonders and companionship that the animals of this new world have to offer her, she realizes that home and family are far away. How can she find her way back? This debut book, which is laid out in a hybrid of picture book and graphic novel, features elegant and expressive black and white pencil illustrations that will have kids returning to this story over and over.
The Girl Who Buried Her Dreams In A Can
Years ago in Rhodesia, a child dreamed of an education that was off limits to girls like her. So while she taught herself to read and count, she reconciled herself to a life as a wife and mother only. But when she married, she followed a community tradition: she wrote her dreams down and buried them in an old can as a reminder never to give up. Years later, Dr. Tererai Trent would indeed get university degrees in America — and return to educate the children at her home. This inspiring true story of perseverance despite years of obstacles is sure to inspire.
In Mary's Garden
Mary Nohl always had one passion — she wanted to make art, out of anything she could find! Whenever something caught her attention, she turned it into something she thought was beautiful and put it in her garden — so eventually, her garden was an art gallery! Not everyone appreciated Mary's art — several neighbors complained her strange sculptures — but she knew that the most important thing was creating something she thought was beautiful. This picture book biography captures the whimsy and unique perspective of this real-life groundbreaking artist.
My Name Is Truth: The Life Sojourner Truth
Former slave Isabella Baumfree transformed herself into the orator Sojourner Truth, speaking out for equal rights on behalf of both the abolitionists and the women's rights movement. This beautifully illustrated picture book biography is written in the voice of Truth herself, like a monologue in dialect, giving young readers a sense of the power of the spoken word to influence people. This moving and passionate story is a fitting tribute to a dedicated and inspirational figure from American history.
Jars of Hope: How One Woman Helped Save 2,500 Children During the Holocaust
In Poland's Warsaw Ghetto during WWII, a young nurse and social worker went about her daily work, caring for the sick — and smuggling Jewish children out to safety. Irena Sendler knew what she was risking, but she couldn't bear to watch children suffer and do nothing. And after every child was safe, she meticulously recorded their name in hopes that, someday, they could be reunited with their families. This gripping story of a real-life World War II hero who helped to save 2,500 children from near certain death is sure to inspire young readers.
Sonia Sotomayor: I'll Be The Judge of That!
Sonia Sotomayor went from growing up in the projects to making history as the first Latino justice on the US Supreme Court — and along the way, she broke a lot of "rules" about what women like her were supposed to do! In this entry from the new Women Who Broke The Rules series, kids will learn about how Sotomayor's hard work and determination helped her achieve a dream that few would have thought possible. For more volumes from this new series, including ones about Sacagawea, Coretta Scott King, and Judy Blume, visit our Women Who Broke The Rules Collection.
Wangari Maathai: The Woman Who Planted Millions Of Trees
Nobel Prize winner Wangari Maathai saw many problems with her beloved home country of Kenya, including the need for equality for women and for protection of the environment. So she found a way to combine both with her Green Belt Movement, which taught women how to engage in sustainable growing practices, while also pushing for democracy to ensure that the peoples' needs were considered by government. Unlike many biographies of this remarkable women, this exquisitely illustrated book not only talks about Maathai's legacy of lush trees, but also about the political and social upheavals that influenced her.
Chasing Freedom: The Life Journeys of Harriet Tubman and Susan B. Anthony, Inspired by Historical Facts
If Harriet Tubman and Susan B. Anthony sat down for a cup of tea together, what would they say? One thing is for sure: hearing their stories in their own voices would be a remarkable experience! In this well-researched work of historical fiction, Grimes provides and accessible introduction to two amazing women of American history. Additional back matter provides resources to help curious young readers learn more about the Underground Railroad, the Civil War, and the suffrage movement.
Additional Recommended Resources