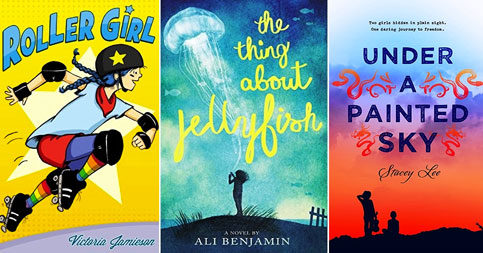 Earlier this month, we shared our top picks of 2015 Mighty Girl stories for toddlers and young children in our post, Top 2015 Mighty Girl Books for Young Children. This year's releases included a bounty of girl-empowering fiction and biographies for both middle grade and young adult readers. In this blog post, we're sharing many of our favorites from the past year. With such a wide diversity of books ranging from realistic fiction to fantasy -- all starring Mighty Girl protagonists -- there's sure to be a title to intrigue every reader young and old alike!
For our favorite picture books and early chapter books from 2015, visit our post on the Top 2015 Mighty Girl Books for Young Children. You can also view our entire collection of recent Mighty Girl releases in our special feature 2015 Mighty Girl Books: A Year in Review.
2015 Mighty Girl Books for Tweens and Teens
Claudette, Marie, and Gaston from Giants Beware! are back! In this volume, the village is in desperate need of Breaker, Claudette's father's magical sword. The only problem is that the sword was lost years ago — swallowed by the dragon Azra the Atrocious, along with her father's legs! And when Claudette gets left behind from the recovery mission, she (inevitably) recruits her little brother and her best friend to take off after them in hopes of slaying the ferocious dragon. Fans of the first volume will love watching the characters continue to find their strengths in this rollicking and funny graphic novel.
Additional Recommended Resources