A Mighty Girl's favorite books and resources focused on charity, giving, and community service to inspire all kids to make a difference!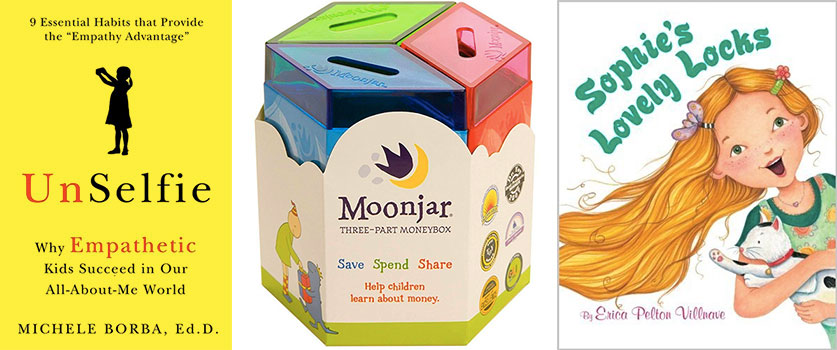 On January 18, the United States recognizes the birthday of Martin Luther King, Jr., the civil rights leader who famously said "Life's most persistent and urgent question is: 'What are you doing for others?'" To honor King's memory, since 1994 this federal holiday has also been celebrated as a day of service. The website for the Martin Luther King, Jr. Day of Service encourages people to think of the holiday as "a day on, not a day off" by volunteering for local causes.
In addition to contributing time to good causes, this day also provides an excellent opportunity to talk about service, charity, and generosity with children. By providing concrete examples of ways to help and showing them that their efforts do make a difference, parents and educators can encourage children and youth to be socially minded. Then they can turn their creative minds toward finding solutions to the problems they see around them!
With that in mind, A Mighty Girl has collected a series of resources that emphasize the value of charity, community service, and giving. Whether your Mighty Girl decides to contribute time, talent, or treasure to a charitable cause, these books will help her understand the value of compassion and generosity. And, if you'd like volunteering to become a part of your family's life, there is a selection of parenting books to help guide you on getting started.
So why not find a way that you and your Mighty Girl can volunteer together throughout the year? You and your Mighty Girl will be amazed at the rewards that giving can bring.
Why We Give: Explaining Charity To Children
Kids who are used to having what they need may find it hard to believe that anyone lacks for the basics. These books will help parents and educators show kids that there are many people out there who need our help — and that small contributions can make a big difference, both locally and globally.
Beatrice lives in a small African village and dreams of going to school, but her family can't afford the extra expenses of books and uniforms. A goat, provided by a donation to Heifer Project International, seems like a small gift, but soon the goat provides enough milk to feed the family plus extra to sell, and the difference to Beatrice's family is astounding. This story, based on the real experience of one village, will give your Mighty Girl a tangible example of how even a small donation can make a big difference.
Taking Action: Donation, Volunteering, and Community Service
One kids understand why charity and community service is important, it's time to turn theory into practice! These books will help show girls the kinds of projects they can be involved in — or, if she has her own project idea, teach her how to make it a reality.
Additional Recommended Resources