Simple actions you can take to show support for refugees in your community.
This week, in honor of Valentine's Day, we're spreading love by helping refugees in our local communities. Right now, the world is in the midst of the greatest refugee crisis since WWII. According to UNHCR, there are 21 million people worldwide who have been forced to seek safety in a new land due to war or conflict — and half of all refugees are children.
When refugees arrive in a new country, often with few belongings and not speaking the language, staring a new life can be challenging. Support from the local community, however, can made a tremendous difference, especially at making people feel welcome during these times when anti-refugee/anti-immigrant rhetoric has become all too common.
In this blog post, we've shared a number of simple actions that you can take to show support for the refugees in your community, both in the US and in Canada, the UK, Australia, and New Zealand. Since refugee resettlement in the U.S. has also been the subject of significant confusion recently, we've also provided a short overview of how it works and an update on recent events. Finally, if you'd like to talk to children about refugees and why supporting them matters, you can find books to share with both children and teens in our blog post, Seeking Safety in a New Land: 15 Books About Mighty Girl Refugees.
Helping Refugees in Your Community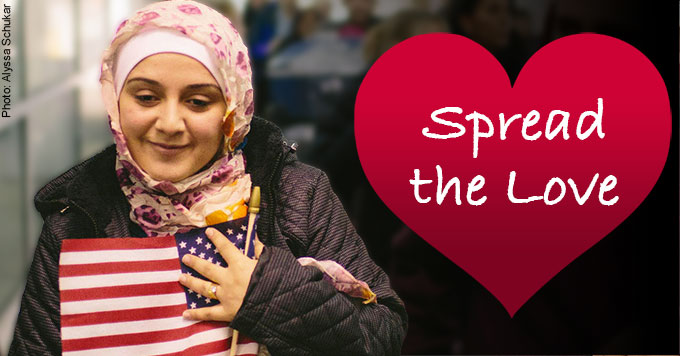 For Americans who would like to take action this week to show support for refugees in your community, here are a few easy things you can do:
A Short Introduction to U.S. Refugee Resettlement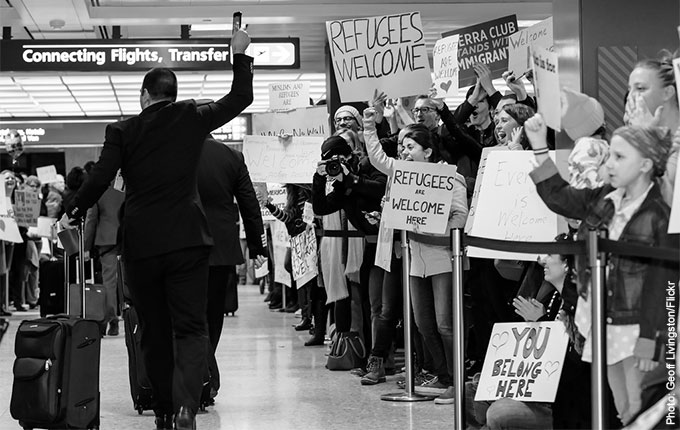 Since the nation's founding, many people have sought freedom and refuge in the United States. Following WWII, with hundreds of thousands of people fleeing war-torn Europe for the US, the country first began to differentiate between 'refugees' and 'immigrants' with the passage of the first federal refugee legislation, the Displaced Persons Act of 1948. Over the decades, the US continued to offer refuge to many people forced to leave their homes due to war and conflict. At times, the refugee program has especially focused on helping particularly vulnerable groups such as people escaping war and repression in the Soviet Union, Cuba, and Vietnam.
One of the world's current crises, the Syrian Civil War, has generated what UNICEF calls "the largest humanitarian crisis since the end of World War II." Most of the five million Syrian refugees who have been driven from their homes by the war are living in refugee camps or in developing countries with little support. Yet, like people throughout history, whether fleeing famine in Ireland or pograms in Russia, there are many who hope to start a new life in a safe place where their children can have the opportunity to go to school and they can build a future for themselves and their families.
The Administration's recent refugee ban, which has currently been suspended by the courts, indefinitely banned Syrian refugees from the U.S. and banned all other refugees -- even those who were already vetted -- for at least three months. One of the arguments made by the Administration to justify the ban was the need for "extreme vetting"; however, as many experts have pointed out, refugees accepted to the US already face extremely strict vetting procedures  which generally take from 18 months to two years to complete. The fact that there has not been a single fatal attack by a refugee, Syrian or otherwise, since the Refugee Act of 1980 first established systematic vetting procedures demonstrates the effectiveness of the current vetting system. The irrationality of banning refugees for security reasons given the extreme vetting they already undergo was even pointed out by the conservative think tank the Cato Institute which asserted: "[T]errorists who are intent on attacking U.S. soil have myriad other options for doing so that are all cheaper, easier, and more likely to succeed than sneaking in through the heavily guarded refugee gate. The low level of current risk does not justify the government slamming that gate shut."
Of the Syrian refugees who have been resettled in the US, nearly 80% have been women and children. This ban aims to close the door on one of the world's neediest populations, in direct repudiation of the American tradition of standing up for persecuted and vulnerable people around the world. While the courts have suspended this poorly-conceived and discriminatory ban after the Administration could not provide any evidence of threats by the refugees it targeted, the Administration continues to use inflammatory language suggesting there is a "dangerous" influx of refugees coming into the country. This sort of distorted rhetoric only contributes to the rise of hate-fueled attacks on immigrants and other groups witnessed since the election, and to the unease of refugees already in the country.
Now is the time to stand up for the best of American values: for diversity, inclusiveness, and acceptance of others, regardless of race or religion. To stay true to the principles reflected on the Statue of Liberty to "Give me your tired, your poor, Your huddled masses yearning to breathe free." And, most of all, to reaffirm our compassion and empathy for those in need. As Jewish educator Russel Neiss reflected in the aftermath of the ban, "There's something just about remembering the humanity of people that is getting lost in this debate. And when we talk about the importance of refugees being welcomed, we're not talking about people who are coming here because they want to come here on vacation. We're talking about people who are coming here because they're fleeing for their lives. And if we escape that, if we ignore that, if we can't remember that, then I don't know what our humanity is really all about... People always say that if you forget history then you will be doomed to repeat it. This is one of those moments where history gives us an opportunity to think about where we are now. When folks say 'never again' or 'we remember,' it is important for us to actually do so."
Taking Action to Help Locally in Other Countries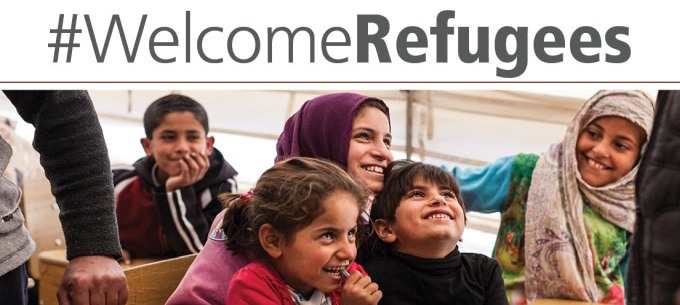 For our supporters outside of the USA, here are ways to get involved with supporting refugees in your own countries.
Canada
In Canada, you can volunteer with agencies that help with settling refugees -- both government and privately sponsored families; for a list of groups seeking volunteer help, check out this interactive map. If you would like to volunteer or donate to a private refugee sponsor, you can find an approved Sponsorship Agreement Holder in your area. The Canadian Red Cross, Community Foundations of Canada and United Way / Centraide Canada also help provide newly settled refugee families with housing, furnishings, clothing, and more as they build their new lives.
The UK
In the UK, the Refugee Council and Refugee Action are seeking volunteers and donations to help newly settled refugee families. You and your organization can learn about applying to be a community sponsor for refugees in your area. To learn more about donating goods to organizations that support newly arrived refugees, you can find lists for England, Wales, and Northern Ireland and for Scotland.
Australia
In Australia, the Australian Refugee Association is looking for volunteers and funds to provide a wide variety of services, from social supports to collecting furniture donations to providing homework assistance and mentoring to refugee youth. For a full list of Australian refugee organizations looking for volunteers, check out this list from the Refugee Council of Australia.
New Zealand
In New Zealand, the Asylum Seekers Support Trust is looking for volunteers and donations for their programs, including a hostel, three transitional homes, and help finding other assistance they may require as they adjust to a new country and culture. Employers can also contact the Ministry of Social Development if they have ideas for projects or programs to help refugees overcome obstacles to employment.