A Mighty Girl's top picks of books and toys for teaching kids about money management.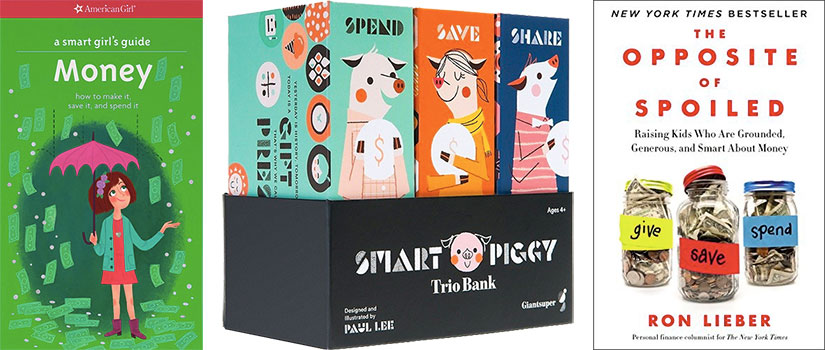 Financial literacy is an essential skill for every child to learn! Money is an integral part of modern life, and whether your child is a preschooler counting coins, an elementary school child saving for a new toy, a tween learning about investing, or a teen budgeting for school expenses or their first full-time job, there are plenty of opportunities to teach kids how to earn, save, spend, donate, and invest. And yet a recent study from the Girl Scouts found that only 12% of girls aged 8 to 17 feel very confident making financial decisions, proof that we need to do more to improve kids' financial literacy.
In this blog post, we've showcased our favorite resources to help kids (and maybe parents too!) learn more about money and how to manage it. From play money that helps young kids learning to identify coins and bills, to books that introduce concepts like debt, entrepreneurship, and investing to older kids, and even a few titles to guide parents in money conversations, these resources will help you give your Mighty Girl the confidence to manage her money successfully — and use it to plan for her future.
On the Money: Fiction about spending and saving
Rosa's family's home was destroyed by a fire, and while neighbors are able to provide much of what they need, the one thing that's missing is a big, soft chair to relax in after a long day. So every day, Rosa, Grandma, and Mama save everything they can in a big jar: Mama contributes her tips from her job as a waitress, Grandma tosses in change when she saves money at the market, and even Rosa puts her few pennies in. Finally, when the jar is full, the family is rewarded with a rose-covered chair, just as comfortable as they've been dreaming the whole time. Kids will root for Rosa and her family as the jar slowly fills, and rejoice when the chair comes home — and look a little differently at the simple pleasures that they enjoy every day.
Dollars and Sense: Guides to Teach Financial Skills
Play Money: Toys and Games for Teaching Money Skills
Leading the Way: Parenting Money-Smart Kids
Additional Recommended Resources