From an aerospace engineer to a helicopter pilot to a microbiologist, these five remarkable women will help lead the way in space exploration!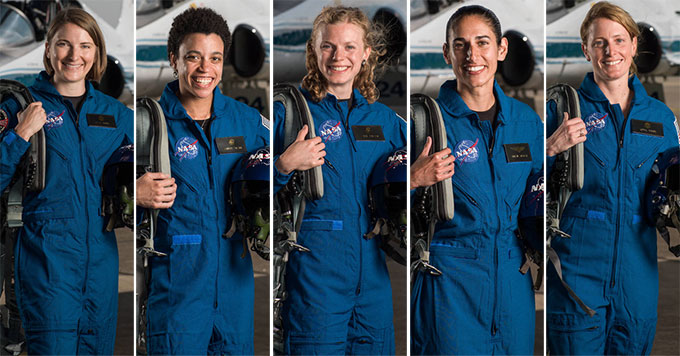 NASA's newest class of astronaut candidates has just been announced, and it includes five inspiring women! NASA received a record-breaking number of applicants for this astronaut class — over 18,000 in all — and the class itself has twelve members, their largest since the year 2000. "These women and men deserve our enthusiastic congratulations," said retired astronaut and Johnson Space Center Director Ellen Ochoa. "Children all across the United States right now dream of being in their shoes someday. We here at NASA are excited to welcome them to the team and look forward to working with them to inspire the next generation of explorers."
The astronaut candidates have two years of training in front of them before they're ready to break Earth's atmosphere, but in the meantime, space-loving Mighty Girls have five new role models to look up to! In this blog post, we introduce you to these five remarkably talented women. And, to inspire children who dream of their own careers in space, at the end of the post, we've showcased a variety of girl-empowering books and toys about shooting for the stars!
To introduce children and teens to more inspiring women of science throughout history, visit our blog post, Celebrating Science: 50 Books to Inspire Science-Loving Mighty Girls.
Women in Space: the 2017 Female Astronaut Candidates
Kayla Barron, Engineer and Navy Officer
Kayla Barron already knows something about what it's like to live in tight spaces, where a vessel wall is the only thing protecting you from a dangerous environment: the 29-year-old Navy lieutenant from Richland, Washington was one of the first class of eleven women to join the submarine service after the men-only restriction was dropped. "I really felt at home [in the submarine service]," she says. "Everyone is really talented and team-oriented."
The same aptitudes will suit Barron, who has a bachelor's degree in systems engineering and a master's degree in nuclear engineering, well as an astronaut candidate. She says her math skills weren't the best for her confidence, however, as she worked her way into the 120 people selected for interviews and the 50 finalists: "Like a good engineer, I was always doing the math in my head and calculating the probabilities," she recalls. "It seemed like a steep slope to climb." Barron wasn't even able to take the call from NASA telling her she'd been selected, because as the aide to the superintendent of the Naval Academy, she was on the review stand for the color parade. Her reaction when she was free and finally heard the news was appropriate: "I was just over the moon."
Zena Cardman, Marine Scientist and Microbiologist
To accomplish her research in microbiology, Zena Cardman has already been to some of the world's most remote environments, from Antarctic ice to caves where no daylight penetrates to hydrothermal vents at the bottom of the ocean. "I'm especially interested in life that lives in oddball environments on Earth, the extremophiles," says the 29-year-old from Williamsburg, Virginia. "For me, that's a good analogy for environments that might be habitable on another planet."
Cardman is a multitalented scientist whose bachelor's degree in biology included minors in chemistry, marine sciences, and creative writing, and she hopes that her flexibility will make her "that scientific Swiss Army knife in the field." Having also earned a Master of Science degree in Marine Sciences, she was a National Science Foundation Graduate Research Fellow at Pennsylvania State University when she was selected as an astronaut candidate — doing research work focused on "cave slime," which she says lives in "a really interesting environment. It's totally dark all the time. Life there is not fueled by normal things we look outside our windows and see." She's thrilled to be joining NASA just as they begin looking to longer missions, further away from the planet we call home. "There is a lot of change happening, so we are not sure where this current class is going to end up going," she says. "That's almost more exciting than knowing."
Jasmin Moghbeli, Helicopter Pilot and Aerospace Engineer
Jasmin Moghbeli has dreamed of being an astronaut since she was a child; she was inspired by a sixth-grade project about first woman in space Valentina Tereshkova. "We had to dress up like the person in class, and I had my little space outfit that my mom helped me make," recalls the 33-year-old from Baldwin, New York. "That was the first time I remember definitely saying 'hey, I want to be an astronaut' and started looking more into what I needed to do."
She earned both bachelor's and master's degrees in aerospace engineering and joined the Marines, becoming a helicopter pilot and rising to the rank of major, but she didn't give up on her dream of joining NASA, so this year she decided to apply — and found the first step of process surprisingly anticlimactic. "The first part is you just submit a resume," Moghbeli says. "So that part's a little underwhelming, you're like 'that's it?'" Fortunately, hearing the news that she had actually been selected to start astronaut training was everything that she'd been dreaming of for all of those years: "When I first got the call, I could tell you, my hands were shaking afterwards and I could barely dial the numbers to call my parents to tell them."
Loral O'Hara, Research Engineer and Wilderness First Responder
Loral O'Hara knows something about persevering until you reach your goal: the 34-year-old, who is a research engineer at the Woods Hole Oceanographic Institute, applied to the astronaut program twice before getting the good news; "Third time is the charm," she says. O'Hara has dreamed of being an astronaut since she was a child: growing up in Houston, her second-grade class grew tomato seeds that flew in one of the space shuttles, and "in high school I used to watch the space shuttle debriefings when they used to do those in the space center."
However, she tells students who dream of space not to feel bad if they struggle with some subjects: "my worst subject was actually math," she says. "I struggled with math the whole way through." Those struggles, however, didn't stop her from getting a bachelor's degree in aeronautical engineering or a master's degree in aeronautics and astronautics. O'Hara is also a private pilot and an avid outdoorswoman, and has been serving as a wilderness first responder, using her certified EMT skills to help people in trouble in remote places. She's excited to return to her hometown for training and even more excited about the possibility of a Mars mission: "That's been something that I think we've all been dreaming out for ages, just stepping foot on another planet!"
Jessica Watkins, Geologist and Curiosity Collaborator
Jessica Watkins wanted to be an astronaut so much that she started her university career in mechanical engineering — but then she discovered a passion for geology! "One thing that people have said to me... was that you want to make sure you are passionate about and fulfilled by what you do in your career, outside of being an astronaut," says the 29-year-old from Lafayette, Colorado. "[Astronaut] selection is so rigorous and the statistics are so small, you want to pursue something that you really love and that you would love to do for the rest of your life."
Her doctorate in geology led to a postdoctoral fellow in the Division of Geological and Planetary Sciences at the California Institute of Technology, where she started working with NASA's scientific division as part of the team working with the Mars Curiosity rover. An avid athlete and a former national rugby sevens team member, she's also been acting as a volunteer assistant coach for the women's basketball team at CalTech. Watkins is an advocate for women, especially women of color, in STEM, and she hopes that she can provide an encouraging example to a generation of Mighty Girls: "[I like] being able to be a face to others who may not see people who look like them in STEM fields in general, and doing cool things like going to space."
Books and Toys to Inspire Future Astronauts
Baby Loves Aerospace Engineering!
Accurate enough to satisfy an expert, yet simple enough for baby, this colorful book about a little girl and bird explores the basics of flight – from birds, to planes and rockets – and ties it all to baby's world. Beautiful, visually stimulating illustrations complement age-appropriate language to encourage baby's sense of wonder. Parents and caregivers may learn a thing or two, as well!
I Want to Be An Astronaut
The girl in this story is dreaming of a space adventure! She imagines herself as a member of a shuttle crew, blasting off into orbit — and then, discovering how every-day occasions like taking a nap or having a meal change when you have to do them in zero gravity. She'll go for a space walk and even fix a satellite... and then, finally, come safely home to Earth.
Maisy's Moon Landing
Maisy is curious about space — so she sets off for the moon! As kids learn scientific vocabulary like satellite and landing module, they also get to move levers and tabs to launch a rocket, drive the moon rover, and open a parachute when she's ready for landing. This book from the Maisy's First Science Book line is a fun way to show kids that childhood curiosity can lead to a scientific career.
To The Stars: The First American Woman to Walk in Space
When Kathy Sullivan was growing up, all the exciting jobs were only for boys, but she decided she was going to have an exciting job too! When she was a teenager, she learned to fly a plane, and in 1978 she became one of the first women to be selected by NASA. When she finally got to space in 1984, she made her mark as the first American woman to perform extravehicular activity — a spacewalk. This fun and inspiring story ends with detailed background info, including a note from Sullivan and capsule biographies of other American women space pioneers.
You Should Meet: Mae Jemison
Mae Jemison dreamed of becoming an astronaut from childhood. She went to medical school and joined the Peace Corps, but she never forgot that dream — so in 1985, she applied to NASA, and in 1992, Jemison became the first African-American woman to go into space! In this Level 3 Ready-To-Read book from the You Should Meet non-fiction series, newly independent readers can learn all about Jemison's fascinating life and career. Additional material at the end includes information about math and history, and even a timeline with fun facts about space!
Who Was Sally Ride?
No future astronaut's library is complete without a book about Sally Ride! She was the first American woman in space, but she was also so much more:  a brilliant physicist who loved English literature, a nationally ranked tennis player, an advocate for girls and women in science careers, and a role model for both girls and the LGBTQ community. This entry in the accessible Who Was...? biography series is a fitting tribute to the woman who changed the way girls saw their futures. For more books for all ages about this inspiring pioneer, visit our Sally Ride Collection.
Almost Astronauts: 13 Women Who Dared to Dream
Kids today may be astounded to learn that there was a time when women were considered completely unsuitable as astronaut candidates — despite proving that they were up to the physical and mental challenges. In this book, author Tanya Lee Stone tells the story of the Mercury 13, a group of women who dared to challenge NASA and late 1950s attitudes towards women by taking all of the tests required of male candidates. While these women did not get their turn blasting off into orbit, their dedication and determination set the stage for the generations of astronauts after them.
Women in Space: 23 Stories of First Flights, Scientific Missions, and Gravity-Breaking Adventures
There are few figures as inspiring as an astronaut: not only are they daring adventurers, they're also intelligent, dedicated scientists! In this book from the Women of Action series, kids will read about trailblazing women from ten different countries who dreamed of traveling to space. Including important figures like the Mercury 13, Valentina Tereshkova, Sally Ride, Mae Jemison, Chiaki Mukai, Kalpana Chawla, and many more, this book shares the obstacles they faced, the wonders they saw, and the influence they've made on the world. For any science-lover or would-be space traveler, this book is full of inspiration.
Solar System Globe Mobile
Everyone from babies to adults will love getting to watch the planets of the solar system, peacefully floating in this beautiful mobile! This detailed mobile offers plenty of details on the planets, making it a lovely addition to any would-be astronaut's bedroom or play room. Add a few glow in the dark stars to the ceiling and you'll have a space vista she'll want to gaze at for hours.
Green Toys Rocket
Blast off into outer space with this fun rocket ship with two astronauts from Green Toys! This rocket has a detachable top capsule and astronauts with molded-on spacesuits, helmets, and dual-tank backpacks. The rocket's door opens into stairs to the main compartment, and the capsule includes clever details like knobs and gauges. Environmentally conscious parents will also love that, like all Green Toys products, it's made from 100% BPA-free post-consumer recycled plastic and packaged in recyclable packaging.
Astronaut Dress-Up Set
Blast off with this fun astronaut costume! This detailed dress-up set includes a spacesuit with a rocket ship emblem, a fabric helmet, gloves, and even a customizable name tag for your little space adventurer. It's sturdy enough for all of your Mighty Girl's outer space adventures! For an option that fits a wider array of ages, check out the NASA Junior Astronaut Jumpsuit for ages 6 months to 12 years. Don't forget to add some fun accessories, like these NASA astronaut boots for ages 4 to 8 and this junior astronaut helmet with built-in sounds for ages 5 and up.
Solar System Puzzle
This 2 by 3 foot floor puzzle features a gorgeous view of our solar system! This high quality 48-piece puzzle includes labels on all the planets, as well as the sun and the moon. Careful attention to detail — like the vertical rings on Uranus — will please young astronomy buffs! Older puzzlers will want to check out The Stars puzzle from EuroGraphics for ages 12 and up, which features a breathtaking image of the V838 Monocerotis Nova Red Supergiant and 1,000 pieces.
Space Station Tent and Tunnels
Blast off into outer space with this incredible detailed tent and tunnel combo! The four foot square space station tent easily accommodates 3 to 4 kids at a time, while the four "docking tunnels" provide a fun way to get in and out. Best of all, all of the pieces collapse easily for storage or transportation in the included carry bag. For another play tent for future space travelers, check out the Rocket Ship Play Tent, also for ages 3 to 8.
Space Toob
Play out all sorts of space adventures with this handy set of twelve space-themed miniatures! The dozen figures include several astronauts, space vessels from the Gemini capsule to the International Space Station, the Hubble telescope, and more. All of them are based off of careful sculpts and are painted with fine details, and they pack neatly into the acetate tube for storage.
Night Sky Star Wheel
This easy-to-use star wheel lets stargazers in the 30 to 40 degree latitude zone easily find the constellations that will be visible at any time of night, any day of the year! At 8 inches in diameter, it's big enough to read easily while on nighttime walks. Kids will love getting to spot familiar stars and constellations with ease! Astronomers in the northern US and Europe can get this 40 to 50 degree latitude version; other versions are available covering additional latitudes.
Constellation Knee Socks
Budding astronomers and astronauts can enjoy the beauty of the night sky with these 75% cotton, 20% polyester, 5% spandex socks. Can you recognize all the constellations? These knee socks are tight enough to stay up well, but comfortable enough to wear all day. You can also check out these planet knee socks and these space CATdet crew socks for two more fun options for teens and adults.