Six of the ten national finalists in the premier science competition for middle schoolers are Mighty Girls! In this post, we introduce the girls and their incredible projects.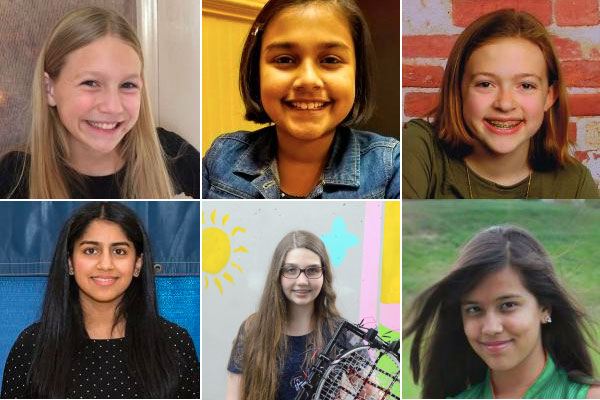 The Discovery Education 3M Young Scientist Challenge is the premier science competition in the U.S. for middle school kids and, like every year, the Mighty Girls in the competition continue to astound! The event challenges kids in 5th through 8th grades to use their scientific know-how to come up with an invention or solution that addresses an everyday problem. Whether it's an issue that affects themselves, their family, their community, or the whole world, they get to turn their ingenuity and drive towards making a difference — and every year, it's amazing what these young scientists think up!
This year, in a show of how girls and women are on the leading edge of science, six out of the ten national finalists are Mighty Girl scientists! These Young Scientist finalists will be spending their summers working with mentors to develop their visions into a more polished prototype, and we can't wait to see the results at the finals in October, where they'll be vying for a $25,000 prize and the title of "America's Top Young Scientist" for 2017.
In this blog post, we introduce you to these six clever and creative Mighty Girls and their incredible projects. From harnessing an unexpected source of clean energy to cleaning up oil spills with everyday materials to changing the way we design medical equipment for kids, these Mighty Girls' inventive solutions to everyday problems will inspire science lovers of every age!
To encourage your Mighty Girl to see herself as a scientist, just like these finalists, check out our blog post, Celebrating Science: 50 Books to Inspire Science-Loving Mighty Girls.
The 2017 Mighty Girl Young Scientist Finalists
Laalitya Acharya: Using Traffic to Generate Clean Energy
13-year-old Laalitya Acharya of Mason, Ohio saw potential to address the world's energy crisis — by harnessing the power of passing vehicles. Laalitya was intrigued by the idea of piezos, which generate electricity when put under pressure. She realized that if you could implant piezos into a device in a roadway, it would be under pressure every time a vehicle passed — turning traffic into an electric generator! Her TraffEnerate prototype uses eleven piezos attached to a block that ensures that all of the sensors are depressed, even if a vehicle doesn't pass directly over it. To test it, she even developed a reciprocating machine that better simulates passing vehicle tires. Now, she's hoping to work with the city engineering department so that she can test TraffEnerate on a busy intersection. Then, this Mighty Girl wants to take it to people with limited access to electricity, like the communities she sees on her annual family visit to India: "I saw children who have no power in their homes, huddling near dangerous fires. I wanted to change their position in life, to make it better by creating clean energy and electricity... I [want] to change the world, that simple."
Anika Bhagavatula: Cleaning Oil Spills with Orange Peels
14-year-old Anika Bhagavatula of Wilton, Connecticut knows how much damage oil spills can do to water systems — but this Mighty Girl also knows that the clean-up materials have environmental impact too. Sorbent booms, floating barriers made of material that absorbs oil, are effective, but when the cleanup is done, the sorbent adds to the hazardous materials building up in landfills. Anika realized that a natural sorbent material would be easier to dispose of, so she decided to test a variety of different organic materials, including orange peels and pomegranate husks. After creating her sorbent, she tested it in flasks of both salt and fresh water and at a variety of temperatures, and found that less than 1% of the oil remained in the water after her test period. If her sorbent works in larger-scale tests, it will mean that an easily available, cost-effective, and biodegradable option can be added to clean-up efforts. Anika says she's excited to work with her Young Scientist mentor this summer: "I am extremely interested in environmental research and water purification and I am eager to learn and develop new ideas for preserving the environment."
Simone Jacobs: Learning Tennis with Lasers
12-year-old Simone Jacobs of Seattle, Washington thinks tennis is terrific exercise and lots of fun — but it's not always easy to get access to lessons, which average $50 per session in her area. The tennis-loving Mighty Girl wanted to make the sport more accessible and came up with the innovative idea of building a device that could help new players coach themselves! Laser Coach uses a series of lasers and sensors to detect where the ball hit your racket, and lights up a series of LEDs to show the spot, so that new players can practice and perfect their swing with Laser Coach's feedback. The lightweight device attaches to any tennis racket, so it's portable and usable by multiple players, and it even lights up green for additional reinforcement when players hit the sweet spot. "I hope my invention gets people more active," Simone says, "and makes tennis more fun and accessible to everyone, no matter what their budget... I was instantly drawn to the idea of inventing something that could change peoples lives, even in the smallest way, and using my knowledge to make it a reality."
Kathryn Lampo: Saving Water With the Help of Robots
14-year-old Kathryn Lampo of Broomfield, Colorado knows that fresh water is a precious resource — and wants to make sure it doesn't just go down the drain! She realized that lawn maintenance was a huge source of wasted water, so she designed Lawn Bot, a robot that uses a soil moisture sensor to detect whether a lawn actually needs watering. In order to test her idea, Kathryn had to get creative to build a prototype: she ended up using a LEGO robotics kit for her bot, and she built her own moisture sensor using a pair of nails that can measure how quickly current moves through soil and convert that information into a moisture reading. Since up to 50% of outdoor water is wasted when it's applied at the wrong time, Kathryn says that "Lawn Bot is helpful, easier to use, and more efficient than today's sensors... [and could] help save over 50 million gallons of scarce fresh water a year."
Gitanjali Rao: Building a Better Water Contamination Detector
11-year-old Gitanjali Rao of Brentwood, Tennessee was inspired to create her invention after hearing about the water crisis in Flint, Michigan and learning how lead contamination can cause serious health problems. To help reduce the time it takes to detect lead in water, this Mighty Girl designed a device and app that lets you test for lead in water almost instantly, with results sent to your smartphone! She realized that due to the expensive equipment and lengthy testing time currently required to test for lead, people were being exposed to contaminated water for long periods while waiting for the results. Her lead contamination detector, that she named Tethys, uses a disposable cartridge containing chemically treated carbon nanotubes that tests for lead using electrical resistance; the cartridge connects to an Arduino processor with Bluetooth that sends the results to the app. Gitanjali also hopes to expand Tethys' capabilities to test for other contaminants in the future. "I feel, every individual has a right to know if their drinking water is safe," she says.
Allie Weber: Making Children's Medical Tests Fun
11-year-old Allie Weber of Sioux Falls, South Dakota knows first hand that, in children's medicine, making tests and procedures fun is a great way to help kids get the most out of their care. So the Mighty Girl decided to design an incentive spirometer, a device that measures lung capacity which many kids with chronic medical conditions have to use multiple times a day, that would be fun for kids to use — by combining it with a functional suction-cup dart shooter! Allie's prototype spirometer uses a Venturi tube to measure the differential air pressure of a child's breath as they shoot darts at a whiteboard target; when testing is done, kids get to take the dart shooter home, while the hospital or doctor's office keeps the detachable sensor system and tablet to use with other patients. She's hoping to continue developing her prototype so that it can measure data from both inhalation and exhalation, to help kids like her who are frustrated with or afraid of medical tests. Allie, who says that she's "a bit of a prolific inventor," loves the idea of bringing "the incentive back to the incentive spirometer!"
Additional Recommended Resources