A Mighty Girl's top picks of newly released books starring girls and women who love science, engineering, and math!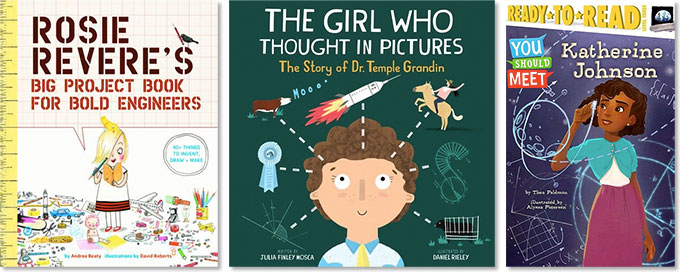 With the demand for stories about female scientists at an all-time high, there have been growing numbers of exceptional books published about girls and women who love science, engineering, and math! It can be challenging for parents and educators, however, to stay up on all of the new releases so, to help make it easier, we've featured 12 of these titles in a new blog post. From books about role models like scientist Temple Grandin, computer scientist Grace Hopper, doctor Patricia Bath, mathematician Katherine Johnson, and marine biologist Eugenie Clark to fictional stories about science-loving girls curious about the world around them, there's sure to be a new book to appeal to every budding young scientist!
For more books for all ages about girls and women who love science, check out our blog post 50 Books to Inspire Science-Loving Mighty Girls or browse our entire Science / Technology Collection.
New Releases For Science-Loving Mighty Girls
Baby Loves Quantum Physics!
This baby loves the family's cat, but when the cat hides inside a box, there's a mystery to consider! Is the cat awake or asleep? Until the baby opens the box, she won't know one way or another... or can the cat be both awake and asleep at the same time? In fact, Schrödinger asked a question very much like this one — a question that still generates conversation among quantum physicists! This clever board book series introduces scientific concepts in a way that is accurate, but still simple enough for young children. Fans of this title can also check out Baby Loves Aerospace Engineering, Baby Loves Quarks, and Baby Loves Thermodynamics.
Shark Lady: The True Story of How Eugenie Clark Became the Ocean's Most Fearless Scientist
From the moment she saw a shark at the New York Aquarium, Eugenie Clark was fascinated, but the rest of the world thought that sharks were mindless eating machines — and that girls couldn't be scientists. Clark devoted her life to learning about sharks, and proved that sharks weren't as dangerous as people feared — they could even learn! She also built public support for the protection of her beloved sharks and the ocean in which they lived. This picture book biography of the "Shark Lady" is a celebration of the wonder of nature and of a daring woman who changed the way the world saw the ocean. For another biography about Clark, check out Swimming With Sharks: The Daring Discoveries of Eugenie Clark.
Rosie Revere's Big Project Book for Bold Engineers
Fans of Rosie Revere, Engineer will love this new project book that encourages kids to take the lessons about inventiveness and perseverance from the book and put them into practice! In this activity book, kids get to try projects like designing a better bicycle, building a simple catapult, constructing a solar oven, and more. A simple explanation of the engineering design process, from identifying the problem that needs solving to evaluating whether or not your creation was a success, show kids that invention is rarely a straightforward process, and positive text encourages the owner of the book to see herself like Rosie: inventive and bold!
The Girl Who Thought In Pictures: The Story of Dr. Temple Grandin
Temple Grandin was considered a strange girl, and doctors told her mother she'd never speak, let alone have a productive life. But her mother refused to believe it: she saw potential in her observant and creative child. As Temple grew, she started learning how to articulate the different way that her mind worked: her astounding visual memory allowed her to draw whole blueprints just from one tour through a facility, and her empathy with animals helped her design spaces that helped them stay calm. Today, she is a powerful voice in science, advocating for autistic people like herself. This picture book biography told in rhyming text is an inspiring introduction to an important figure in scientific history. Older kids can read about Grandin's story in Temple Grandin: How the Girl Who Loved Cows Embraced Autism and Changed the World for ages 9 to 14.
Grace Hopper: Queen of Computer Code
Grace Hopper was a software tester, a creative inventor, and a top-notch mentor — but she was also a famous rule-breaker, risk-taker, and sometimes a real trouble-maker! In this riveting picture book biography of the woman nicknamed "Amazing Grace," author Laurie Wallmark captures the determination and cleverness of the woman who invented the COBOL computer language, allowing people to "talk" to computers with typed commands. Fun anecdotes — like the time she found a literal bug in the computer — provide a glimpse into the extraordinary life of this accomplished woman, who famously knew that it's always better to ask forgiveness than permission... and that quick thinking and insatiable curiosity were the key to pushing a (sometimes reluctant) world forward!
The Doctor With An Eye For Eyes: The Story of Dr. Patricia Bath
When Patricia Bath was coming of age, the Civil Rights Movement was in full swing. The intelligent young woman was determined to become a doctor, but she had many obstacles in her way: sexism, racism, and poverty all seemed to be working against her. Nevertheless, she continued to strive, and she broke new ground for both women and African Americans in her chosen field of ophthalmology. And when she invented the Laserphaco Probe in 1981, she created a quick and nearly painless way to treat cataracts — one which has now been used on millions of patients around the world, in some cases restoring vision to people who had been unable to see for years. This inspiring story, which includes a note from Bath herself, highlights the power of fighting for a dream.
Margaret and the Moon: How Margaret Hamilton Saved the First Lunar Landing
Margaret Hamilton loved numbers; as a child, she loved studying algebra and calculus and she even knew exactly how many miles to the moon and back. But the best part of math was when it could solve a problem in the real world! Her love of math took her to studies at MIT and then to a job at NASA, where they were planning a mission to the moon and computers were going to be a part of it. Hamilton hand-wrote the code for the Apollo missions — and when a last-minute problem cropped up as Apollo 11 prepared for a lunar landing, it was Hamilton's forward-thinking code that saved the day! This lively look at a pioneering of mathematics and computing is a great way to show young readers that math really can take you to the stars.
Ada Lace, On The Case
Third grade scientist and inventor extraordinaire Ada Lace has a new challenge to take on: her neighbor's beloved Yorkie dog has been dognapped! Ada is sure that her homemade gadgets and her knack for scientific thinking will allow her to crack the case. A quirky neighborhood girl, Nina, insists on helping, but she has has her own theory about the missing dog (involving alien abduction, of all things!) As Ada and Nina get closer to the solution, though, they'll also discover that opposites can make for the best of friends! This new series from Emily Calandrelli, host of Xploration Outer Space and MIT graduate, provides a scientifically-minded detective young readers will love. Fans of Ada can also check out the second volume of the series, Ada Lace Sees Red.
The Friendship Code
In this first volume from the new Girls Who Code fictional series, which is being described as "The Babysitters Club" for the tech era, Lucy is super excited about the new after-school coding club. She has big plans for an app that will help someone very important to her. But when Lucy gets put in a work group with girls she barely knows, her enthusiasm dims. Then Lucy starts receiving cryptic coding messages — messages which take her whole workgroup to decipher. Along the way, she might discover that friendship, just like coding, takes time, dedication, and a good sense of humor! This clever introduction to a new series teaches the basic principles of coding within the framework of a middle-grade mystery that's sure to intrigue young readers!
Girls Who Code: Learn to Code and Change the World
The non-profit Girls Who Code has taught over 40,000 girls to code — and now, you can learn too! This inspiring book is full of exciting illustrations and accessible explanations of coding principles. Author Reshma Saujani begins with the basics, explaining how coding is different from using a mouse or other input voice to give a computer commands, and goes on to discuss more complex concepts, from debugging to online security to using coding and robotics to get things done in the physical world. Real-life stories of girls and women in programming — including tales from the offices of NASA and Pixar — show how coding can be a part of any girl's future. It's the perfect way to get her started on her coding adventure!
Bold Women of Medicine: 21 Stories of Astounding Discoveries, Daring Surgeries, and Healing Breakthroughs
From battlefield nurses Clara Barton and Florence Nightingale in the 19th century, to modern medical miracle workers like Dr. Catherine Hamlin and Bonnie Simpson Mason, women have long played a key role in medicine — but their contributions have often been downplayed or forgotten. In this fascinating new title from the Women of Action series, young adult readers get to meet some of the daring and trailblazing women of the past two hundred years of medicine. From adventurers like Mary Carson Breckinridge, the "nurse on horseback" who delivered babies in the Appalachian Mountains, to research physicians like Virginia Apgar, who created the Apgar score that has saved millions of new born babies, these women defied prejudices and expectations, created incredible new procedures, and devoted their lives to healing people around the world.
Additional Recommended Resources