A Mighty Girl's top picks of newly released books starring girls and women who love science, engineering, and math!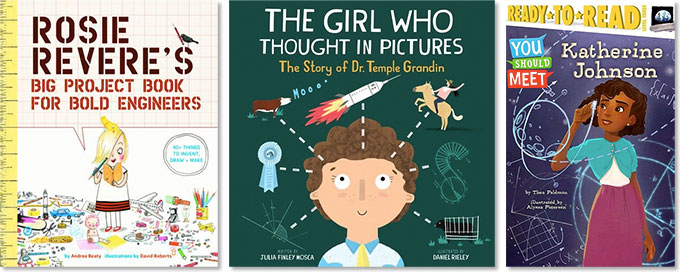 With the demand for stories about female scientists at an all-time high, there have been growing numbers of exceptional books published about girls and women who love science, engineering, and math! It can be challenging for parents and educators, however, to stay up on all of the new releases so, to help make it easier, we've featured 12 of these titles in a new blog post. From books about role models like scientist Temple Grandin, computer scientist Grace Hopper, doctor Patricia Bath, mathematician Katherine Johnson, and marine biologist Eugenie Clark to fictional stories about science-loving girls curious about the world around them, there's sure to be a new book to appeal to every budding young scientist!
For more books for all ages about girls and women who love science, check out our blog post 50 Books to Inspire Science-Loving Mighty Girls or browse our entire Science / Technology Collection.
New Releases For Science-Loving Mighty Girls
This baby loves the family's cat, but when the cat hides inside a box, there's a mystery to consider! Is the cat awake or asleep? Until the baby opens the box, she won't know one way or another... or can the cat be both awake and asleep at the same time? In fact, Schrödinger asked a question very much like this one — a question that still generates conversation among quantum physicists! This clever board book series introduces scientific concepts in a way that is accurate, but still simple enough for young children. Fans of this title can also check out Baby Loves Aerospace Engineering, Baby Loves Quarks, and Baby Loves Thermodynamics.
Additional Recommended Resources