A Mighty Girl's top picks of books, toys, and clothing for dino-loving girls of all ages!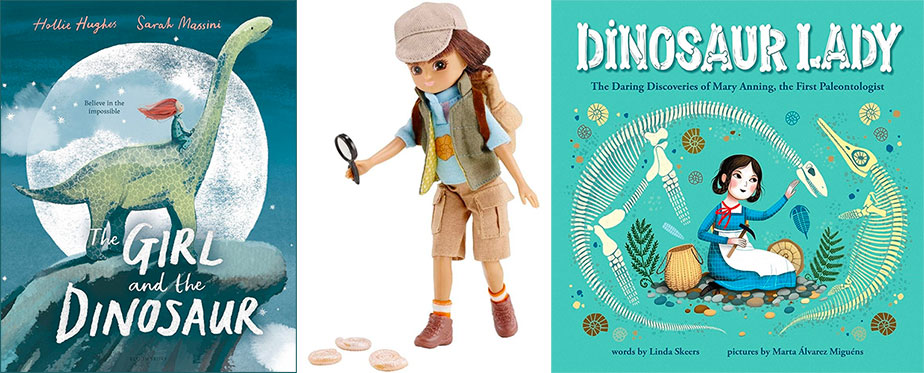 All too often, books, toys, and clothing featuring dinosaurs exclusively feature boys — but what about the countless dino-loving girls out there? There are plenty of girls who know a plesiosaur from a pachycephalosaurus, or who can talk for hours about the plant life of the Jurassic versus Triassic periods! And if you've got a dino-crazy Mighty Girl in your house, you may want to stock her bookshelves, toy box, and closet with things that remind her that dinos are definitely for girls.
To that end, we've put together a selection of our favorite books, toys, and clothing for Mighty Girl dinosaur fans of all ages! In the first section, we pay tribute to one of history's most famous Mighty Girl fossil hounds of all time, Mary Anning, and share books about her life for both children and adults. In the subsequent three sections, we feature a variety of girl-empowering dino books, toys, and clothing that will delight paleontology buffs young and old. Who knows? The Mighty Girl digging for fossils in your garden today may make the big prehistoric discovery of the future!
Mary Anning, Pioneering paleontologist (1799 - 1847)
When you say the tongue-twister "she sells seashells by the seashore," you're actually paying homage to this British paleontologist and fossil hunter! At only 12 years of age, Mary Anning discovered the first known ichthyosaur skeleton. She later found the first two plesiosaur skeletons and made numerous other important geological discoveries in the seaside cliffs at Lyme Regis in Southwest England. Born in 1799, the largely self-taught Anning first began searching for fossils with her father as a young girl in the Jurassic marine fossil beds in the cliffs. A lifetime of critical prehistoric discoveries and new understandings were to follow, but as a woman she was an outsider to the scientific community and not always credited for her finds. She was ineligible to join the Geological Society of London due to her gender, although her discoveries were critical to driving scientific inquiry into new explanations for natural history and set the stage for Charles Darwin's articulation of the theory of evolution a generation later. In 2010, the Royal Society included Anning in a list of the ten British women who have most influenced the history of science.
To learn more about this trailblazing woman of science, or to share her story with children, there are now a number of excellent books about Mary Anning for all ages which we have showcased below.
Mary Anning grew up combing the cliffs near her home for fossils that her impoverished family could sell. She had a knack for finding the best fossils — including the first complete skeleton of an ichthyosaur! Anning kept discovering more and more fossils, but because she was a woman, she wasn't allowed to study with men, or be admitted into their scientific societies. Still, she kept making major discoveries, and today she's considered the mother of paleontology. Young dinosaur-lovers will be delighted with this book from the Little People, BIG DREAMS series, which encourages them to imagine how their own talents and passions could change the world.
A Girl and Her Dinosaur: Dinosaur-Themed Books
Dinos at play: Dinosaur-themed toys
Dino Style: Clothing and Costumes