Four downloadable posters celebrating trailblazing women perfect for displaying in classrooms and kids' rooms!

As an artist and activist committed to the empowerment of girls and women, Kimothy Joy found herself pouring through biographies of mighty women following the 2016 election. Hoping to learn from their experiences persisting in the face of daunting circumstances, Kimothy turned to art and created a series of watercolor portraits bringing these incredible women to life. She collected 50 of these bold portraits in her book, That's What She Said: Wise Words from Influential Women, each one paired with an inspirational hand-lettered quote and a short biography that captures how that woman changed the world. At the book's end, there's also a space to add a tribute and short profile about an influential woman in your own life, making it an empowering gift for a special girl or woman.
Kimothy has generously offered four of her That's What She Said art prints for free download by the A Mighty Girl community. Whether for a bedroom, classroom, or office, these beautiful and inspiring portraits are a perfect choice to uplift any girl or woman!
Below each poster, we've provided a short introduction to each of the featured women, as well as recommended reading for both kids and adults. To download any of the posters below, in either 11 x 14 or 16 x 20 sizes, click the "download poster" links below each poster.
For more girl-empowering posters on a wide range of topics, visit A Mighty Girl's Art & Decor section.
To introduce kids to more inspiring female role models from throughout history, you can find hundreds of books for children and teens in our Role Model Biography Collection.
Maya Angelou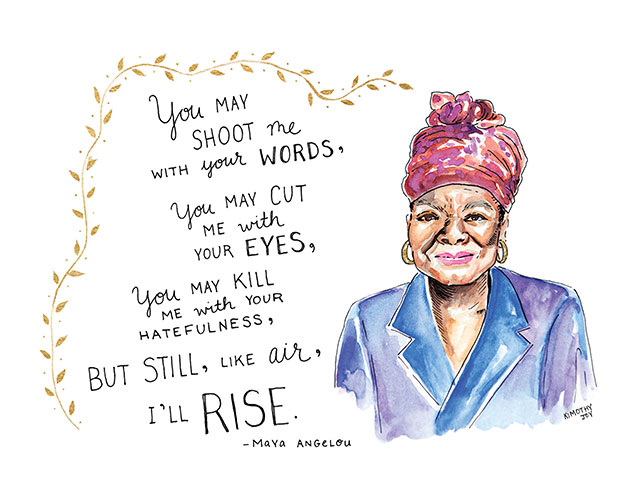 Download (11x14) | Download (16x20)
American poet, memoirist, and civil rights activist Maya Angelou has touched the heart of millions: her 1969 autobiography, I Know Why The Caged Bird Sings, earned her international acclaim. Her writing explored deep themes of racism, identity, sexual assault, family, civil rights, and more, but also maintained a sense of hope and conveyed a powerful message about the strength to be found in literacy and self-expression. She has received over 50 honorary degrees and received the the National Medal of Arts in 2000 and the Presidential Medal of Freedom in 2011. Until her 80s, she also spoke frequently on the lecture circuit, urging people to continue to persevere no matter what obstacles they faced: "We may encounter many defeats," she once said, "but we must not be defeated."
Resources: Middle grade readers can learn Maya Angelou's inspiring story in the illustrated biography Who Was Maya Angelou? for ages 8 to 12. To introduce young readers to her work, we recommend Poetry for Young People: Maya Angelou for ages 9 to 13 and I Know Why The Caged Bird Sings for ages 15 and up. Adults will also enjoy her thoughtful book Letter to My Daughter, filled with life lessons to a daughter she never had but saw all around her.
Marie Curie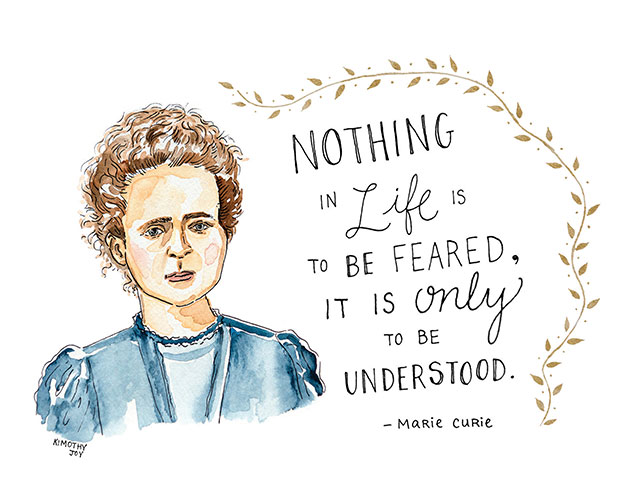 Download (11x14) | Download (16x20)
As the first woman in history to win a Nobel Prize — and the only person to win two Nobel Prizes in two different scientific disciplines (chemistry and physics) — Polish-French physicist and chemist Maria Skłodowska Curie blazed a new trail for women in the sciences. When Curie and her husband Pierre Curie discovered that some elements generated energy, she coined the term radioactivity to describe it. She also discovered two elements, polonium and radium, and the element curium is named in her honor. The world's first studies into the treatment of tumors took place under her direction and she founded the Curie Institutes in Paris and Warsaw, which to this day are leading medical research centers. In addition to her scientific discoveries, Curie's enduring legacy has been the inspiration she has provided to generations of women in STEM, particularly her spirit of curiosity: "Nothing in life is to be feared," she asserted. "It is only to be understood."
Resources: Young readers can learn about Marie Curie's life and work in the illustrated biography Who Was Marie Curie? for ages 8 to 12 and Something Out Of Nothing: Marie Curie and Radium for ages 10 and up. They can also learn hands-on with the book Marie Curie for Kids: Her Life and Scientific Discoveries, with 21 Activities and Experiments for ages 9 and up, which will get kids trying everything from cooking traditional Polish pierogies to making molecular models. Adults can read about her lifelong partnership with Pierre Curie in Radioactive: Marie and Pierre Curie — A Tale of Love and Fallout. This scientific pioneer is also featured in the Women in Science: Marie Curie poster and the Marie Curie plush doll.
Ruth Bader Ginsburg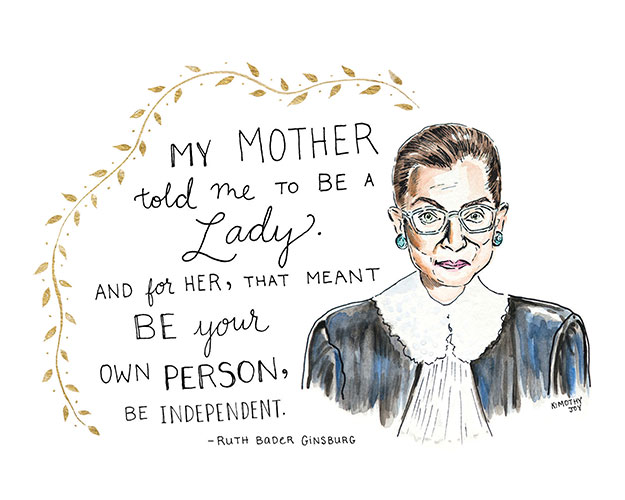 Download (11x14) | Download (16x20)
American lawyer and judge Ruth Bader Ginsburg has devoted her career to breaking new ground — and fighting for equality. As a lawyer, she co-founded the Women's Rights Project at the ACLU and argued landmark discrimination cases. As a professor for Columbia Law School, she became the first woman to receive tenure and co-wrote the first law school casebook on sex discrimination. As a judge for the U.S. Court of Appeals, and then the second female justice on the U.S. Supreme Court, her keen legal mind — and searing dissents — have become famous. In fact, on the Internet, she achieved unexpected fame under the nickname Notorious R.B.G.! For all the changes that she has seen over her lifetime, there is one more law she hopes to see pass: the Equal Rights Amendment. "Legislation can be repealed. It can be altered," she observed. "That principle belongs in our Constitution."
Resources: Children can learn about Ruth Bader Ginsburg's life and influence in the picture books I Dissent: Ruth Bader Ginsburg Makes Her Mark for ages 5 to 9 and Ruth Bader Ginsburg: The Case of R.B.G. Versus Inequality for ages 6 to 9. Adults will enjoy the biography inspired by her Tumblr fame, Notorious RBG: The Life and Times of Ruth Bader Ginsburg; which is also now available in a Young Readers' Edition for ages 8 to 13. Adult fans will also appreciate the stunning new biography Ruth Bader Ginsburg: A Life, her powerful memoir, My Own Words, and the fun exercise book The RBG Workout.
Frida Kahlo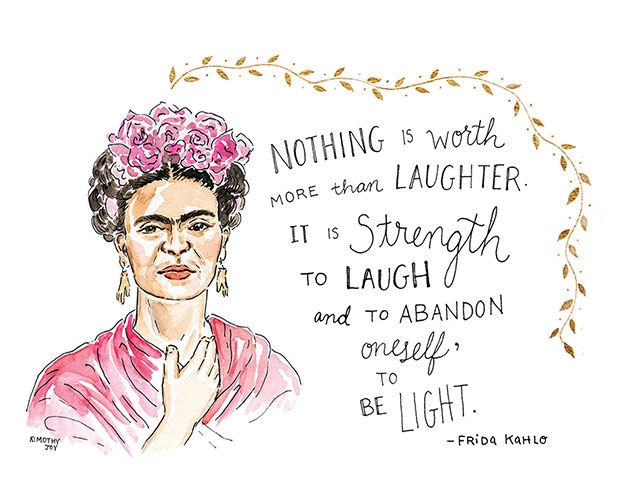 Download (11x14) | Download (16x20)
Frida Kahlo, the Mexican painter, is famous for her uncompromising artwork that features vibrant color, Mexican and Indigenous influences, and honest depictions of the female form. Her life was punctuated by several tragic events including polio and a horrific bus accident at the age of 18. Recovery from the bus trauma left her isolated and in extreme pain; painting became her distraction and solace. Self-portraits were her frequent focus, as she explained, "I paint myself because I am so often alone and because I am the subject I know best." Long celebrated as a folk icon in her homeland, it was not until the 1980s, well after her 1954 death, that Kahlo became widely recognized for her artistic skill.
Resources: Even babies can be introduced to this groundbreaking woman with the bilingual board book Counting With / Contando Con Frida, which draws on images from Kahlo's life and art to create a counting book for ages 1 to 3. The picture book biography Frida compellingly tells her life story for ages 4 to 8, while the highly conceptual Pura Belpré award winner Viva Frida, also for ages 4 to 8, captures her spirit in a more dreamlike way. Middle-grade readers can learn about her in the illustrated biography Who Was Frida Kahlo? for ages 8 to 12, while older teens and adults can learn more in Frida: A Biography of Frida Kahlo and The Diary of Frida Kahlo: An Intimate Self-Portrait. Fans of Kahlo's work can show off their love of this remarkable woman with these Ode to Frida socks for ages 13 and up and the Frida Kahlo daypack.