During their historic spacewalk, NASA astronauts Christina Koch and Jessica Meir replaced a power controller on the International Space Station.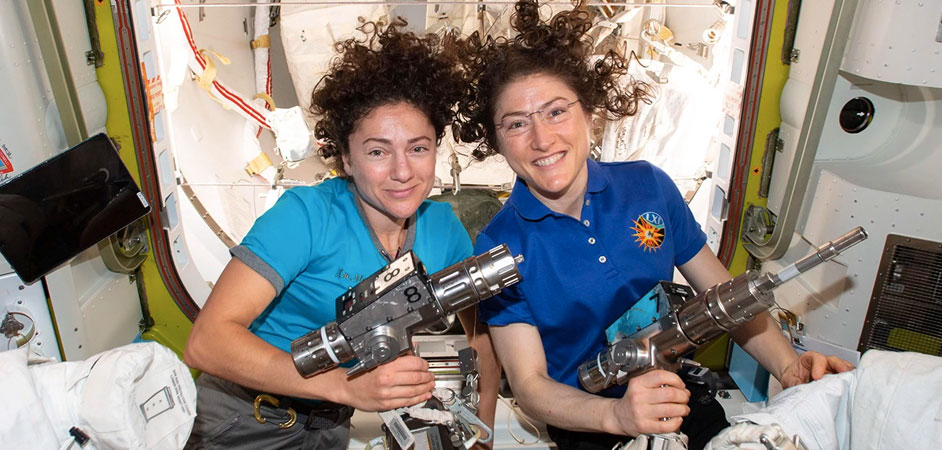 NASA astronauts Christina Koch and Jessica Meir made history today when they conducted the first all-female spacewalk in more than five decades of spacewalking! The two ventured outside of the International Space Station at 7:50 this morning for a 7-hour mission to replace a failed power controller. Of the 227 people who have participated in spacewalks since the first one took place in 1965, only 14 have been women. Prior to their spacewalk, Meir spoke of its historic significance and the long fight for women to have equal access and opportunity to participate in the space program: "What we're doing now shows all of the work that went in for the decades prior, all of the women that worked to get us where we are today."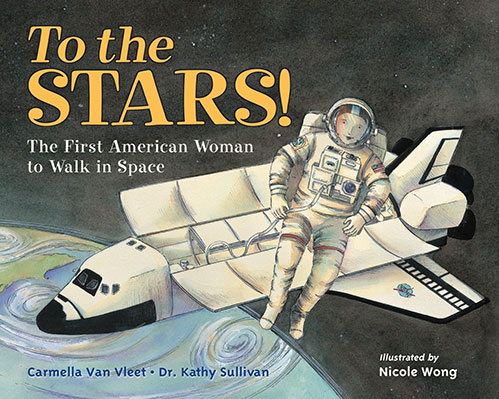 NASA had previously planned an all-female spacewalk in March with Koch and American astronaut Anne McClain, but it was cancelled after only one medium-sized spacesuit was available. Seven months later, the time has finally come! As Koch said on NASA TV last week, "I think it's important because of the historical nature of what we're doing and in the past, women haven't always been at the table. And it's wonderful to be contributing to the human spaceflight program at a time when all contributions are being accepted."
In celebration of this groundbreaking moment, we're sharing the stories of these two inspiring astronauts, whose careers in space are just beginning. Meir and Koch have many years of exciting space firsts ahead, including possible involvement in the planned Mars missions. Koch, who arrived on the space station last March, will also set a new record for the longest single spaceflight by a woman if she remains on ISS until her scheduled return in February.
Equally importantly, these trailblazers provide two more inspiring role models for girls and women who dream of careers in science and space. "I can be an example to people that might not have someone to look at as a mentor," says Koch, an electrical engineer. "It doesn't matter where you come from or what examples there might be around you, you can actually achieve whatever you're passionate about."
Christina Koch: The Outdoor Adventurer In A New Frontier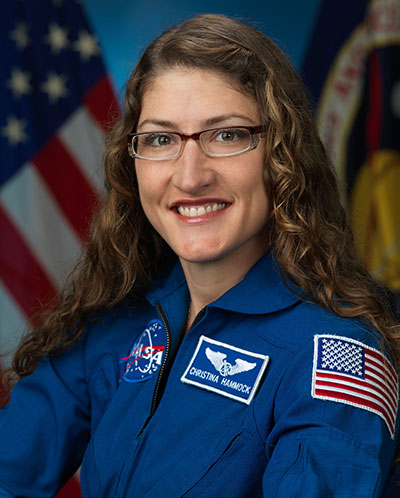 Christina Koch is no stranger to adventure: from rock climbing to camping to ice climbing, she's up for just about anything! So it should come as no surprise that space travel has long been on her wish list of adventures. "I don't even remember a time when I didn't want to be an astronaut," she said in a recent interview. "I had pictures of space up in my room way back in middle school, right next to the boy band posters!" After earning bachelor's degrees in electrical engineering and physics, and a a masters degree in electrical engineering, the native of Jacksonville, North Carolina combined her scientific skill and her yen for exploration to her work, spending two winters in Greenland and one in Antarctica as part of field expeditions. In her spare time, she continued her adventurous hobbies, including a solo motorcycle ride across the country: "The trip was from North Carolina to Montana, and I camped along the way by myself," says Koch. "And it was a phenomenal trip, and I learned a lot about self-reliance and planning."
While her outdoor experience helped her be physically ready for astronaut training, Koch says there were plenty of challenges to keep her busy. "All astronauts, even civilians like me without pilot experience, have to learn how to co-pilot a jet called a T-38," she explains. "I [also] got to train to be an aircraft commander of another military high-performance plane called a T-6. It took every bit of grit and dedication to get through that course."
Koch, who launched to the ISS on March 14, 2019 for Expedition 59, 60, and 61, said that she planned on using her free time to pursue some of her other passions: "I enjoy... artsy things like photography, videography, and sewing," she says. "So, I'm looking forward to spending time in space on the more artsy stuff... I can't wait to take photos of astronaut life, as well as of the Earth from space." For girls interested in following in her footsteps, she advises that "it's all about heading down the road of finding and engaging in unique experiences that you're passionate about. This will broaden your perspectives and start your learning about leadership, communication, challenges, and being successful pursuing your dreams."
Jessica Meir: The Biologist Preparing For A Mars Mission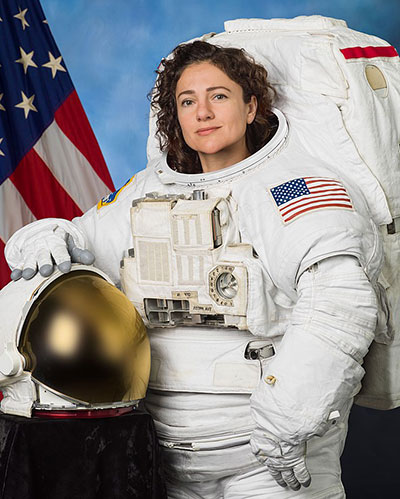 Jessica Meir has been dreaming of being an astronaut ever since she was five years old growing up in Caribou, Maine. "My first real distinct memory of it was in first grade we were asked to draw a picture of what we wanted to be when we grew up," she says. "I remember drawing an astronaut standing on the moon with a flag in the background. Ever since then that's the only thing that I said that I wanted to be." But unlike colleagues who studied physics or engineering, Meir studied biology, seeking to understand how animals, including humans, performed in extreme environments. She received a Bachelor of Arts in Biology from Brown University — during which she performed a student experiment in NASA's reduced gravity "vomit comet" aircraft — a Master of Science in Space Studies from the International Space University, and a Doctorate in Marine Biology from Scripps Institution of Oceanography.
Before being selected for the 2015 astronaut class, Meir went scuba diving alongside emperor penguins in Antarctica to understand how they swam with low oxygen input; raised bar-headed geese so their ability to fly at high altitude could be studied in a controlled environment; and spent three years studying human physiology at Lockheed Martin's Human Research Facility. But all of the studies in the world didn't stop her from being excited the first time she put on a spacesuit in NASA's neutral buoyancy lab. "You're trying to get your job done and do a good job," she says, "[and then you] look over at  your buddy and say, 'Oh, wow, he's in a spacesuit; I'm in a spacesuit too!'"
On September 25, 2019, Meir launched to the ISS to serve as a flight engineer during Expedition 61 and 62. Now that she's achieved her astronaut dreams, she's ready to look even further — like the planned Mars mission. "Mars has always captured the human imagination for decades and decades, it's always been the planet that everyone's looking toward," she says. "Knowing it's out there, it's what drives everything that we do."
Children's Books And Toys Celebrating Women In Space
This pigtailed Baby Astronaut is ready for liftoff! She and her crew put on space suits and helmets before they blast off. Once she's in orbit, she'll explain why astronauts float (and even how they sleep.) Then, she'll conduct experiments: Can ants live in space? Yes! Can plants grow in space/ Yes! This adorable board book from the Baby Scientist series, which also includes the book Baby Botanist, is perfect for curious babies and toddlers.