Dr. Katie Bouman led the creation of a new algorithm to produce the first-ever image of a black hole.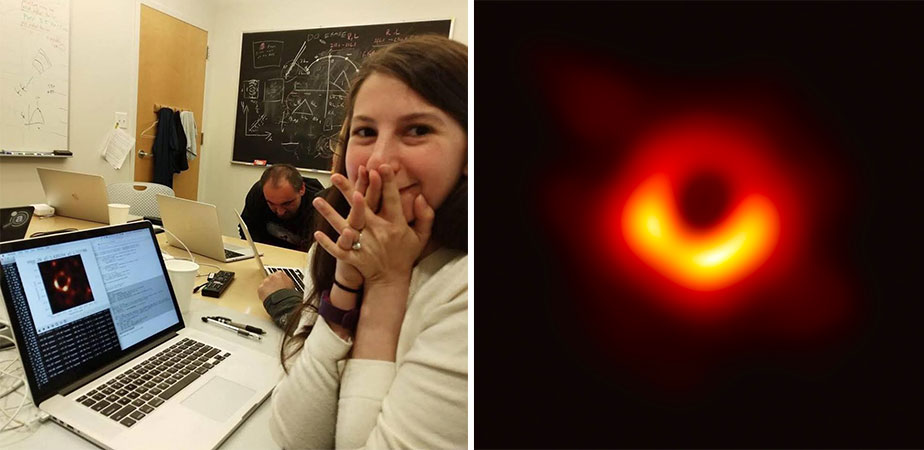 Scientist Katie Bouman has said that photographing a black hole is "equivalent to taking an image of a grapefruit on the moon, but with a radio telescope." Today, the MIT postdoctoral fellow shared a photo of herself "watching in disbelief as the first image I ever made of a black hole was in the process of being reconstructed." Bouman and her team released this first-ever image of a black hole to the public, which is the first direct visual evidence that black holes exist.
More than 200 researchers have been working for more than a decade to capture this historic image as part of the Event Horizon Telescope Collaboration (EHT). The scientists combined the power of eight radio telescopes around the world to collect millions of gigabyles of data about this supermassive black hole at the center of a galaxy known as M87 using a process called inferferometry. Even with this vast amount of data, there are still gaps that needed to be filled in — which is where the work of Bouman was critical.
Starting three years ago as a graduate student in computer science and artificial intelligence at MIT, Bouman led the creation of an algorithm that took the "sparse and noisy data" collected from telescopes and turned it into an image. Over the past several years, she directed the verification of images and selection of imagining parameters. Ultimately, Bouman and her team developed multiple algorithms to piece together the picture, observing: "We didn't want to just develop one algorithm. We wanted to develop many different algorithms that all have different assumptions built into them. If all of them recover the same general structure, then that builds your confidence."
While the EHT program involved hundreds of scientists around the world, junior researchers such as graduate students and post docs led the imaging portion. Vincent Fish, a research scientist at MIT's Haystack Observatory, says that Bouman "was a major part of one of the imaging subteams," adding that "one of the insights Katie brought to our imaging group is that there are natural images. Just think about the photos you take with your camera phone -- they have certain properties... If you know what one pixel is, you have a good guess as to what the pixel is next to it." For her part, Bouman was thrilled to a leading contributor to such a historic scientific breakthrough, while also recognizing that science on this scale is always a team effort: "No one of us could've done it alone. It came together because of lots of different people from many backgrounds."
Books and Toys Celebrating Female Astronomers
When Henrietta Swan Leavitt was hired by the Harvard College Observatory, it wasn't to observe the skies herself: instead, she was hired as a human "computer," and set to studying photographic plates that male colleagues had taken at the telescope. She spent years measuring star positions and sizes and, over time, discovered that certain stars had a fixed pattern to their changes — a discovery that allowed astronomers to understand the true size of the universe and brought Leavitt recognition as a pioneer of astronomical science. Award-winning artist Raul Colon's illustrations particularly shine in this appealing picture book biography.