'Shark Lady' Eugenie Clark was one of the foremost shark experts of her generation.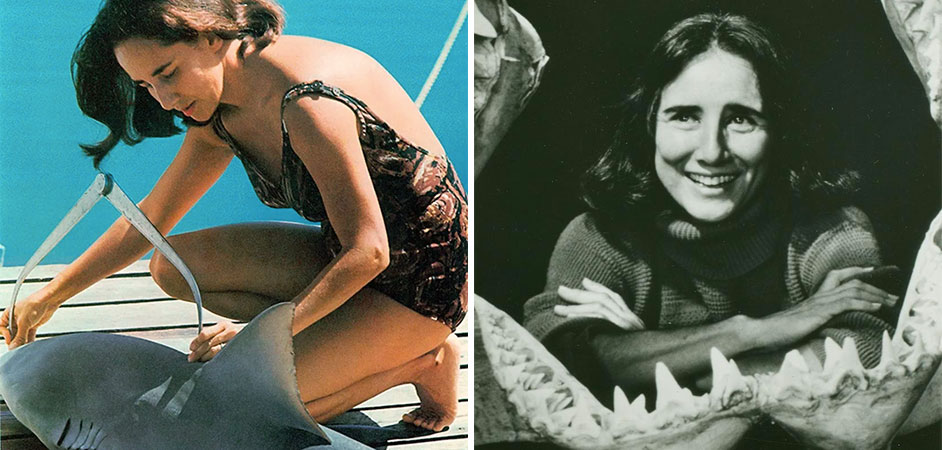 When Eugenie Clark was applying for graduate school at Columbia University, a scientist there told her, "If you do finish, you will probably get married, have a bunch of kids, and never do anything in science after we have invested our time and money in you." Instead, she earned a PhD from New York University, and went on to become known as the "Shark Lady," one of the leading marine biologists of her generation! Clark's pioneering research on sharks, an animal that had enthralled her since she was a child, helped changed attitudes towards these misunderstood creatures and emphasized the importance of caring for our oceans. "I don't get philosophical. Love fish. Love sharks," she once wrote. "Keep the water and their habitats as clean and protected as possible."
Born on May 4, 1922 in New York City , Clark was the daughter of a Japanese mother and an American father, and she credited Japanese culture's love of the ocean for fostering her early interest in marine biology. As a young child, she often spent her Saturdays at the New York Aquarium imagining what it would be like to swim with the sharks. But early on, she got a taste of the sexism she would face for much of her career. "As a child, [marine biologist and explorer] William Beebe was my hero, and I used to read about him going down in the bathysphere, and I wanted to do that too," she recalled. "And I told my family... and they said, 'Well, maybe you can take up typing and get to be the secretary of William Beebe or somebody like him.'"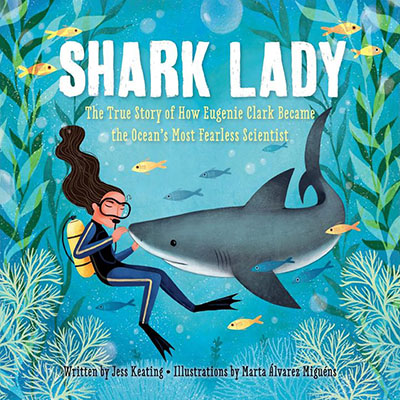 Determined to pursue her dream of swimming with sharks, Clark studied zoology in college and earned her PhD with research focused on platys and swordfish reproduction. As a Fulbright Scholar, she conducted research in the virtually unexplored waters off the northern Red Sea Coast of Egypt, and these experiences became the basis of her bestselling 1953 book Lady With A Spear. 
When she took a job with Scripps Institution of Oceanography, it was a thrilling but dangerous time in diving history: at one point, she nearly drowned when her air hose malfunctioned. She also encountered more institutional sexism that came with being one of the only female researchers in a heavily male-dominated field. Women were even prohibited from going on overnight research trips and to destinations like the Galápagos Islands.
In 1955, Clark became the founding director of the Cape Haze Marine Laboratory — now called the Mote Marine Laboratory & Aquarium — in Florida. There, she began the shark studies that have become her most enduring legacy. At the time, Clark explained, "People generally thought that sharks are dumb eating machines. After some study, I began to realize that these 'gangsters of the deep' had gotten a bad rap." She was able to show that sharks could learn to tap a plate in the water to get food, and that they could learn the difference between two plates with different symbols on them. The revelation ended the myth that sharks were mindless creatures.
Clark's contributions to our understanding of sharks were dramatic. She discovered the first effective shark repellent, created from the secretions of a flatfish called the Moses sole. She also verified local stories in Mexico's Yucatan Peninsula about "sleeping sharks" in undersea caves, a discovery that debunked the belief that sharks had to keep moving in order to breathe. Clark was a frequent public speaker, helping to dispel the myths that led to her beloved sharks being killed by the thousands; when the 1975 movie Jaws ignited a new terror of shark attacks in the general public, she quickly turned to their defense. One of her popular National Geographic stories was titled "Sharks: Magnificent and Misunderstood."
Clark continued teaching until 1992, and continued diving nearly until her death in 2015 at the age of 92. She once famously said in a broadcast, "I figured if I'm in a wheelchair they can wheel me to the end of the boat and put a tack on my back and dump me over the side of the boat and I can go down to the bottom and I can study these fishes as long as I want." She will forever be remembered for her dedication to teaching the world to admire these mysterious creatures of the deep: "The sea should be enjoyed, the animals in it. When you see a shark underwater, you should say how lucky I am to see this beautiful animal in his environment."
Books and Resources For Marine Biology Lovers
From the moment she saw a shark at the New York Aquarium, Eugenie Clark was fascinated, but the rest of the world thought that sharks were mindless eating machines — and that girls couldn't be scientists. Clark devoted her life to learning about sharks, and proved that sharks weren't as dangerous as people feared. She even proved they could learn! She also built public support for the protection of her beloved sharks and the ocean in which they lived. This picture book biography of the "Shark Lady" is a celebration of a daring woman who changed the way the world saw one of the ocean's most famous inhabitants. For another book about Clark, check out Swimming With Sharks: The Daring Discoveries of Eugenie Clark for ages 5 to 8.