Janie Forsyth McKinney stood up to a violent mob to bring aid to the bloodied and beaten Freedom Riders attacked by the Ku Klux Klan.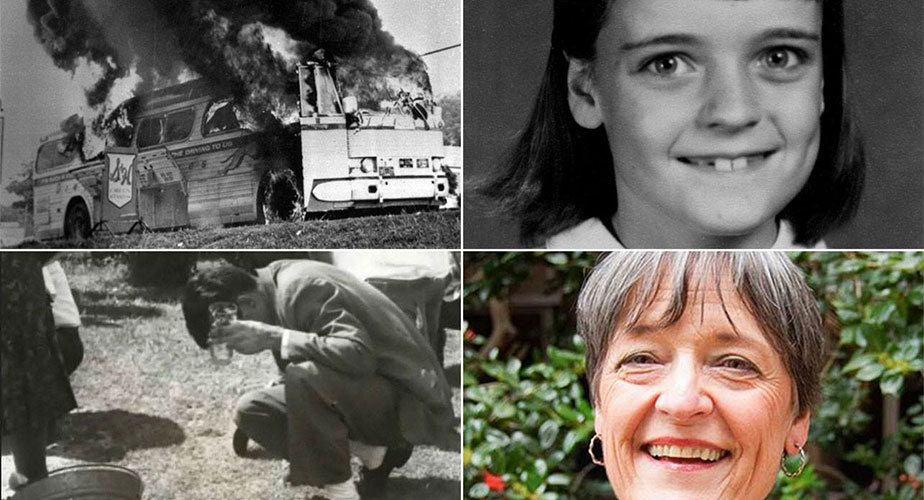 12-year-old Janie Forsyth McKinney performed a heroic act of compassion in response to the firebombing of the Freedom Riders bus in Anniston, Alabama on May 14, 1961. It was Mother's Day when the bus carrying civil right activists was viciously attacked in this small Southern town. Horrified by the scene before her, the brave girl pushed through the violent crowd to bring water to the bloodied riders laying on the ground. McKinney knew that her actions would anger the local Ku Klux Klan, but she explained that she was driven to act by one of her favorite passages of scripture: "Whatever you do to the least of my brothers, you do it to me."
In 1961, civil rights activists began conducting "Freedom Rides" throughout the southern United States, during which groups of Blacks and Whites would ride interstate buses together to challenge local laws and customs that allowed segregation to persist. The U.S. Supreme Court had ruled that segregation on interstate transportation was a violation of the Constitution, but in many Southern states, it was still common practice. The Freedom Riders, who were predominantly college students, wanted to see the Supreme Court decision enforced and compel the federal government to act if states refused to abide by the law. It was a dangerous protest, and riders were met with hostility and violence in many locations. Anniston, however, would become the site of one of the most infamous attacks on the Freedom Riders.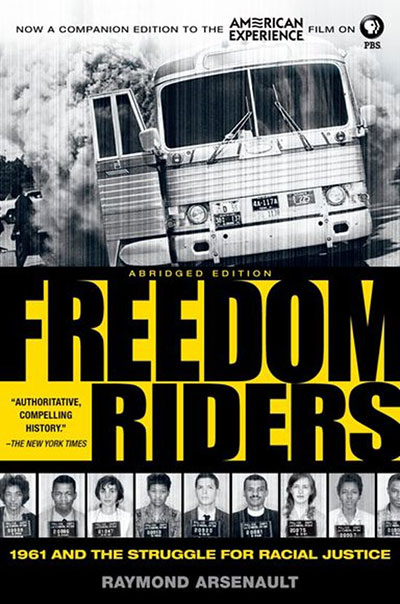 When a group of Freedom Riders traveling by bus from Washington, D.C. to New Orleans reached Anniston, they were met by a violent mob led by the local KKK. Attacking the bus with baseball bats and iron pipes, and slashing its tires, the mob forced the bus to stop right outside of McKinney's home. The mob then firebombed the bus, and as it burned, held the doors shut, trapping the riders inside. McKinney witnessed smoke billowing out the burning bus and, after an exploding fuel tank forced the crowd back, watched as the riders pour out and were beaten by the mob. In an interview with the UCLA Today, she recalled that "they were so sick by then they were crawling and puking and rasping for water. They could hardly talk."
The shocked 7th grader ran into her house for a bucket of water and cups, and pushed through the violent crowd to reach the riders on the ground. McKinney first went up to an elderly Black woman who reminded her of her nanny, Pearl. "I started with her," she explained. "I took her a glass of water. I washed her face. I held her. I gave her water her to drink and as soon as I thought that she was going to be okay, I got up and picked out somebody else."
For 15 or 20 minutes, she said, the police let the violence continue until they finally dispersed the crowd by firing warning shots into the air. After ambulances took the riders to a local hospital, officials announced it was closed and left them in the waiting room. "It took a Black minister from Birmingham to form a convoy to come and pick them up and take them back to Birmingham," McKinney recalled. While this group of Freedom Riders never reached New Orleans, 450 people ultimately participated in Freedom Rides which continued across the South until the fall of 1961, when the Interstate Commerce Commission finally issued regulations prohibiting segregation in interstate transit terminals.
Although the violence was over, the repercussions for McKinney for her courageous act had just begun. She learned later that the local KKK discussed whether to try her as an adult for undermining them. Ultimately, the Klan decided that she was a "mentally deficient" child and took no action. But, life was never the same for her after that day. McKinney recalled how it "was such a black mark on my family that nobody — not even my father — would talk about it. I was the black sheep. I got ostracized in school by some hard-core Klan kids. They would call me names."
For years, McKinney believed that her father, in particular, had never forgiven her for her actions that day. After her father passed away and Pearl was on her death bed, McKinney asked her if this was the case and finally learned the truth. Pearl told her, "No, child. That's not right. He told me he had never been prouder of you than he was on that day." So too McKinney remains proud of her decision to act on that fateful Mother's Day years ago: "All I know is that if I had made any other choice, I would have had to live with that. I'm proud of the choice I made. I think it was a moral choice, a humane choice, a spiritual choice. I wouldn't undo it for anything."
This short focused on Janie Forsyth McKinney's story is from the PBS documentary American Experience: Freedom Riders.
Books And Films About The Women of the Civil Rights Movement
When kids hear about Rosa Parks' defiant refusal to move seats, they may think that it takes special courage to take that big a step — but the reality is that ordinary people can do incredible things! This title from Brad Meltzer's Ordinary People Change The World series shows how Parks' willingness to stand up for justice began with small moments from childhood, but became a driving force in her life that made her a major figure for the Civil Rights movement. It also shows just how much resistance she had to face along the way. It's an excellent choice to introduce younger kids to this Civil Rights hero.