The newly minted astronauts are the first class from NASA's Artemis program which planning missions to the Moon and, ultimately, missions to Mars.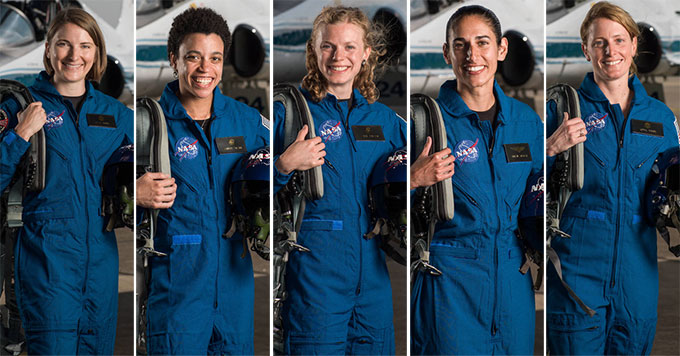 When NASA's newest astronaut class graduated this week, it included five mighty women! The new astronauts have spent two years in intensive training in a wide variety of skills, including spacewalking, robotics, International Space Station (ISS) systems, T-38 jet proficiency, and the Russian language. "As astronauts, they'll help develop spacecraft [and] support the teams currently in space," NASA wrote in a graduation announcement, "and ultimately join the ranks of only about 500 people who have had the honor of going into space."
The newly minted astronauts, who received their traditional silver astronaut pin at Friday's graduation ceremony at Johnson Space Center in Houston, are part of the first class from NASA's new Artemis program, which plans to land the first woman on the Moon by 2024. Artemis is specifically meant as a stepping stone towards Mars: "our efforts at the Moon are not the conclusion, but rather the preparation for all that lies beyond," the Artemis website reads. "All that we build, all that we study, all that we do, prepares us to go." Many of these astronauts will also likely participate in missions to the International Space Station and possibly even take part in a planned crewed Mars mission in the 2030s.
These five mighty women were selected in 2017 from a record-number 18,000 applicants for a total NASA class of eleven members. Each of these women came to an astronaut career in her own way, and Mighty Girls will be fascinated to learn the many pathways that could lead them to space one day. And, to inspire children who dream of their own careers in space, at the end of this blog post, we've also showcased a variety of girl-empowering books and toys about shooting for the stars! After all, as retired astronaut and Johnson Space Center Director Ellen Ochoa observed, "Children all across the United States right now dream of being in their shoes someday."
Women in Space: Meet NASA's Newest female Astronauts
Kayla Barron, Engineer and Navy Officer
Kayla Barron already knows something about what it's like to live in tight spaces, where a vessel wall is the only thing protecting you from a dangerous environment: the 32-year-old Navy lieutenant from Richland, Washington was one of the first class of eleven women to join the submarine service after the men-only restriction was dropped. "I really felt at home [in the submarine service]," she says. "Everyone is really talented and team-oriented."
The same aptitudes will suit Barron, who has a bachelor's degree in systems engineering and a master's degree in nuclear engineering, well as an astronaut. She says her math skills weren't the best for her confidence, however, as she worked her way into the 120 people selected for interviews and the 50 finalists: "Like a good engineer, I was always doing the math in my head and calculating the probabilities," she recalls. "It seemed like a steep slope to climb." Barron wasn't even able to take the call from NASA telling her she'd been selected, because as the aide to the superintendent of the Naval Academy, she was on the review stand for the color parade. Her reaction when she finally heard the news was appropriate: "I was just over the moon."
Books About Space-Loving Mighty Girls and Women
Toys to Inspire Future Astronauts