By Katherine Handcock, A Mighty Girl Communications Specialist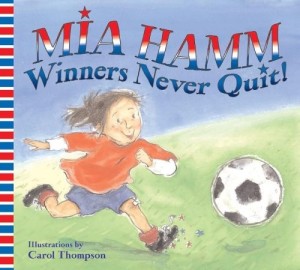 It's played by 250 million people in over 200 countries, and in many nations, it's the most prominent women's team sport. Women's soccer games have been recorded since the late 19th century, and today, 177 nations have national women's soccer teams. Best of all, the future looks bright for women's soccer: girls' soccer leagues continue to thrive, with gender representation among youth soccer players almost exactly 50-50. With such an incredible love of the Beautiful Game out there, it's no wonder that many Mighty Girls have been eagerly awaiting the 2015 FIFA Women's World Cup!
To celebrate this event — and the love of girls and women everywhere for the sport — we've collected some of our favorite books, toys, posters, and clothes celebrating the great game of soccer. We hope that these resources will have your Mighty Girl dreaming of her favorite game long after the World Cup is won.
In addition to our recommendations below, there's also a guidebook to everything going on during the 2015 Women's World Cup, FIFA Women's World Cup Canada 2015: The Official Book. Continue reading → Continue reading