By Katherine Handcock, A Mighty Girl Communications Specialist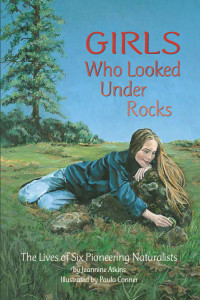 Welcome to the next installment of our blog series, Mighty Careers! In this series, we celebrate careers that your Mighty Girl may be dreaming of pursuing one day. In each blog, we'll profile a career role model and provide recommendations for books, toys, clothing, and even room decor to help inspire your Mighty Girl. Whether she's three or thirteen, there will be resources to help her learn more about her dream job, imagine herself living it, and let the world know what she hopes to be when she grows up.
In this blog, we'll be showcasing a career that can take your Mighty Girl deep into a jungle or to the bottom of a reef: wildlife biologist! Most kids love animals, but for some, seeing them in pictures or in a zoo isn't enough. Instead, they want to watch them in the wild, living in their natural environment. But despite the prominent women who have made great strides in primatology, marine biology, and other fields, it can still be hard to find good resources featuring female characters.
In this post, we've collected a variety of different books featuring female wildlife biologists, as well as toys, clothing, and room decor to encourage and celebrate her love of animals. Whether she's crazy for manatees or giraffes, lions or chimpanzees, you'll find some great options here!
To find the first post from our new series, check out our post, Mighty Careers: I Want To Be An Astronaut. Continue reading → Continue reading