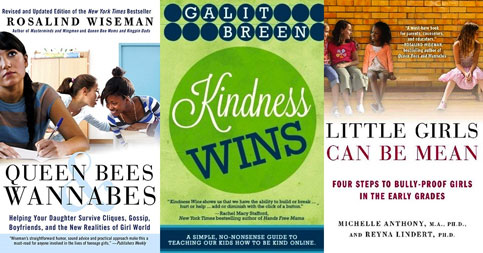 In order for our Mighty Girls to learn how to stand up against bullying, they need the help of the adults in their lives. Parents, teachers, school administrators, coaches and others in the community can have a powerful impact on children's attitudes toward bullying and how they will respond if they experience or are witness to it. But it can be challenging for adults to know when typical childhood conflict turns into a pattern of bullying, and to decipher when they should step in and when they should let children resolve their own conflicts.
In this third part of our blog series for Bullying Prevention Month, we focus on resources for parents and educators that explore the problem of childhood bullying and provide strategies for raising caring, kind children and handling those times when children aren't so kind.
For Mighty Girl books on bullying prevention for young children, check out our post, The End of Bullying Begins With Me: Bullying Prevention Books for Young Children.. For bullying prevention resources for older kids, visit our post, Taking A Stand Against Bullying: Bullying Prevention Books for Tweens and Teens.
It Starts Young: Bullying in Preschool and Elementary School
While some parents and school staff wave off conflicts in elementary school as just a fact of childhood, the fact is that persistent patterns of bullying — whether physical aggression or the more subtle relational aggression of exclusion and manipulation — can emerge as early as preschool ages. The good news is that the sooner kids learn that these behaviors aren't acceptable, the easier it is to stop them! These books focus on helping adults involved with preschoolers and grade-schoolers understand how bullying manifests at these young ages and how to nip it in the bud.
Bullying behavior crops up shockingly young — often, kids are already engaging in it by the time they start kindergarten. Anthony and Lindert tackle bullying behavior in girls as young as five, focusing on the more common pattern of girl bullying, relational aggression, and provide interactive tips to help girls deal with difficult social situations. They provide a four-step program for parents — observe, connect, guide, and support — to empower their girls to handle these issues in their day to day lives. They even provide guidance for how adults can use the same techniques in their own social interactions.
Social Drama: Bullying Among Tweens and Teens
As girls grow up, relationship dramas seem to multiply, and it's a rare tween or teen who hasn't been on one side or the other of bullying at some point. Adults are acutely aware of how fragile a kid's sense of self is during the tween and teen years, and how significant an effect teasing and bullying can have. These books help adults tackle bullying in the tween and teen years.
New Dimensions: Cyberbullying and Adult Bullies
Of course, bullying for kids today has gone beyond the schoolyard. Whether you're trying to provide advice about cybersafety and appropriate Internet behavior, or addressing the fact that sometimes, the bully in a child's life is an adult, these books will help.
Adults have a tremendous opportunity to influence kids' understanding and response to bullying. By teaching them how to interact positively with their peers and giving them the tools they need when conflict does arise, we can help support them as they work towards a bullying-free world.
Additional recommended Resources