A Mighty Girl's top picks of bullying prevention and empathy-building books for young children.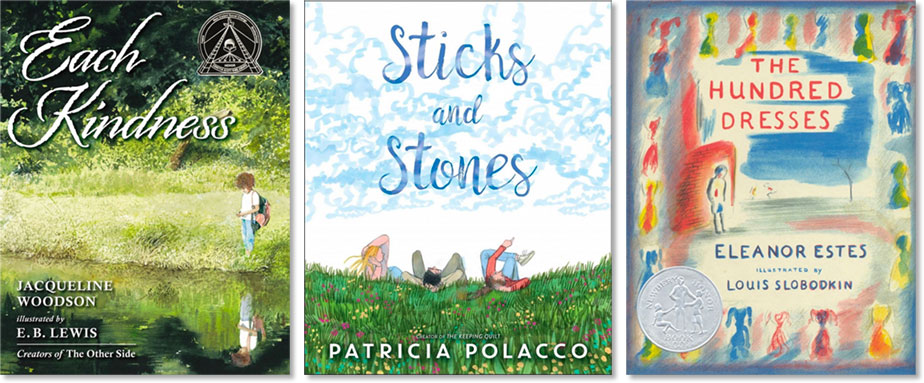 "The End of Bullying Begins With Me" is the message of National Bullying Prevention Month and at A Mighty Girl we believe that's absolutely true! By teaching our children about bullying — what it is, the effects it has on everyone, and the ways that we can stop it — we can work to ensure that bullying becomes a smaller and smaller part of all our lives.
With that in mind, we've put together a series of three blog posts featuring Mighty Girl anti-bullying resources for all ages. In this first part of the series, we'll showcase books for preschool and early school-aged children that address bullying from a variety of angles, while in the two remaining blog posts, we'll recommend resources for tweens and teens and resources for parents and educators.
For Mighty Girl books on bullying prevention for older girls, check out our post, Taking a Stand Against Bullying: Bullying Prevention Books for Tweens and Teens.
Of course, these are just a selection of the great anti-bullying books out there. For more books for all ages on bullying, visit our Top Books on Bullying Prevention for Mighty Girls special feature or our Bullying & Teasing book section.
Another Person's Shoes: Teaching Empathy
For the youngest Mighty Girls, bullying behaviors can happen because they're still learning that others have feelings like their own. While empathy is natural, it's also a skill that can be improved with practice. By reading these books with your Mighty Girl, you can help her develop her understanding of what it's like to be another person and how it would feel to be the victim of teasing or bullying.
It's natural for kids to notice differences, so it's important to tackle that head-on — before kids get to thinking that these differences should exclude people. With his distinctive, bright illustrations, Parr tackles all the differences that kids observe in the people around them — from skin color to family makeup to favorite foods and activities. Each page reminds the reader that these differences are not only okay, but wonderful! His calm message of acceptance will remind your Mighty Girl that differences are what make us special.
Beginning With Me: Dealing With Bullies
Of course, even if your Mighty Girl knows that bullying is wrong, she'll need some guidance about how to handle a bully. These books will give you an opportunity to talk about different ways to handle a bullying situation, whether your Mighty Girl is a bystander or the target of the bullying.
While everyone hopes that their child will never get caught up in bullying, the truth is that almost every child will be involved in it, whether as the victim, as the bystander, or even as the bully. However, by teaching children empathy and giving them skills for handling bullying, relational aggression, exclusion, and other form of bullying, parents and educators can help create the positive, empowered community of kids that we need in order to have bullying become a thing of the past.
Additional Resources