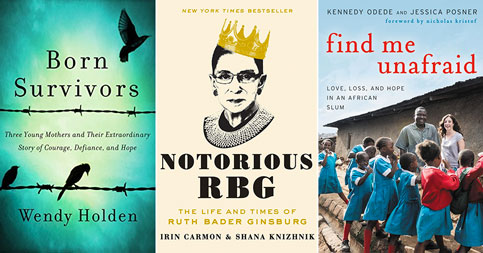 By Katherine Handcock, A Mighty Girl Communications Specialist
On A Mighty Girl, we feature thousands of books for children and teens about smart, confident, and courageous girls and women, but we are also often asked for reading recommendations for adults about inspiring women of the past and present. To that end, we're sharing thirty of our favorite books for adults about Mighty Women that were published in 2015.
Among these titles are gripping stories of survival, insightful introductions to oft-neglected female scientists, hilarious tales about life in the entertainment industry, and thoughtful reflections on the quest for women's rights. Our recommendations are all biographies with the exception of one remarkable work of historical fiction, The Nightingale, and a fascinating non-fiction guide, 100 Under $100: One Hundred Tools for Empowering Global Women. Since A Mighty Girl's website does not have a book section for adult readers, you won't find these recommendations on our site; however, we've included links below to Amazon so you can learn more or order individual titles.
So whether you're looking for a good book to delve into or a holiday gift for a friend, these women's stories are sure to inspire! And, to learn about our recommended 2015 releases for children and teens, don't miss our new post, The Gift of Reading: 50 Newly Released Books Starring Mighty Girls.
Ruth Bader Ginsburg made her name as a feminist pioneer long before the Internet was a pop culture phenomenon, but nearly 50 years into her career, an unusual thing happened: Tumblr, and the rest of the Internet, adopted the newly-nicknamed Notorious RBG as a symbol of how far we've come — and how much work we still have to do. This fascinating book combines interviews, annotated dissents from Supreme Court cases, archival documents, and illustrations to create a unique portrait of the woman who has spent decades transforming the way that America sees women. Along the way, readers will be inspired by this dedicated woman's unyielding strength of will.
Additional Recommended Resources