A Mighty Girl's top picks of books about the love between girls and their grandparents.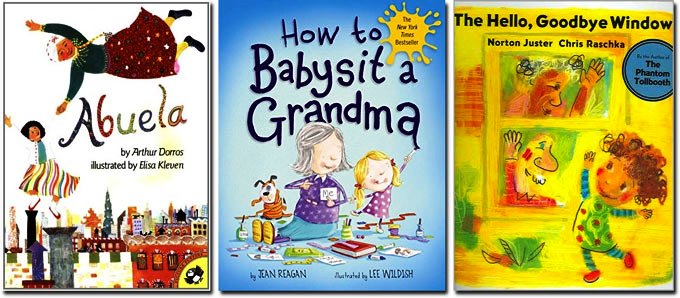 Many Mighty Girls know how special a relationship with grandparents can be: from special treats to family traditions, grandparents can offer a unique family connection to girls of all ages. And while these relationships can't always be physically close — and sometimes face obstacles, from different languages to a different perspective on the world — grandparents play an important role in the lives of many Mighty Girls.
In this blog post, we're paying tribute to that special relationship with 40 books about Mighty Girls and their grandparents. From picture books to young adult novels, these stories explore the many forms the unique grandparent/granddaughter relationship can take. Moreover, for the grandparents in our community, we've also featured several keepsake journals that you can use to share even more of your memories with the special Mighty Girl in your life.
For more books about Mighty Girls and beloved family members, check out our blog post, To My Mighty Girl With Love: 40 Stories About Parents, Grandparents, and Siblings.
Joone
Joone is not your ordinary girl: she lives in a yurt with her grandfather, who's got just the right spirit of fun to appreciate a granddaughter who loves orange, ice cream, and pet turtles that ride on her hat. Grandpa teaches Joone new things every day, and sometimes she's even able to return the favor — after all, even a grandfather should know how to make a daisy chain! This charming story celebrates how grandfather and granddaughter sometimes understand one another just perfectly.
Ladybug Girl's Day Out with Grandpa
Lulu and her grandfather are heading out for a special trip together: a day at the museum! Lulu, AKA Ladybug Girl, can't wait — she wants to learn everything, despite her grandfather's gentle reminder that there's a lot to explore. She darts here and there, soon becoming exhausted and discouraged. Then, Grandpa shows her a very special place: the butterfly room. There, Ladybug Girl learns that if she slows herself down to look and listen, she can experience wonderful things. This charming new addition to the Ladybug Girl series recognizes the wisdom and perspective that grandparents can teach.
The Hello, Goodbye Window
The kitchen window at Nanny and Poppy's house is like a magic portal for this little girl: everything special happens around it. Whether she's playing peek-a-boo through it on her way in or feeling both happy and sad when she sees Mommy and Daddy coming to pick her up, the window is the start of it all. Juster captures a child's view of the world — like her astonishment that she EVER took a bath Nanny's kitchen sink! — and Raschka's vivid, Caldecott Medal-winning illustrations present a cozy, loving view of this multi-generational, interracial family.
Grandma Lena's Big Ol' Turnip
Grandma Lena has grown the biggest turnip that anyone in the family has ever seen, but when it's time to pull it, it won't budge! Even when Grandpa, Uncle Izzy, and the dog help her, they can't get that turnip out of the ground. Fortunately, Baby Pearl provides the last bit of muscle necessary for the harvest. But when it's done, there's enough turnip for the family to share with the whole neighborhood. This lovely story about a close-knit family not only celebrates the relationship between grandmother and granddaughter, but also between other family members and the wider community.
Grandfather Tang's Story
Grandfather Tang tells a story in a special way; inspired by the visual aids used by Chinese storytellers, Tompert has Grandfather tells his granddaughter a story about two shape-changing fox spirits — using tangrams. By using the tangram pieces to create images of the fox spirits — and all their transformations — Grandfather Tang teaches Little Soo how to tell a great story and how to turn seven simple shapes into a world of possibilities.
Our Granny
Grannies come in many shapes and sizes, but for the Mighty Girls who love them, they're always just right! Two children compare their own beloved Granny to other grandmothers they know; they conclude that the most important thing about their Granny, even more important than her wobbly bottom, funny red sweater (that used to belong to Grandpa), and special good night kisses, is that "Our granny has us, and we have her."
Abuela
Rosalba and her Abuela are always going to new places, and after feeding the birds at the park, Rosalba sits on the bus and dreams about what it would be like if she could fly. Soon, she's soaring through the sky, Abuela floating beside her, as they see the streets and buses, docks and buildings, and even her father's office, all from high above. Together, they imagine a fantastic journey over their busy city, as Rosalba learns more about Abuela's life and background with everything they see. With its colorful illustrations and mix of Spanish and English, this book is a simultaneous tribute to a bustling, multicultural community and the love between grandmother and granddaughter.
The Wednesday Surprise
Anna and her grandmother have been working on a very special surprise. Day after day, in secret, they've been curled up together with a book in hand, puzzling out the letters and words... all so that, on Anna's father's birthday, Grandma can stand up and read a story to her son for the very first time. While Bunting communicates a powerful message about literacy, the stronger theme is the value of a close relationship between grandmother and granddaughter, and how that relationship will enrich both lives.
How to Babysit a Grandma
When you babysit a grandma, if you're lucky... it's a sleepover at her house! And with the useful tips found in this book, you're guaranteed to become an expert grandma-sitter in no time! This New York Times bestseller includes helpful tips for young readers on how to keep a grandma busy including things to do at the park, possible places to sleep, and what to do once you're both snugly tucked in for the night.
North Woods Girl
When Grandma tucks her pants in her boots and grabs her walking stick, this little girl races to join her side! As they walk near Grandma's north woods home, both grandmother and granddaughter get to enjoy special experiences unique to each season — from the snowy nighttime hoot of an owl to the pleasures of fresh tomatoes from the garden — but most importantly, they get to spend extra time together. This charming story captures the joy of exploring nature with someone you love.
The Bee Tree
Mary Ellen is tired of spending time reading, so Grandpa suggests that it's the perfect time to find a bee tree! Soon, they're bumbling through the woods, following bees, and being followed by curious bystanders who wonder just what the pair is doing. The wandering chase finally leads to the promised hive of honey, but when Grandpa and Mary Ellen head home, he has one final bit of wisdom for her: "Just like we ran after the bees to find their tree, so you must also chase these things adventure, knowledge, and wisdom through the pages of a book!" After all, who better than a grandparent to teach when to strive for knowledge — and when to take a break and enjoy the world.
Skyfishing
Ever since Grandpa moved to the city to live with his family, it's been hard for him to settle in: no matter what the family suggests he try, nothing is as appealing as the fishing that he loved...and had to leave behind. So when spring rolls around, his granddaughter suggests they cast out a line — off the fire escape! After a while, they get a bite: a Flying Litterfish! Soon, their rods are whipping back and forth as they hook Laundry Eels, Signfish, Constructionfish, and even a Waste-muncher. The game has to end when they attract the attention of the Troublefish/police car...but only for now. This imaginative picture book celebrates the power of play between grandparent and grandchild.
Mango, Abuela, and Me
Mia's abuela is moving in, leaving her sunny home surrounded by parrots and palm trees, and Mia is a mix of excited and uncertain... especially once she discovers that Abuela can't speak or read much English. Even though grandmother and granddaughter work to teach Abuela English — and Mia Spanish — they still don't have enough words in common to share stories, hopes, and dreams. Then Mia sees a beautiful parrot in the pet-shop window. Maybe a new friend can help her and Abuela communicate a little better. This charming story combines Spanish and English text beautifully, and kids will love the vibrant, colorful illustrations.
Emily's Tiger
When Emily gets angry, she turns into a ferocious tiger, and nothing can control her! Her rampant temper tantrums have wrecked the house, ruined birthday parties, and resulted in plates of food flying through the air. Finally, Emily's Granny stops by to teach her a secret: Granny has a tiger, too, except Granny's tiger knows that staying under control means she can have lot more fun. Thanks to Granny's inspiration, Emily manages to restrain herself through the day — so Emily Tiger and Granny Tiger can have some extra-special time together after bedtime. This whimsical story captures the wisdom grandparents can offer — after all, even a Granny was a girl once, too.
Thunder Cake
This little girl is so scared of the booming thunder of a Midwest thunderstorm that she hides under the bed! Fortunately, her Babushka knows that this is perfect thunder cake baking weather! By turning her granddaughter's thoughts to gathering all the ingredients they need — and teaching her to count beats between lightning and thunder so that she knows how far away the storm is — Babushka turns a classic childhood terror into a sign of a special treat! Based on Polacco's own childhood experiences combating a fear of thunder with the help of her clever grandmother, this book is a charming tale about how a grandparent's wisdom can benefit a child.
The Lines on Nana's Face
The family is celebrating Nana's birthday, but her granddaughter is concerned: if Nana is happy, why are there always lines on her face that make her seem worried or sad? Fortunately, Nana is quick to correct her: her wrinkles are memories, each of them created when something special happened. One furrow came from solving a mystery; some crow's-feet appeared at a seaside picnic; and one set of laugh lines happened upon hearing of the birth of a special little girl! This sweet intergenerational story alternates pictures of the present with scenes from the past, capturing how a grandparent's stories can make family history come to life.
Yiayia Visits Amalia
Yiayia is traveling from her home in the distant suburbs to Amalia's apartment in the city for a visit — but to get there, she'll have to go on quite the journey! And as with most trips, there are a few hiccups on the way, from a race to the train that leaves Yiayia panting to a lost suitcase. But throughout the trip, Yiayia is reminded of her beloved granddaughter and all the fun things the pair will do together. Mighty Girls who love cars, trains, and other things that go will particularly enjoy this lighthearted story.
Hana Hashimoto, Sixth Violin
After being inspired by her grandfather's beautiful playing on a recent trip to Japan — both classical music and fascinating imitations of natural sounds — Hana decides to take violin lessons. Now, she's signed up for the talent show even though she's only had three lessons! Her brothers insist that the performance will be a disaster, but Hana takes a page from Ojiichan's book and practices every day. And when last-minute jitters rear their heads, she draws on him for inspiration one last time — before bringing the house down! This sweet, quiet story is a lesson in the value of practice and dedication, as well as a reminder that grandparents don't have to live next door to influence their grandchildren's lives.
Grandma's Gloves
This girl's grandmother "has a way with flowers" and spends her days tending the gardens around her home — often with a little helper by her side. But even her loving assistant can't help but notice Grandma is starting to repeat things... and eventually Grandma is in the hospital, unable to recognize her own family. Her granddaughter feels lost and alone — until she remembers the lessons Grandma taught her about life, growth, and death. And when Grandma dies, her granddaughter is ready to take Grandma's gardening gloves and pass the knowledge on. This touching, sensitive story is a great way to help children understand that their relationships with grandparents doesn't have to end with the end of a life.
When Grandmama Sings
Grandmama Coles has just gotten a big opportunity: the chance to tour the South with a swing jazz band! And granddaughter Belle is thrilled to come along for the ride. But as she travels, Belle discovers that nothing is easy; everything is segregated, and Grandmama and other African-American musicians have to fight to be treated equitably. But when Grandmama sings, for a little while, everyone comes together, and Belle can see Grandmama's vision of "a place where black people and white people aren't kept apart." A beautiful story about how a grandparent can show a child about standing up for what's right.
Forget Me Not
Julia has always adored her grandmother, but recently, something has been changing. Grandma has been forgetting things, losing track of where she parked her car, even getting confused in familiar places. When they find Grandma wandering in the neighborhood one day, it's clear that something has to change. Julia's mother provides a gentle, empathetic explanation of Alzheimer's disease, and reminds her that, no matter what, she can still be an important part of her grandmother's life. Parents looking for other resources about grandparents with Alzheimer's disease or memory loss can also check out Still my Grandma and What's Happening to Grandpa?, which are both for age 4 - 8.
Yetsa's Sweater
On a spring day, Yetsa joins her mother and grandmother join together to prepare sheep fleeces for a very special tradition: the creation of traditional Cowichan sweaters. As Yetsa learns to clean, dry, and spin the fleece — and watches her grandmother knit a unique sweater, just for her — laughter, love, and hard work connect all three generations. This celebration of the Cowichan tribe's century-old blend of traditional woolworking with Scottish knitting is also a testament to the pleasures of a grandparent passing on family knowledge.
Sitti's Secrets
Mona lives in America, but her Sitti (grandmother in Arabic) lives across the world in a small Palestinian village. When Mona went to visit, at first she had to rely on her father to translate, but soon she and Sitti developed their own language of hums, claps, and signs. Mona's time with Sitti is so special that she is inspired to write to the President, saying, "If the people of the United States could meet Sitti, they'd like her, for sure...I vote for peace. My grandmother votes with me." The poetic text and subtle illustrations make for a touching story about how the bonds of family can transcend distance, language, and nations.
When I Was Young in the Mountains
This Caldecott Honor-winning story about Cynthia Rylant's childhood, being raised by her grandparents in the Appalachian Mountains, is a classic for a reason! Her vivid memories of her grandfather returning home, covered in coal dust, or her grandmother cooking okra, capture a seemingly barren, bleak life that is actually full of joy, warmth, and love. The beautiful illustrations and soothing repetition of the title phrase will captivate young readers, and open up an opportunity for her to ask her grandparents about what life was like when they were young.
A Morning with Grandpa
Mei Mai is curious when she sees Gong Gong practicing tai chi in the garden — so she decides to join in! Although Gong Gong patiently teaches her the slow, gentle movements, Mei Mei has a little too much energy, and bounces and bobs rather than swaying. Then Mei Mei offers to teach Gong Gong a few of the yoga poses she learned at school...but Gong Gong's body doesn't bend or stretch nearly as well as hers does! In the end though, each agrees that the other's moves are "perfect," and both have enjoyed their time exploring new things together. This sweet story about valuing the process as much as the result — and about the relationship between grandfather and granddaughter — includes guides to the tai chi and yoga moves in the story.
The Matchbox Diary
A little girls' great-grandfather has a home full of fascinating treasures from his long life, but when invited to ask him for the story of any item that catches her eye, she picks an old cigar box. To her amazement, inside is a collection of matchboxes that represents her great-grandfather's life, each one holding a tiny remembrance of a significant event. This beautiful story, told exclusively as a dialogue between elder and child, captures the sense of history a great-grandparent can provide.
The Highest Number In The World
9-year-old Gabriella is a hockey star, and treasures her jersey with number 22, the same number as her idol, Hayley Wickenheiser. But when her new team jersey sports the number 9 instead, Gabe doesn't think she can set foot on the ice without her lucky number! Hope comes in an unexpected place: a story from Gabe's grandmother about how fortunate Gabe is to be able to play and a lesson in hockey history. Maybe number 9 can be a lucky number too... A touching story of a supportive grandmother, with a helping of sports history mixed in, this is sure to please a Mighty Girl hockey fan.
Just Between Us: Grandmother and Granddaughter — A No-Stress, No-Rules Journal
In this keepsake journal, grandmothers and granddaughters can share thoughts, experiences, and precious memories easily! Thoughtful guidelines and prompts encourage them to talk about everything from childhood experiences to favorite books, and even their hopes and dreams for the future. There's plenty of free space to personalize the journal, as well as pages for drawing pictures and for writing a collaborative story. Written by the creators of Just Between Us: Mother and Daughter, this journal will quickly become a beloved connection between the generations.
Making Friends With Billy Wong
It's 1952, and Azalea is dreading a summer helping her Grandmother Clark — she struggles to make friends at the best of times, and now she'll spend months in an unfamiliar town. When Billy Wong, a local Chinese-American boy, shows up to help in her grandmother's garden, Azalea is startled that her grandmother encourages her to talk to him. Not only does it turn out that Billy is easy to befriend, but Azalea also discovers that making friends with others isn't so hard — and that there's much more to her grandmother than meets the eye. Middle grade readers will love how this unexpectedly deep relationship with a little-known grandparent teaches Azalea important lessons about kindness, empathy, and looking beyond the surface.
The Fourteenth Goldfish
11-year-old Ellie is nervous about the first year in middle school — and things only get stranger when an odd, cranky boy at her school turns out to be her Grandpa Melvin, who's dreamed of finding the secret to immortality. Having a grandfather her own age gives Ellie the chance to learn more about his passion for science but the more she learns, the more she wonders if science can go too far. Maybe Ellie has a few lessons to teach Melvin too. This lighthearted, funny book is sure to be a hit with science-loving kids.
Heidi
This classic tale of an orphan girl who is sent to live with her cold, frightening grandfather has delighted children for over 100 years. As Heidi's compassion and verve for life touch her grandfather's heart, they also invite in everyone in this small, Alpine Swiss village. Its cast of fascinating characters and Mighty Girl heroine are sure to be a hit — and don't be surprised if Grandma or Grandpa is thrilled to get to share a favorite childhood book of their own with their granddaughter!
Genuine Sweet
12-year-old Genuine has the power to grant any good-hearted wish...except her own. Her father is unemployed, and the whole family lives off of Gram's social security. Genuine throws herself into granting wishes, hoping to make the world better, but as word spreads, the requests she gets overtake her ability to keep up. Gram cautions her, though, that wishing for a better life and building one are two very different things. And when her beloved Gram dies, it will be that wisdom that sees Genuine through her grief...and helps her find a path to her own good life. This heartfelt story with fascinating characters is sure to delight middle readers.
Gone Crazy in Alabama
Delphine and her sisters Vonetta and Fern are back, and this time, they're visiting their grandmother, Big Ma, and her mother, Ma Charles, all the way in Alabama. It's not long after they arrive that they learn that Ma Charles' half sister, Miss Trotter, lives just across the street — and that the sisters haven't spoken in years. As the summer goes on, Delphine learns her family history from her grandmother and great-grandmother, and also struggles to deal with the resentment she feels at having to be caretaker for her younger siblings. But when tragedy strikes, Delphine learns that her family can, in fact, come together when it really matters. This companion to One Crazy Summer and P.S. Be Eleven will delight middle grade readers.
Switch
On their thirteenth birthday, every member of the Beaumont family gains a magical ability called a savvy. Gypsy is hoping for something amazing; instead she wakes up with blurry vision and glimpses of the future and past...including a terrifying vision of her very unmagical (and rather mean) Grandma Pat falling off a clock tower. Then, her parents announce that Grandma Pat has Alzheimer's and has to move in with them. Suddenly, all the savvies go haywire, and Gypsy's savvy switches so that she freezes time instead. Gypsy will have to negotiate these unexpected changes, accept the savvy she doesn't think she wants, and save her grandmother in order to set things to rights. This sequel to Ingrid Law's Savvy captures all the topsy-turvy feelings that come with a struggling grandparent — as well as a reminder that a family's love stands strong through everything.
Love, Ruby Lavender
Ruby's grandmother is going to be gone all summer, visiting a new grandchild far away from her Mississippi home. So Ruby is sure that the whole summer will be lonely and boring. Instead, while she writes letters to her beloved grandmother, Ruby also makes some new friends, gets herself neck-deep in the school play, and learns enough about herself to come to terms with her grandfather's death. Most importantly, Ruby learns that a grandmother's love is big enough to take on separation and new family members, and still leave plenty of room for her.
Sunny Side Up
It's 1976, and 10-year-old Sunny finds herself spending the summer with her grandfather in his Florida retirement community while her parents wrestle with her older brother's addiction problems. Sunny loves her brother, but resents having to spend her precious summer months in Pine Palms, away from her friends. But as the summer goes on, Sunny finds a friend, has a few adventures, and even comes to have a new appreciation for her grandfather, who might be able to help her understand her family a little better. This fun and emotional graphic novel highlights how grandparents can support their grandchildren through trying times.
When the Sea Turned to Silver
Pinmei's grandmother is a great storyteller, delighting both her listeners with exciting tales. But one day, the Emperor — who holds a grudge against the people of Pinmei's mountain — sends soldiers to kidnap Amah. The Emperor is searching for the Luminous Stone That Lights the Night, and Pinmei decides that the best way to get her grandmother back is to find the Stone. With her mysterious friend Yishan, Pinmei must face things they'd thought were only the realm of stories if she's going to rescue her grandmother in time. Readers will relish the evocative language in this book, a companion to the award-winning Where the Mountain Meets the Moon, as well as the depiction of a granddaughter's powerful love for her grandparent.
Listen, Slowly
Mai considers herself a Californian girl, eager for a summer of fun in the sun with her friends, so she's furious when her parents insist that she travel to Vietnam with her grandmother to get in touch with her family's history. For Mai's grandmother, the trip represents a hope of finding her husband, lost during the Vietnam war; to Mai, Vietnam is hot, smelly, and confusing, a part of her parents' life, not her own. But as Mai travels with her grandmother — and sees more of the country that shaped her grandparents' and parents' lives — she begins to see the value of knowing where your family came from. This thoughtful novel is the follow-up to Thannha Lai's award-winning novel Inside Out and Back Again.
The Whale Rider
Kahu is the only great-grandchild of Koro, chief of her tribe, and shows many of a chief's talents. Koro is desperate to find a successor, but by Maori tradition a girl can't lead. Still, Kahu is desperate to earn Koro's respect. When a pod of whales is beached and the tribe rushes to save them, Kahu remembers the stories of her legendary namesake, Kahutia the whale rider. Perhaps her connection with the whales is the key to her tribe's future — and her relationship with her great-grandfather. This stunning book was also adapted into the 2003 movie, starring Kesha Castle-Hughes.
A Year Down Yonder
It's 1937, and fifteen-year-old Mary Alice is going to spend a year with her Grandma Dowdel while her brother is off working for the Civilian Conservation Corps. But while occasionally summer adventures with a grandmother who loved to shake up her neighbors might have been fun with Mary Alice was younger, now she doesn't know if she can make it through! Fortunately, Mary Alice discovers that if she's willing to join Grandma on whatever ride she has planned, everyone's sure to have fun. This Newbery Medal book offers both a fun romp and some interesting historical detail as it explores the relationship between an eccentric Grandma and a hesitant granddaughter.
The Evolution of Calpurnia Tate
It's 1899, and Calpurnia lives in Texas with a crew of six brothers and a mother who's disappointed by her lack of interest in girls' skills like needlework and cooking. She'd much rather be exploring the world around her, and asking questions — like why the yellow grasshoppers in her yard are so much bigger than the green ones. Calpurnia's grandfather, a naturalist, is the natural person to ask — even if he is distant most of the time. But in exploring the natural world together, Calpurnia and her grandfather will develop a close bond that rises above society's ideas about what a girl should or shouldn't do. Fans of Callie Vee and her family will also want to check out the sequel, The Curious World of Calpurnia Tate.
The Thing About Luck
The year has been anything but lucky for Summer: an emergency has taken her parents back to Japan, leaving Summer and her brother Jaz — and the family farm's harvest — in the hands of her demanding grandparents, Obaachan and Jiichan. Summer tries not to disappoint, but just when she thinks she's used up her train of bad luck, things get even worse, and Summer finds herself torn: please Obaachan, or rescue the family fortunes. Or maybe there's a way to do both... This National Book Award winner is sure to be a favorite for Mighty Girls who find it hard to see eye to eye with their grandparents' expectations.
Mare's War
On a road trip with her two teenaged granddaughters, who look askance at Mare's wigs and stilettos, Mare decides to open up to them about her past. As the miles roll by, the girls learn that their seemingly embarrassing grandmother actually has a spine of steel: from her escape from a harsh, dangerous childhood home in the deep South, to lying about her age to join the Women's Army Corps, Mare has always reached out and grabbed life with both hands. This story is perfect for sharing the experiences of African-American women during World War II with a curious new generation.
The Grandmother Book
For many families, Grandma acts as the family historian — and this book allows her to pass on her own story. Pages cover coming-of-age moments, life-changing events, a look back at what was, family anecdotes and historical insight, all with prompts in the form of thoughtful, surprising, at times unexpected, and provocative questions. Spaces are included for special photographs, report cards, family tree, and other cherished keepsakes. It's the perfect way to kick-start grandmother's storytelling.
From Your Grandfather
This artfully designed keepsake offers grandfathers their own special vehicle for sharing their lives with the youngest generation. There's space to mention favorite relatives, jot down beloved stories, and pass on the important lessons that he learned from his own relatives. And to help the Mighty granddaughter see her important place in Grandpa's life, there are questions to inspire Grandfather to relate how being a grandparent has changed who he is as a person. The contemporary styling and irresistible format — featuring helpful questions written from the grandchild's perspective — make it easy and fun to share his special part of family history.
Additional Recommended Resources