A Mighty Girl's top picks of science, math, and programming toys for curious Mighty Girls from toddlers to teens.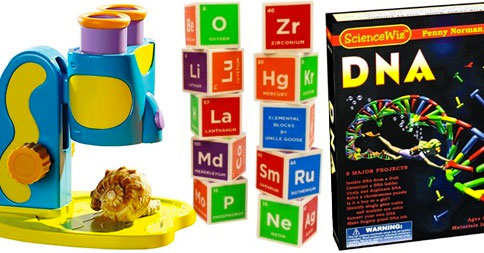 Kids are full of curiosity about how the world works, so why not give them a way to better explore it? With a high-quality science kit or toy, kids can incorporate the wonder of the everyday world into their play. In fact, it's amazing how much they can learn that way!
In this blog post, you'll find our favorite science, math, and programming toys and kits for curious kids of all ages. Whether you know a would-be star-gazer, a budding biologist, or an eager young robotics specialist, there are options here that will fascinate them. And who knows? Play alongside them and you might just learn something new too.
For books starring girls and women who love science, check out our blog posts: Ignite Her Curiosity: 25 Books Starring Science-Loving Mighty Girls and Those Who Dared To Discover: 15 Women Scientists You Should Know. And, for more fun STEM-related toys and kits, visit our Science & Math Toy Collection.

The Rules of the Universe: Chemistry, Physics, and Math
Do you remember how incredible it was to learn that certain principles of math, physics, and chemistry were behind all the complexity of the world around us? With these toys, kids can explore what the rules of the universe are and how they affect everything that we do.
Recommended Age: 2 and up
Most wooden blocks feature the A, B, Cs — but why not Au, Be, and Cu? This beautiful set of solid-wood blocks from Uncle Goose features all the elements of the periodic table, complete with symbol, name, and atomic number These ethically-made and eco-friendly blocks would be a hit with an adult chemistry fan, too!
Buy:
Amazon.co.uk
(Unavailable)
Earth, Sky, and Space: Biology, Geology, and Astronomy
Some kids are more interested in the specifics of earth and life sciences, rather than the guiding principles behind them! Whether your child likes studying microscopic creatures or gazing to the stars, there's a gift idea here to foster their interests.
Power Up: Energy, Robotics, and Programming
For many kids, the most exciting part of science is everything that it lets us do! From learning about electricity to building robots that really work, these kits will get kids into the engineering and design that goes into the technology we use every day.
Additional Recommended Resources