A Mighty Girl's top picks of spooky and suspenseful books for tweens & teens.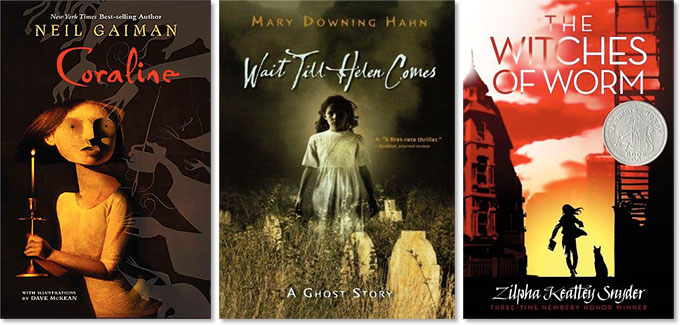 As Halloween approaches, it's fun to read spooky stories that send shivers up and down your spine! While in the past, many thrilling tales of suspense and mystery played up the stereotype of the screaming girl who needs rescuing, there are many great books available today starring Mighty Girls who use their courage, their wits, and their strength to untangle the mystery and face down whatever is lurking in the shadows.
In this blog post, we've showcased our favorite girl-empowering spooky stories perfect for tweens and teens — ones that no doubt many adult readers will enjoy as well. These titles are sure to have her eagerly flipping pages to how the brave heroine evades danger and saves the day! You just might want to read them with the lights on...
For more books of witches, monsters, and other spooky things for readers of all ages, check out our special feature on the Top Halloween Mighty Girl Books and Films.
Spooky Mighty Girl Stories
Splendors and Glooms
Master puppeteer Gaspare Grisini is famed for his puppets that almost seem alive — Clara Wintermute, the only child of a wealthy doctor, is so spellbound that she insists on having him perform at her birthday party. Grisini's two orphaned assistants, Lizzie Rose and Parsefall, are awed by Clara's extravagant home but soon discover that her lie is more dark than it appears... and when she disappears, suspicion falls on Grisini, and therefore on them. As they try to find Clara, Lizzie and Parsefall will learn about Grisini's criminal past, his ancient and dangerous rival, and the fearful strings that seem to tug and pull them in every direction. Descriptive and full of mystery, this Victorian gothic novel, which won a Newbery Honor, will thrill middle-grade readers.
The Shadows
When Olive and her parents move into a mysterious mansion full of old paintings, she can't help but feel that there's something wrong with the house. When she bumps into the house's three talking cats, she realizes that there's dark magic at play, and when she discovers a pair of antique glasses that let her jump into the paintings to Elsewhere, a quiet and strangely sinister world, she starts to wonder if she's in over her head. There's a power in Elsewhere that wants to be rid of her, and it's not clear if the cats are really on her side... Spooky and magical, this is a series debut that's not to be missed. Fans of the series can continue Olive's adventures in Spellbound.
A Properly Unhaunted Place
In Rosa Ramona Díaz's world, ghosts are everywhere. Sure, sometimes they need calming — that's why her mother is a ghost appeasement specialist — but they're a critical part of honoring departed loved ones. So when her mother moves to Ingot, the only ghost-free town in the world, Rosa isn't happy. But it soon becomes clear that there's something sinister behind Ingot's lack of ghosts, and with Jasper Chevalier, a new friend, she sets out to rein in angry spirits and solve the mystery. Part supernatural story and part coming of age tale, this inversion of the traditional ghost story is sure to be a favorite.
The Aviary
Twelve-year-old Clara lives in a strange place — the crumbling mansion where her mother works as a servant to widowed Mrs. Glendoveer includes an aviary, where the birds shriek every time she approaches. But one day, instead of squalling, the mynah bird speaks — and Clara starts uncovering dark secrets about the Glendoveer family. As Clara tries to solve the Glendoveers' mystery, she learns secrets about her own family and, all the while, she has the feeling that the birds want to tell her something... A spooky tale of secret identities, nasty villains, and surprising heroes, this book will totally absorb young readers.
The Witches of Worm
Jessica is already feeling isolated from both her busy mother and her peers when she brings home a skinny, ugly kitten she calls Worm. But then Worm starts convincing her to do mean, awful things — and Jessica realizes that Worm must be a witch's cat. So has Worm bewitched her or does he have other reasons to be interested in Jessica? And how can she free herself from his influence? This Newbery Honor book captures the isolation and alienation many young people feel, and explores the question of moral responsibility — all in a spooky, supernatural setting.
Serafina and the Black Cloak
It's 1899 and 12-year-old Serafina lives with her pa in the basement of the Biltmore Estate in North Carolina, where the most important rule has always been that no one can know she's there. But when children start disappearing, Serafina knows the culprit: the mysterious man in a black cloak she's seen stalking the estate's halls. With the help of the estate owners' nephew, Braeden, Serafina must find a way to reveal the man's true identity. In the process, she will learn secrets about a legacy of magic and discover who she really is. Fans of this book will also want to check out the sequels, Serafina and the Twisted Staff and Serafina and the Splintered Heart. All three are also now available in a new box set.
Elizabeth and Zenobia
After being abandoned by her mother and ignored by her scientist father, Elizabeth found her own companionship: an imaginary friend named Zenobia. But when Elizabeth's father moves them into his childhood home, Witheringe House, her "friendship" with Zenobia becomes strained. Zenobia is convinced they'll find a ghost in the house, and forces Elizabeth to conduct seances and investigate the history of the house. And in their investigations, Elizabeth learns a family secret: her father's younger sister disappeared on these grounds years ago. What other things at Witheringe House aren't as they seem? With an eerie atmosphere and evocative language, author Aussie Miller crafts a story about finding friendship and the power of the imagination, wrapped up in a Gothic mystery.
Coraline
Be careful what you wish for! Coraline is bored in her parents' enormous house, so when she discovers a special door that leads to a parallel world that seems almost the same — but better — at first she's thrilled. The creepy denizens of the other house don't bother her — until she gets to know her mirrored parents, white-faced, button-eyed, and determined to keep their little girl on their side of the door. Is Coraline clever and brave enough to return to her normal life? Gaiman's tale quickly became a young adult classic, and has also received graphic novel treatment as well as being turned into an animated film.
Brightwood
Daisy Fitzjohn knows there is a world outside her home at Brightwood Hall — but it's a world she's never seen. Instead, Daisy has lived her whole life inside the mansion's walls with her mother and her two best friends: Tar, a talking rat, and the ghost of a long-dead explorer who calls herself Frank. Then one day, Daisy's mother leaves... and James Gritting, a man who claims to be a cousin, comes to call. With each day that Daisy's mother is gone, it becomes more clear: Gritting wants Brightwood for himself and Daisy is in his way. Thrilling and dark, this novel will leave tween readers asking themselves where imagination ends and madness begins.
Doll Bones
Twelve-year-olds Zach, Poppy, and Alice have been friends for years, playing a long game of pretend that features the Great Queen, a bone-china doll. But when Zach's dad throws out all his action figures, believing his son ought to give up such childish play, he quits the game — and Poppy starts having dreams about the Queen, who, it turns out, was made with the bones of a dead girl... one who wants to be returned to her grave. The kids set out on one last adventure, but with things going wrong every step of the way, and the Queen getting more frightening by the moment, will they be able to find a happy ending? Alternately a creepy ghost story and a poignant tale about the inevitability of adulthood, this Newbery Honor title will keep your tween thinking long after it's finished.
The Night Gardener
Abandoned siblings Molly and Kip are working as servants in a declining Victorian manor house. But the house's owners — and the tree on the grounds — have unexpected secrets, and soon Molly and Kip must combat a dangerous spirit with nothing but their wits and the power of storytelling. Can Molly's gift of the gab keep them safe from the ominous Night Gardener? Or will the ancient curse that threatens both them and the other inhabitants of the manor drag them all down? An eerie tale that captures the power of storytelling, this bestselling book is not to be missed.
Wait Till Helen Comes
Molly's little stepsister, Heather, has been a nuisance ever since their parents got married. When their parents move the family to a country house that used to be a church, Molly is particularly creeped out by the graveyard nearby...but Heather seems drawn to it. Worse, she's soon talking about "Helen," a ghostly girl who Heather insists is coming for all three of them. As Molly learns more about Helen — and about the reasons for Heather's odd behavior — she becomes determined to figure out a way to stop Helen and ensure that Heather is safe. This creepy and suspenseful ghost story is perfect for readers who are not  "faint at heart."
Jane-Emily and Witches' Children
When Louisa and her nine-year-old orphaned niece Jane visit a relative's mansion in Massachusetts, it doesn't take long to realize that something malevolent lurks about the house. Jane looks into a reflecting ball in the garden and sees another girl's face: a girl named Emily, who lived in the house long ago. Louisa soon realizes that rageful, vicious Emily, who died before her thirteenth birthday, never left the house...and that she has terrible plans for Jane. It will take all of her courage and strength to fight for her innocent niece and defeat Emily once and for all... This classic novel of the supernatural is now back in print, ready to thrill and scare a new generation of readers.
The Thickety: A Path Begins
When Kara was five years old, her mother was convicted of witchcraft and executed, leaving her and her brother motherless and under suspicion. The village considers magic evil — almost as evil as the deep forest called the Thickety that covers most of the island. But when Kara dares to follow a strange bird into the Thickety, she finds a book with remarkable powers. But how will she use those powers — does she want to protect the people who killed her mother or will she choose revenge? Kara's story continues in the sequel, The Whispering Trees.
The Coldest Girl in Coldtown
In Tana's world, Coldtowns are dangerous places, walled cities housing quarantined vampires and their humans prey; once you enter a Coldtown, you never leave. But when Tana wakes up after a high school party to find herself surrounded by dead bodies, her newly infected ex-boyfriend, and a mysterious chained vampire — and pursued by hungry vampires eager for their blood — she comes up with a desperate plan: she'll get all three of them into Coldtown. But Tana isn't sure she's ready to leave her regular life behind. If she can get them all in, maybe she can also get herself back out... A heart-pounding pace and a detailed, fascinating world make this an exciting teen thriller.
The Cavendish Home for Boys and Girls
Victoria's life is perfect — except for her friend Lawrence, with his untucked shirt, his dreamy ways, and his obsession with his piano. Nevertheless, Victoria puts up with Lawrence...until he disappears. Victoria tracks his steps to the Cavendish Home for Boys and Girls, where she discovers to her horror that children who enter shape up — or they never leave at all. If Victoria is going to stop the malicious Mrs. Cavendish and her dark magic, she'll have to face her fears — and learn to reach out for help from others. This creepy and intense horror novel also communicates a powerful message about individuality and friendship.
Anya's Ghost
Anya is desperate for a friend, so when she falls down a well and meets a hundred-year-old ghost, she figures that a ghost friend is better than nothing. Emily seems to understand Anya's struggles with fitting in as an immigrant and her desire to be someone different. But some of the things Emily suggests make Anya very uncomfortable, and when Anya discovers that Emily has been lying to her, it becomes terrifyingly clear that Emily has a very dark side. At the same time, Anya starts to realize that popularity might not be all it seems. This supernatural graphic novel explores the real-life challenges of teens with a spooky twist that will send tingles down her spine.
The Diviners
For Evie O'Neill, New York City in the 1920s is going to be the best time of her life, and soon she's exploring speakeasies and movie palaces — and befriending showgirls and pickpockets. The only inconvenience is having to live with Uncle Will, the curator of The Museum of American Folklore, Superstition, and the Occult — also known as "The Museum of the Creepy Crawlies." But when a series of occult-based murders begin — and Evie and her uncle end up in the midst of the investigation — Evie wonders how long she can keep her deepest secret: her gift for divining information from objects that could help her catch the killer — or lead him to hunt her down. Complex characters and a suspenseful story will keep her turning pages to the end.
The Walls Around Us
Amber was convicted of murdering her abusive stepfather at 13, and now she spends her days in Aurora Hills juvenile detention center. Vee is an ambitious would-be ballerina concealing desperately insecurity — and a secret that could threaten her dreams. And Orianna connects the two of them: she was Vee's friend and Amber's roommate at Aurora Hills... before she died. But justice has not been done, and something wants to ensure it is — in this life or the next. Or maybe not; as the story progresses, the reader is left wondering what is true, what is false, and who exactly is guilty. This suspenseful story with a hint of the supernatural, told in alternating viewpoints, will keep teens guessing — and talking long after the story is done.
How to Hang a Witch
Sam doesn't feel particularly welcome in her new home in Salem, Massachusetts: she's related to Cotton Mather, who was responsible for the Salem Witch Trials, and a group of girls who call themselves the Descendants — of the women who were accused — are set on giving her no end of trouble. On top of everything, an angry ghost wants Sam to stop touching his things. But when Sam realizes that she's at the center of a curse that affects people with ties to the trials, she'll need to work with both the ghost and the Descendants... before history repeats itself. Full of twists and turns and a deep narrative that explores everything from bullying to destiny, teens will devour this spooky, atmospheric novel.
Additional Recommended Resources