A Mighty Girl's top picks of spooky and suspenseful books for tweens & teens.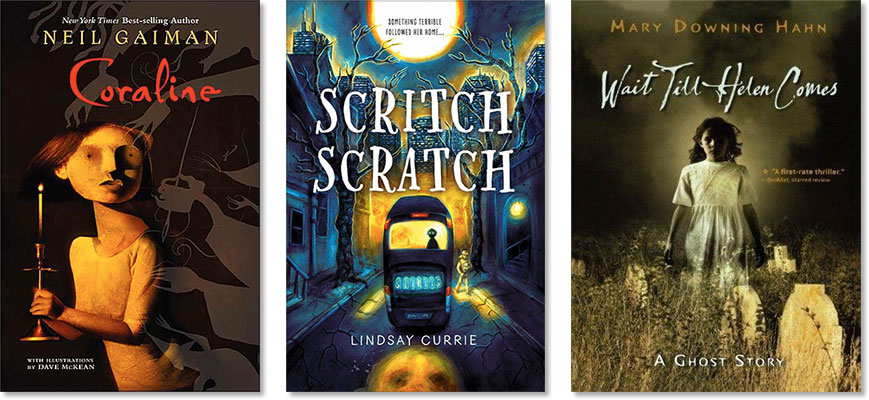 As Halloween approaches, it's fun to read spooky stories that send shivers up and down your spine! While in the past, many thrilling tales of suspense and mystery played up the stereotype of the screaming girl who needs rescuing, there are many great books available today starring Mighty Girls who use their courage, their wits, and their strength to untangle the mystery and face down whatever is lurking in the shadows.
In this blog post, we've showcased our favorite girl-empowering spooky stories perfect for tweens and teens — ones that no doubt many adult readers will enjoy as well. These titles are sure to have her eagerly flipping pages to how the brave heroine evades danger and saves the day! You just might want to read them with the lights on...
For more books of witches, monsters, and other spooky things for readers of all ages, check out our special feature on the Top Halloween Mighty Girl Books and Films. And if you're looking for the perfectly spooky costume, visit our Girl Empowerment Halloween Costume Guide.
Spooky Mighty Girl Stories
Master puppeteer Gaspare Grisini is famed for his puppets that almost seem alive — Clara Wintermute, the only child of a wealthy doctor, is so spellbound that she insists on having him perform at her birthday party. Grisini's two orphaned assistants, Lizzie Rose and Parsefall, are awed by Clara's extravagant home but soon discover that her lie is more dark than it appears... and when she disappears, suspicion falls on Grisini, and therefore on them. As they try to find Clara, Lizzie and Parsefall will learn about Grisini's criminal past, his ancient and dangerous rival, and the fearful strings that seem to tug and pull them in every direction. Descriptive and full of mystery, this Victorian gothic novel, which won a Newbery Honor, will thrill middle-grade readers.