13 children's books about Japanese-American girls interned during WWII.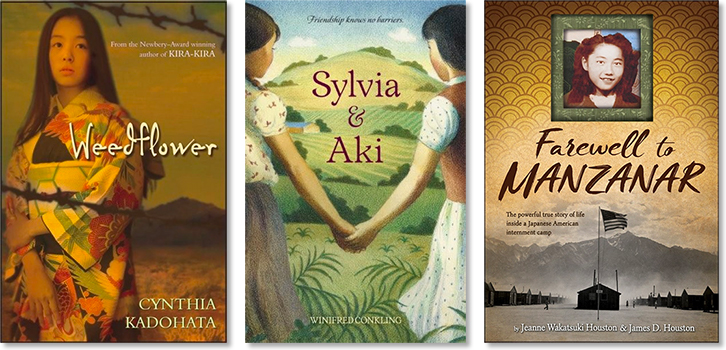 For most people, the idea of rounding people up into camps is decidedly un-American, the sort of thing that we associate with tyrants and dictatorships. And yet, that's exactly what happened after the Japanese attack on Pearl Harbor during WWII — over 100,000 Japanese Americans, the majority of whom were native born U.S. citizens, were forcibly removed from their homes and incarcerated in the name of "national security." Any person of Japanese ancestry could be suspect, the government at the time reasoned, and therefore all of them should be treated as such. In fact, the federal government admitted decades later that the policy has been based on "race prejudice, war hysteria, and a failure of political leadership."
This is not a comfortable part of American history, and often, people avoid talking to children and teens about it. And yet, especially in the current climate, when executive orders are once again targeting individuals based on their associations with countries deemed enemies, it is more important than ever to talk about the realities of what Japanese-American citizens faced when fear overwhelmed concerns about justice and compassion.
With the help of thoughtful children's literature, it is easier to explain this shameful chapter in American history. With that in mind, we've showcased 13 books for children and teens about the experience of Japanese-American girls both during their time in internment camps and as they worked to rebuild their lives after being released. These books will help kids understand more about the realities of this historic period, the injustices that the Japanese-American community experienced, and why it's critical that we never allow such policies to be put in place again.
Books About The Japanese-American Internment
Emi's family has been told that all Japanese Americans must go to an internment camp; it's 1942, and America and Japan are at war. Emi doesn't think it's fair, and she doesn't want to leave her home, her school, and her best friend, Laurie. She doesn't want her mother to be even more unhappy, however, so she tries to hide her feelings. But on the first day at the camp, when Emi realizes she's lost the heart bracelet that Laurie gave her, all her feelings come spilling out: "How will I ever remember my best friend?" This poignant story uses one child's loss to show readers the injustice of the internment camps, but ends with a uplifting powerful message about resiliency and Emi's realization that those we love will always be with us in our hearts.
Mariko's family has just been freed from an internment camp, but it's hard to find joy in that: her father's truck has been sold by their former landlord, leaving him unable to start his gardening business and forcing the family to move into a trailer park. Mariko wants to help her father feel happy again, but she doesn't know what to do. When her father gives her two seed packets, she becomes determined to make them grow, tending them carefully and even singing to them as she works. When her father hears Mariko singing, he finally smiles: perhaps there will be a new life for them after all. Poignant and hopeful, this picture book addresses the challenges Japanese-American citizens faced as they rebuilt their lives after the camps were closed.
Laura Iwasaki's family is visiting her grandfather's grave at the Manzanar internment camp one last time: the family is moving from California to Boston and want to pay their respects before they go. Laura's grandfather, a tuna fisherman, died at the camp, never again seeing his beloved ocean. As a token for the grandfather she never met, Laura has brought a heartbreaking piece of family history: her father's Boy Scout neckerchief, which her grandfather urged him to wear on the day they were transported to the camp: "That way they will know you are a true American and they will not take you." This powerful and thought-provoking picture book serves as a reminder that while the past cannot be changed, the most important thing we can do is ensure that such wrongs are not repeated.
Under the warm sun, Mari is taking an art class... but how can she think about drawing pretty pictures when she's living in Topaz, a Japanese-American internment camp, a forlorn place where nothing seem to grow? Slowly, though, Mari begins to see glimmers of hope: kind words from her art teacher, love from her parents, and a slowly growing friendship. Perhaps, even though everything around her seems wrong, she can still find a way to build a happy life. This sensitive book is a testament to the power of hope and to the resiliency of children to overcome prejudice, discrimination, and hate.
Ten-year-old Manami hates the unfairness of the order that is forcing her family to leave their home — and she's especially heartbroken that Yujiin, her and her grandfather's beloved dog, isn't allowed to come with them and must be given away to a neighbor. Determined not to be separated from Yujiin, Manami decides to try to sneak him into the camp... but when she is caught partway there, she is forced to abandon him. Weighted down by the guilt, Manami goes silent, and wonders if anything will ever be okay again. Without her voice, she draws pictures and writes notes to Yujiin, releasing them into the air and hoping he will follow them back to her. This contemplative and ultimately hopeful story shows how the love of her family helps Manami forgive herself and once again reclaim her voice.
Sylvia never expected to be the center of a landmark legal battle: she just wanted to go to school. Aki never expected to be sent to a camp far from home; she just wanted to continue to live peacefully on her family's farm. But in America in the 1940s, life for a Mexican-American or Japanese-American girl would not be so simple. These two girls — Sylvia Mendez, whose family challenged racial segregation in California schools, and Aki Munemitsu, whose family farm became the Mendez's home when they were sent to an internment camp in Arixona — later met and became close friends. Author Winifred Conkling used interviews with both women to build this fictionalized account of their true stories of prejudice, courage, and resilience.
12-year-old Tomi Itano's parents may have come from Japan, but she was born in America — the only place she's ever known is her family's strawberry farm. But once the US and Japan are at war, she starts seeing "No Japs Allowed" signs appear in stores and her family is increasingly ostracized. Worse, her father is arrested, suspected as a spy, and the rest of the family is sent to an internment camp. As she experiences more hate and vitriol, Tomi starts to become bitter, wondering what exactly she has to do to prove she is an American. But Tomi decides not to let that anger overwhelm her: instead, she becomes determined to improve the lives of others around her in the camp. This heartfelt story provides an insightful look at the discrimination faced by the Japanese Americans, while inspiring readers with its optimistic young protagonist who shows the power of perseverance to make a positive difference in her community.
The Fences Between Us: The Diary of Piper Davis, Seattle, Washington, 1941
13-year-old Piper's father is the pastor at the Japanese Baptist Church, so she's always been close to the Japanese-American community. When Pearl Harbor is attacked, she worries about her brother, who was serving there, but also feels bound to defend her Japanese-American friends from her fellow students, who say they should be expelled. Then Piper's world is rocked again: her father announces that, if his congregation is going to be moved to the Minidoka War Relocation Camp in Idaho, his family will join them. In a series of diary entries, Piper wrestles with her resentment at being forced to move and her horror at the treatment of her fellow Americans. Absorbing and well-researched, this book provides a jumping off point for discussions of individual rights versus security, as well as posing the question of what the reader would do if she saw injustice happening around her.
Recommended Age: 9 and up
When eleven-year-old Yuki and her family are "evacuated" to Topaz, a bleak and dusty internment camp, the first thing she can think about is what she's left behind: her home, her belongings, friends and neighbors. But life in the camp becomes even more difficult, with too many people in too small a space, not enough supplies, and the constant struggle to make life seem even a little normal. Based on Yoshiko Uchida's personal experience at Topaz, this classic book offers a realistic look at the life of a child in the camps and an inspiring lesson about the enduring power of the human spirit.
After the camps were closed, Japanese-American citizens were free to go home — but the return had its own difficulties and pain. In this sequel to Journey to Topaz, everything is changing for Yuki: her brother has left the camp to serve in the American army, her father has returned, and her family is given permission to return to their home in Berkeley, California. But rebuilding their lives seems impossible: her father was forced to sell his business, the family still faces discrimination from all sides, and even Yuki's friend Emi won't speak to her. In the midst of all these challenges, Yuki's family, and the Japanese-American community, persevere: what they can't achieve alone they will try to achieve together. This insightful book about life after the internment camp experience also conveys important messages of resilience and forgiveness.
In Oregon, two small rival towns come together every year for a special event: a softball game between the town's sixth-grade girls. But this year, the game brings an unexpected conflict: Aki, a Japanese-American girl just returned from an internment camp, is on one team, while Shazam, whose father was killed at Pearl Harbor, is on another. And when Shazam assaults Aki in the middle of the game, the whole community will be affected, forced to look at the true consequences of war and prejudice, as well as the challenges of reconciliation. Told in 21 voices, this book provides a unique narrative exploring many different perspectives around the treatment of Japanese Americans during the war, with a potent message about the importance of cultivating peace and understanding.
Sumiko is twelve, but she already divides her life into two parts: before Pearl Harbor, and after. Before, she may have been the only Japanese girl in her class, but she could escape the teasing in her family's beautiful flower farm. After, she and her family are shipped to an internment camp in one of the hottest deserts in the US — a place that is not only strange to Sumiko, but seems barren by comparison to California. To make things worse, the camp is on a Native American reservation, and the Mohave locals don't want them there either. But as Sumiko slowly develops a friendship a young Mohave boy, and learns how to grow a garden in her new home, she begins to believe she can overcome her despair and stand tall once again. This powerfully emotional novel also captures how different communities of people can draw together to support one another.
Recommended Age: 12 and up
Jeanne Wakatsuki was seven years old when her family was moved to the Manzanar internment camp. In this poignant memoir, she remembers what it was like living in Manzanar with 10,000 other Japanese Americans, some recent immigrants and some, like her, natural born citizens. She remembers the bizarre juxtaposition of barbed wire, spotlights, and armed guards with sock hops, baton twirling lessons, and a dance band that played hit songs — except for the current #1 on the charts, 'Don't Fence Me In.' This touching first-hand look at the internment experience raises questions about cultural pride versus assimilation; what cost a country is willing to pay for security; and how people can maintain their identities and their dignity under the force of prejudice and oppression.
Additional Recommended Resources