13 children's books about Japanese-American girls interned during WWII.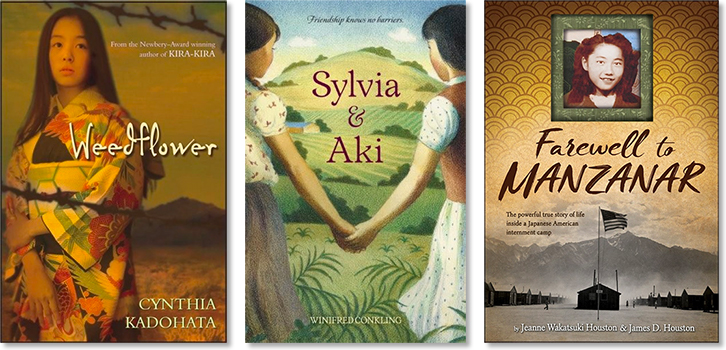 For most people, the idea of rounding people up into camps is decidedly un-American, the sort of thing that we associate with tyrants and dictatorships. And yet, that's exactly what happened after the Japanese attack on Pearl Harbor during WWII — over 100,000 Japanese Americans, the majority of whom were native born U.S. citizens, were forcibly removed from their homes and incarcerated in the name of "national security." Any person of Japanese ancestry could be suspect, the government at the time reasoned, and therefore all of them should be treated as such. In fact, the federal government admitted decades later that the policy has been based on "race prejudice, war hysteria, and a failure of political leadership."
This is not a comfortable part of American history, and often, people avoid talking to children and teens about it.  However, it's important to talk about the realities of what Japanese-American citizens faced when fear overwhelmed concerns about justice and compassion. And, with the help of thoughtful children's literature, it's easier to discuss this shameful chapter in history.
With that in mind, we've showcased 16 books for children and teens about the experience of Japanese-American girls both during their time in internment camps and as they worked to rebuild their lives after being released. These books will help kids understand more about the realities of this historic period, the injustices that the Japanese-American community experienced, and why it's critical that we never allow such policies to be put in place again.
Books About The Japanese-American Internment
Emi's family has been told that all Japanese Americans must go to an internment camp; it's 1942, and America and Japan are at war. Emi doesn't think it's fair, and she doesn't want to leave her home, her school, and her best friend, Laurie. She doesn't want her mother to be even more unhappy, however, so she tries to hide her feelings. But on the first day at the camp, when Emi realizes she's lost the heart bracelet that Laurie gave her, all her feelings come spilling out: "How will I ever remember my best friend?" This poignant story uses one child's loss to show readers the injustice of the internment camps, but ends with a uplifting powerful message about resiliency and Emi's realization that those we love will always be with us in our hearts.
Additional Recommended Resources