Dr. Patricia Bath was an early pioneer of laser eye surgery whose cataract-removal invention has saved the vision of millions of people around the world.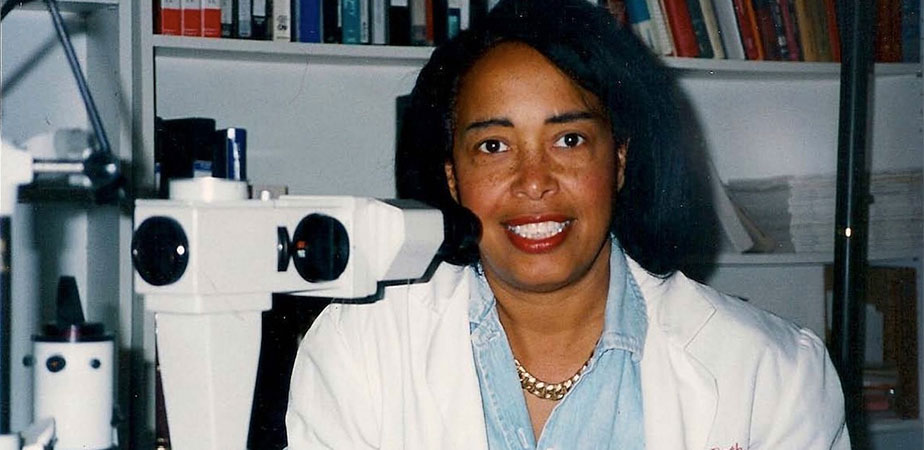 A Renaissance woman in the world of vision, the pioneering ophthalmologist Dr. Patricia Bath not only founded the discipline of community ophthalmology to help underserved populations  have better access to vision care, she invented a device that quickly and easily dissolves cataracts, becoming the first African American female physician to receive a medical patent. Her invention of the Laserphaco Probe was recognized by the U.S. Patent and Trademark Office in 2014 as "one of the most important developments in the field of ophthalmology" for having "helped restore or improve vision to millions of patients worldwide." A trailblazer for both women and African Americans in medicine, Bath always considered the people she helped her greatest accomplishment, asserting that "the ability to restore vision is the ultimate reward."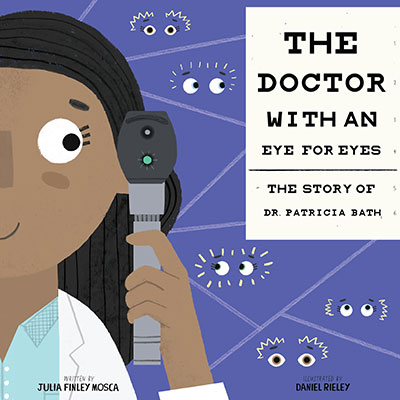 Bath was born in Harlem, New York on November 4, 1942. Her father, a Trinidadian immigrant, worked as a merchant seaman and taught her a love of travel and world cultures. Her mother, who traced her ancestry back to both African slaves and Cherokee Native Americans, taught her to love books and reading, and encouraged her early interest in science with a chemistry set. Bath excelled at school, and her parents reminded her not to take the opportunity to get an education for granted. "[My parents] believed that with enough education, I could own the world," she said.
In high school, Bath discovered a new love: biology. She won multiple science awards and was selected for a National Science Foundation summer program, where her work with Rabbi Moses D. Tendler and Dr. Robert O. Bernard ended up becoming part of a published joint scientific paper in 1960. She finished high school in two and a half years and set her sights on a medical degree. After receiving a bachelor's degree in chemistry from Hunter College, she attended Howard University's School of Medicine.
Following medical school, Bath was interning in ophthalmology at both Columbia University and Harlem Hospital in the late 1960s when she noticed that Black patients were twice as likely to lose their sight as White patients. She conducted an epidemiological study that determined this disparity was due to a lack of access to eye care, a revelation which later inspired her to found the discipline of community ophthalmology. She also convinced her professors at Columbia University to start performing ophthalmological surgeries at Harlem Hospital free of charge; prior to that, no eye surgeries had been performed there. Bath volunteered as the assistant surgeon, and was present for the first eye surgery ever performed there.
Although Bath had already proved her skills as an ophthalmologist, she still faced obstacles because of her sex and race. In 1975, she became the first female faculty member at UCLA's Jules Stein Eye Institute; however, she recalled in an interview, "I was offered an office in the basement next to the lab animals, which I refused. I didn't say it was racist or it was sexist. I said it was inappropriate and succeeded in getting acceptable office space." By 1983, she had become the chair of the Ophthalmology Residency Training Program at Drew/UCLA, making her the first woman in the country to hold such a position.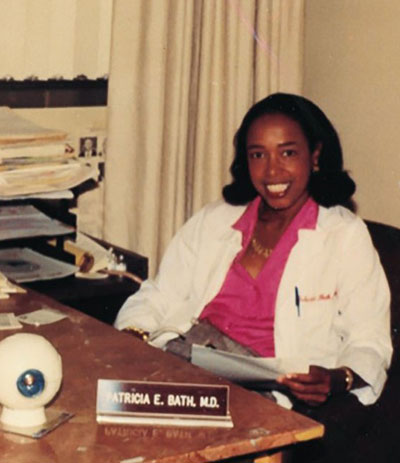 To advance her goal of reducing blindness worldwide, she founded the field of community ophthalmology in 1976. This approach, which combines community medicine, public health, and clinical ophthalmology, is now used in many communities around the world to help ensure that people have access to eye care regardless of income. As part of these efforts, she cofounded the American Institute for the Prevention of Blindness (AIPB) in 1976, declaring that "eyesight is a basic human right." The AIPB set up both local and global programs to prevent eye infections in newborns, ensure malnourished children receive vitamin A supplements to protect their vision, and conduct screening for eye problems like cataracts and glaucoma. With these methods, many people, both children and adults, who would have lost some or all of their visions were protected.
Bath became an inventor in 1981 when she conceived of a new way to treat cataracts, the cloudiness in an eye's lens which is one of the leading causes of blindness. At the time, cataract surgery required manually removing the clouded lens and inserting an artificial one, which was both difficult and costly. Bath envisioned using a laser to break up the cataract, which would be less invasive, faster, and easier. "When I talked to people about it, they said it couldn't be done," she reflected. Undeterred, she traveled to Germany to test her Laserphaco Probe, which she patented in 1986, making her the first African-American woman to hold a patent for a medical device. She continued improving her probe over time, and on a number of occasions, restored sight to people who had been functionally blind for decades.
Bath retired in 1993, but continued to advocate with the AIPB, as well as for other causes, including telemedicine, long after. She died from cancer-related complications on May 30, 2019 at the age of 76, leaving a worldwide legacy of community vision care and a personal legacy full of "firsts" as both a woman and an African American, including as one of the first two African American female inventors ever inducted into the National Inventors Hall of Fame as part of its Class of 2022. Bath always hoped, though, that a day was coming when sex and race would no longer be a factor in telling a person's story. "Hater-ation, segregation, racism, that's the noise — you have to ignore that and keep your eyes focused on the prize," she said. "Sometimes I want to say to people, just look at my work.... Hopefully, our society will come to that point."
Books About Patricia Bath and Pioneering Women of Science
Paige is a normal girl... except her teachers and parents keep noticing that she doesn't seem to see properly. Despite her insistence that "I can see just fine," she can't read the board in class, her sheet music is upside down, and she even mistakes a skunk for a cat! When her mother takes the reluctant girl to the eye doctor, Paige gets a look at how optometrists assess vision — and the revelation when she puts on her first pair of glasses is astounding! Kids will giggle at this lighthearted book, while also learning about the importance of regular vision checks.