Julie Andrews, star of beloved classics "The Sound of Music" and "Mary Poppins," celebrates her 87th birthday!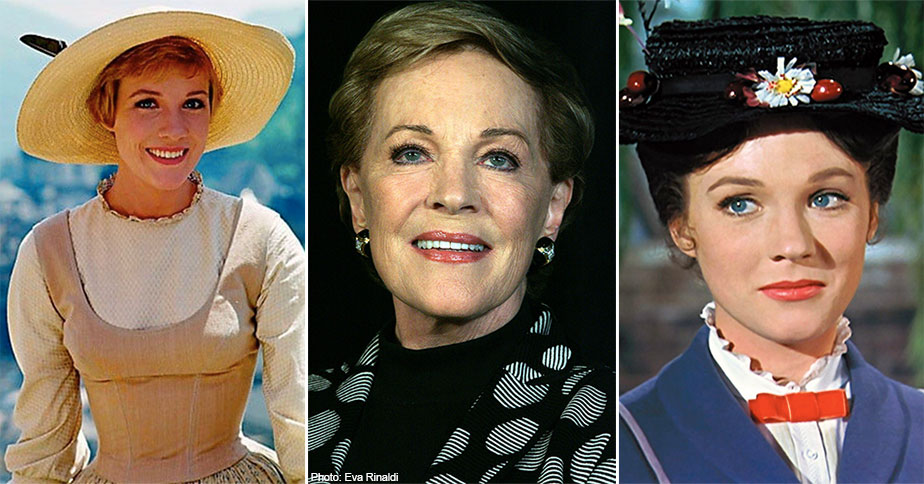 Whether you first met her on stage at the West End in London or Broadway in New York; on the screen as Mary Poppins, Maria von Trapp, or Queen Clarisse Renaldi; or as the author of a beloved children's book like Mandy or The Last of the Really Great Whangdoodles; or her memoirs Home and Home Work, chances are good you've been charmed by Julie Andrews! The legendary English performer and author is celebrating her 85th birthday today, and she's still touching the hearts of people around the world. Andrews is also quick to point out that her success over the years was far from smooth, however, providing an inspiring model of resilience for her fans young and old: "Perseverance," she says, "is failing 19 times and succeeding the 20th."
Born in Surrey, England in 1935, Andrews demonstrated a gift for singing from a young age. One of her early instructors, concert soprano Lilian Stiles-Allen, once wrote "the range, accuracy and tone of Julie's voice amazed me... she had possessed the rare gift of absolute pitch." Andrews began performing in 1945 with her mother and stepfather, and before long was singing solo professionally. In 1948, at the age of 13, she became the youngest solo performer to appear in a Royal Command Variety Performance, and was soon billed as "Britain's youngest prima donna." Although many encouraged her to consider a career in opera, she didn't feel her voice had "the necessary guts and weight for opera," and preferred to sing "bright and sunny" songs, so musical theater was a natural fit.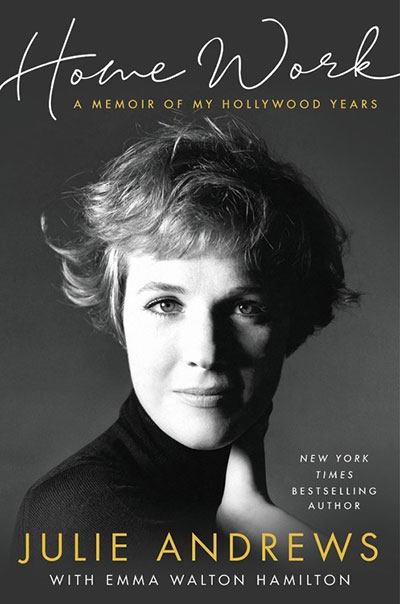 After performing for several years in London's West End and on BBC radio and television, Andrews moved to America in 1954 where she delighted Broadway audiences as Eliza Doolittle in My Fair Lady and Lady Guinevere in Camelot. Her stage career led to her first big movie role when Walt Disney chose her to play the iconic Mary Poppins, even delaying the start of production to accommodate her pregnancy. The film was hugely successful upon its release in 1964, winning Andrews' Best Actress awards at both the Oscars and Golden Globes. She starred in one of her most beloved roles of her career the following year as Maria von Trapp in The Sound of Music. The movie was the highest-grossing film of 1965 and won five Academy Awards, including Best Picture. Catapulted into stardom, Andrews continued to star in many more films over the years, including such hits as Thoroughly Modern Millie and Victor/Victoria.
In the midst of her Hollywood success, Andrews also became an author; her first two children's books Mandy and The Last of the Really Great Whangdoodles, became bestsellers and remain in print today. She co-authored many of her later children's books with her daughter, Emma Walton Hamilton, including The Very Fairy Princess, Simeon's Gift, Dragon: Hound of Honor, The Great American Mousical, Little Bo in Italy, and Thanks to You: Wisdom from Mother and Child.
In 1997, Andrews faced one of her biggest professional and personal challenges after she developed problems with her voice, and a surgery that was supposed to remove nodules from her vocal cords — which she later found out she did not even have — caused permanent damage. "[Losing my voice] was one of the hardest things to deal with," she later reflected. "And I did think it was maybe one of the worst things that could possibly happen, because I enjoyed and love singing so much." It took multiple additional surgeries, and very careful recovery and practice, before she felt she could try again. The next time she would sing on screen was in 2001's The Princess Diaries; the song was deliberately set in a range that accommodated her recovering voice. The appearance marked the beginning of a career revival, and she has since appeared or voiced characters in Eloise, Shrek, Enchanted, Aquaman, and Despicable Me.
Andrews has received accolades around the world for her long and distinguished career, including being made a Dame Commander of the Order of the British Empire, receiving Kennedy Center Honors, and being granted a Screen Actors Guild Life Achievement Award. Today, she continues to spread a message to both children and adults about the importance of dreams, perseverance, and preparation. "Sometimes opportunities float right past your nose," she observes. "Work hard, apply yourself, and be ready. When an opportunity comes you can grab it."
Books And Movies Starring Julie Andrews
Recommended Age: 4 and up
The Banks family will never be the same thanks to the "practically perfect" Mary Poppins! Julie Andrews stars as the inimitable and magical nanny in this Disney film that combines live action with delightful animation to create a whimsical story about imagination, family, and adventure. In this fully restored and remastered 2-disc 40th Anniversary Edition, you'll also get an all-new animated short and a never-before-heard deleted song. And for a sequel for a new generation starring Emily Blunt, check out Mary Poppins Returns.
Buy:
Amazon.com.au
(Unavailable)