These powerful stories for tweens and teens explore the grim realities of life under dictatorships, and why protecting our democracy by becoming an informed and engaged citizen is more important than ever.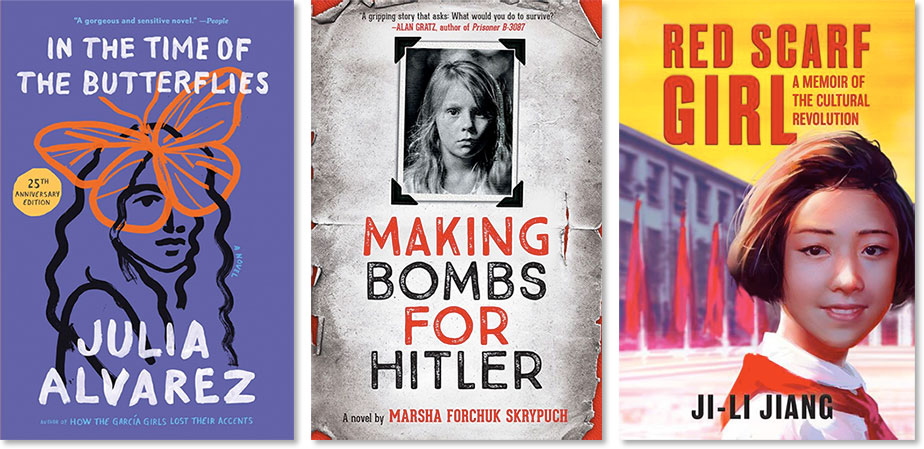 There are many rights we take for granted in a democracy, from the opportunity to vote, to the freedom to criticize the government, to the peaceful transition of power after free and fair elections. Tragically, throughout history, many people have discovered how fragile their rights — and their democracies — can be when extreme polarization leads to mob rule and the erosion of democratic norms. Time after time, in countries around the world, would-be autocrats and authoritarian regimes have used these fractures in weakened democracies to assert absolute control, often violently suppressing any opposition.
An essential component of all healthy democracies is teaching young people about the dangers of extremism and the realities of life under authoritarianism. To that end, in this blog post, we've showcased a variety of books about girls and women living under authoritarian regimes. While some of these stories are biographical and others are fictional, all of them are based on real-life autocratic regimes from history or present day. In many cases, these regimes emerged due to an autocrat taking control of a weakened democracy, while others emerged in countries that have never established democratic systems of governance.
While the lives of the girls featured in these stories offer an often harrowing look at authoritarian oppression, they also speak to the power of the human spirit — the courage and determination of people daring to find their own ways to resist. Ultimately, their stories will give young readers important insight into the struggles of those who have suffered under authoritarianism, a sadly common experience in human history. And, most importantly, these powerful and poignant stories will give them a new appreciation of the rights and freedoms afforded to them within a democracy — and a deeper understanding of why it is so essential to protect democracy by becoming an informed and engaged citizen.
Mighty Girl Books About Life Under Authoritarianism
Ana Rosa is a budding writer — but in the authoritarian Dominican Republic controlled by dictator Rafael Trujillo, there is no freedom of expression. She spends her days scribbling on napkins, paper bags, and shop paper, and dreams of having a notebook of her own. The only support her mother feels safe offering is, "there always has to be a first person to do something." Then, the government announces that they will be bulldozing Ana Rosa's village to build hotels, and Ana Rosa's brother is appointed the village's spokesperson. Ana Rosa's poems don't have the power to stop the government's crackdown, but perhaps they can help her process her grief and tell her loved ones' story to the world. This powerful story about oppression, creativity, and the drive to seek justice will get kids thinking about the freedoms they likely take for granted.