Books for kids and adults about the lives of women and girls under Taliban rule - and how you can help Afghan girls and women today.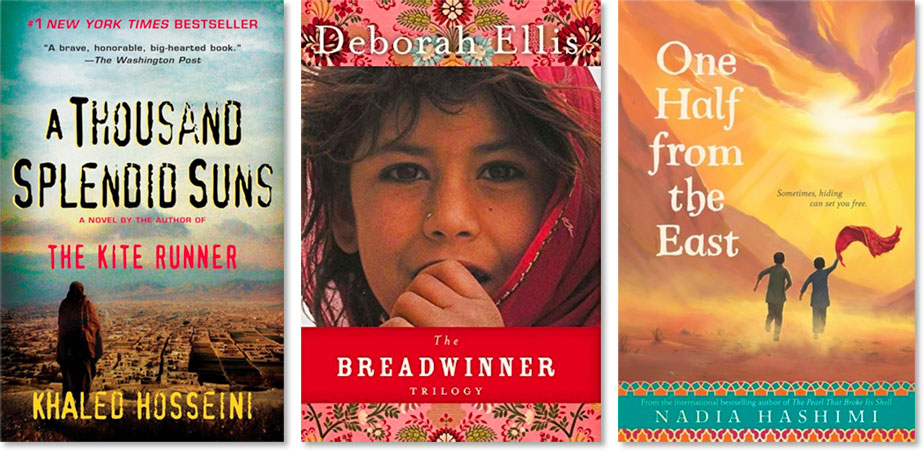 After the Taliban's swift takeover of Afghanistan, culminating in the fall of Kabul to these brutal extremists this week, Afghan girls and women are facing a terrifying future with the likely return of laws requiring that all women cover themselves in burqas and restrict their freedom of movement, education bans on girls, and forced marriage and rape. Shamsia Hassani, Afghanistan's first female graffiti artist, shared a powerful painting entitled "Nightmare, Afghanistan 2021" that captures the grief and fear of Afghan women, reminding everyone that Afghan women's precious freedoms – all too recently kindled – are being brutally snuffed out.
To understand why Afghan women are so horrified at the return of the Taliban to power, it's important to remember the harsh reality of what life was like for girls and women during the last period of Taliban rule from 1996 to 2001 and the widespread progress that has been made on girls' education and women's rights over the past twenty years.
In this blog post, we've featured a selection of books, both fiction and biographical, for children and adults about the lives of girls and women both during the period of Taliban oppression and the years of rebuilding after. Their protagonists are girls and women who dream of a future where they can raise their voices and pursue their dreams, without fear of reprisal. These titles remind us that we cannot abandon our Afghan sisters: we must continue to support their fight for freedom. To that end, we've also recommended two concrete ways that you can help those Afghan girls and women most at risk today.
How to Help Afghan Girls and Women Today
For those heartsick and angered by the devastating news out of Afghanistan, here are two ways you can help girls and women during these dire times:
Women for Afghan Women: This non-profit organization has been fighting for the rights of Afghan women for 20 years. Today, they are trying to help the women's rights activists they work with throughout the country who are in extreme danger from the Taliban. To support their critical work, you can make a donation here.
Razia's Ray of Hope Foundation: The Foundation has been educating girls and women in Afghanistan for 13 years. Their founder Razia Jan is seeking support to help the school accommodate the many new girls who have been displaced to their region in recent weeks and to support the staff and students through the current instability. You can make a contribution to their essential work here.
CARE: One of the world's largest humanitarian aid organizations, CARE has a long history of helping people in Afghanistan. In recent weeks, there has been a huge increase in the demand for emergency aid as many families have fled the Taliban. You can support their work in Afghanistan with a donation here.
Books About Girls' and Women's Lives Under Taliban Oppression
When the Taliban soldiers arrived in Herat, Afghanistan, art, music, and learning disappeared... and so did Nasreen's parents. Now, in the care of her loving grandmother, Nasreen refuses to speak, traumatized by the loss. To help her granddaughter, the grandmother enrolls Nasreen in a secret school for girls run out of a private home — even though she knows how dangerous that could be. There, with the help of a caring teacher, new friends, and the power of the written word, Nasreen learns about the potential for a brighter future... as long as she has hope. Based on a true story, this touching picture book by renowned creator Jeanette Winter is a powerful illustration of the power of education to transform girls' lives and the healing power of love.
Books About Girls' and Women's Lives During The Rebuilding Period