By Katherine Handcock, A Mighty Girl Communications Specialist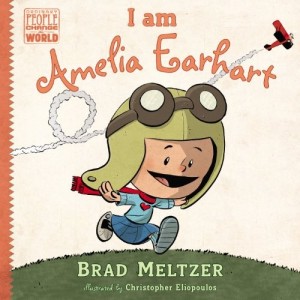 In our new Mighty Careers series, we celebrate careers that your Mighty Girl may be dreaming of pursuing one day. In each blog, we'll profile a career role model and provide recommendations for books, toys, clothing, and even room decor to help inspire your Mighty Girl. Whether she's three or thirteen, there will be resources to help her learn more about her dream job, imagine herself living it, and let the world know what she hopes to be when she grows up.
This post is dedicated to all the Mighty Girls who dream of taking to the skies and all of the trailblazing women pilots who have come before them! Currently, with women accounting for only 6% of licensed pilots, we are still very much in the minority but we're betting this next generation of Mighty Girls is going to change that.
If your Mighty Girl can't wait for the day she gets to lay her hand on the controls of a real airplane or you'd like to encourage her interest, this post provides recommendations for girl-empowering books, toys, clothing, and room decor that celebrate a love of flight. So put your seat backs and tray tables in their upright and locked position, and prepare for takeoff! With a determined Mighty Girl at the helm, she's sure to soar to great heights.
To read the first two posts in our new Mighty Careers series, check out: I Want To Be An Astronaut! and I Want To Be A Wildlife Biologist!.
In Love With The Sky: Afghani Pilot Latifa Nabizada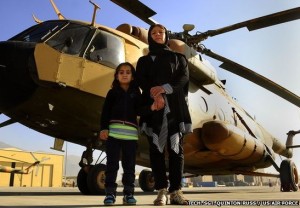 Latifa Nabizada and her sister, Laliuma, always dreamed about flying airplanes and helicopters as they grew up in Afghanistan. Even still, when they told their parents that after they left school, they wanted to be pilots, it seemed wildly out of reach -- at that point, few women in Afghanistan could even work, let alone fly a plane.
The sisters were repeatedly rejected from military school on medical grounds, but finally achieved entry in 1989 after being certified fit by a civilian doctor. Nabizada says, "We were the first two women pilots in Afghan air force history. The other students threw stones at us. We used to leave the classroom in protest -- then our teachers would come out and apologize and we would go back in."
The difficulties paled in comparison to her joy at piloting a plane: "My first independent flight was an unforgettable experience.... I flew - I flew and it felt really great. And I thought: 'This is what you get after all that hard work.'"
Laliuma also achieved a pilot's rating, but, at first, neither sister was treated like a male pilot: "There was war at that time -- some provinces were secure and some provinces had conflict and insurgency. We were told to only fly in the secure provinces." Later, with the support of General Dostum, then the commander in Northern Afghanistan, they were able to join the fight against the Taliban.
After the Taliban came to power, the sisters were forced to flee to Pakistan for several years but they were eventually able to return to Kabul and resume flying. After Nabizada's daughter Malalai was born, there were no childcare facilities available so, as Nabizada recounted, "most of the time I took Malalai with me in the helicopter. She has grown up in a helicopter - sometimes I think she's not my daughter, but the helicopter's daughter!" And, Malalai is tremendously proud of her pilot mother: "Customarily, when you ask a kid whose child they are they give their father's name, but Malalai always says 'I am the daughter of Pilot Latifa'."
Nabizada, now a colonel in the Afghan Air Force, is a role model to many girls and women in Afghanistan. "I hope I encouraged them to follow their own dreams." As for her own dreams, no matter how difficult the flight, they are fulfilled every time she takes off: "I am in love with the sky. The closer I am to the sky the more pleasure I feel."
Breaking Through The Clouds: Biographies of Female Pilots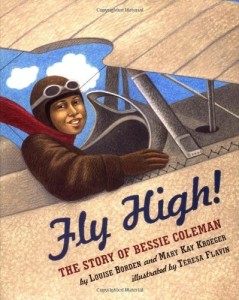 One great way to inspire a would-be pilot is to share the amazing stories of the groundbreaking female pilots who paved the way! With titles suitable for kids from preschoolers to teens, your Mighty Girl is sure to find a fascinating life story to read.
Unsurprisingly, the first name to jump to mind when most people think of female pilots is the daring Amelia Earhart. This aviation pioneer and women's rights activist became famous worldwide for her solo Atlantic Ocean crossing, and her legacy lives on today. Younger kids can read about her in Brad Melzer's new release I Am Amelia Earhart (age 4 - 8) or Night Flight: Amelia Earhart Crosses the Atlantic (age 4 -8), while tweens can dive into the accessible Who Was Amelia Earhart? (age 8 - 12). For older tweens and teens, Corinne Szabo's Sky Pioneer: A Photobiography of Amelia Earhart (age 10 and up) is full of interesting facts, great archival photos, and quotes from Earhart's own writings. And, of course, there are many more great books about Earhart's life, which you can find in our Amelia Earhart Collection.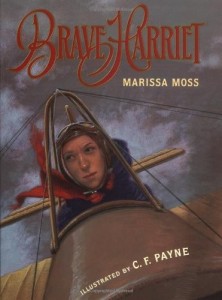 Another major historical pilot is Bessie Coleman, the first African American woman to become a pilot. In Fly High! The Story of Bessie Coleman by Louise Borden and Mary Kay Kroeger (age 7 - 10), Talkin' About Bessie: The Story of Aviator Elizabeth Coleman (age 4 - 8), and the Graphic Library's Bessie Coleman: Daring Stunt Pilot (age 8 - 12), your Mighty Girl will learn about her incredible career as a stunt pilot — a career that required her to travel to Europe for certification before she was given a chance to acquire a pilot's license in the US. Her legacy lived on the advice she gave to African American children wherever she went: "You can be somebody. You can fly high just like me." For more books and other resources featuring this trailblazing pilot, visit our Bessie Coleman Collection.
The first woman ever to hold a US pilot's license, however, was Harriet Quimby, whose daring solo flight across the English Channel in 1912 was sadly overshadowed by the sinking of the Titanic. In Brave Harriet by Marissa Moss (age 5 - 8) and The Daring Miss Quimby by Suzanne George Whittaker (age 6 - 10), your Mighty Girl will read the story of the courageous young woman who flew airplanes that looked more like bicycles with wings.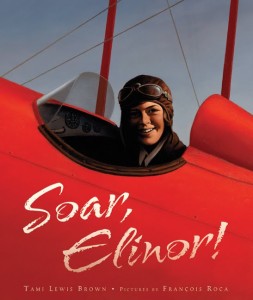 There are many more names that your airplane-loving Mighty Girl will thrill to learn: Ruth Elder, whose attempt at a solo Atlantic crossing in 1927 ended in a crash but still won over an enthusiastic public; Elinor Smith, who dared to fly under all four bridges crossing New York City's East River, a feat that male pilots considered impossible; and Betty Skelton, the "First Lady of Firsts," who flew (and jumped out of) planes, piloted blimps, jets, and helicopters, rode motorcycles, and raced cars. All of these women faced any number of boundaries in their quest for the sky, but their joy in flight was worth overcoming any obstacle: these picture books make a wonderful introduction to the diverse and exciting history of women in flight.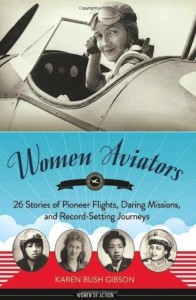 Tweens who love planes will love reading Yankee Doodle Gals: Women Pilots of World War II by Amy Nathan (age 8 - 12). The Women Airforce Service Pilots (WASP) never officially flew in combat, but the tasks they performed, including test-flying repaired aircraft, transporting new planes from factory to military sites, and even pulling targets so that male combat pilots could practice shooting at moving targets, were still dangerous and critical to the war effort. This updated version of a favorite book about these brave women takes the story to its final, long-overdue conclusion: a Congressional Gold Medal granted to these daring pilots in 2009.
Both teen and adult readers will enjoy Women Aviators: 26 Stories of Pioneer Flights, Daring Missions, and Record-Setting Journeys by Karen Bush Gibson, part of the Women of Action series (age 12 and up). From Baroness Raymonde de Laroche of France, the first woman ever to be awarded a pilot's license, to pioneers like Quimby, Coleman, and Earhart, to the WASP pilots of World War II, and ending with stories of women pilots making a difference today, this book provides an excellent overview of the important role women have played in aviation history.
Dreams of Flight: Fiction About Planes and Piloting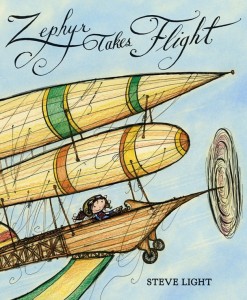 Of course, a girl who's crazy for planes doesn't just want to read history! It can be hard to find stories about planes that feature girls, but the books below are sure to prompt your Mighty Girl's imagination.
Books about planes for preschoolers and young elementary-aged children focus on the adventure and excitement of flight — as well as the sometimes kooky-seeming contraptions that get us into the air! Steve Light's Zephyr Takes Flight (age 4 - 8) features a girl whose love of flight leads her to a literal dreamworld full of planes (and flying pigs). Robert Munsch's Angela's Airplane (age 4 - 8), on the other hand, tells the funny story about a girl's experiment with pressing buttons in a cockpit that goes horribly wrong — but still inspires a future in flight.
Other fictional Mighty Girls are willing to build what they need to get into the sky! Violet the Pilot by Steve Breen (age 4 - 8) tells the story of a gifted young girl who starts building flying machines from scratch, despite the laughter of her peers. Fortunately, when crisis strikes at the Air Show, Violet's contraption is the key to saving the situation! And in Andrea Beaty's Rosie Revere, Engineer (age 4 - 9), the heroine tries to design a flying machine to satisfy not her own, but her great-aunt Rosie the Riveter's dream of flight — and even though the heli-o-cheese-copter crashes, the message about reaching for the skies soars.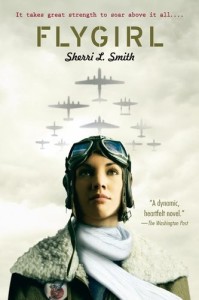 For tweens, Born To Fly by Michael Ferrari tells a story of friendship, adventure, espionage, and flight in the midst of World War II America. Main character Bird loves planes inside and out, both as a mechanic and as a pilot, so she's sure to feel familiar to your Mighty Girl. Sherri L. Smith's Flygirl (age 11 and up) is set in the same time frame, as a light-skinned African American woman faces the question of whether her dreams of flight are worth denying the truth of her heritage so that she can become a WASP.
For teens, Elizabeth's Wein's young adult historical novels Code Name: Verity and Rose Under Fire (both age 13 and up) both feature women pilots whose nominally non-combat roles lead them into danger — and difficult decisions — in Nazi-occupied Europe.
And comics fans can check out In Pursuit of Flight, the first collected volume of the new Captain Marvel comics series (age 13 and up). Ace pilot and Avenger Carol Danvers travels back in time to World War II to join up with the all-female Banshee Squadron. With a critically acclaimed story written by Kelly Sue Deconnick, this fascinating story features a strong, nuanced superheroine who's sure to become a favorite.
Flight Suit: Clothing for Flight-Loving Girls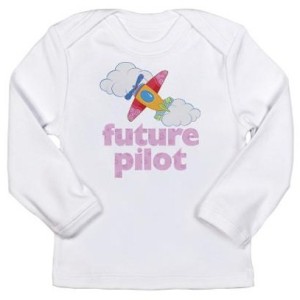 If your Mighty Girl loves things that fly, these clothes are sure to be a hit!
For the youngest Mighty Girls, check out this awesome Baby Pilot layette set from Baby Aspen (age 0 - 6 months), which features a flight-suit style bodysuit and aviator's cap style hat; it comes packed in a great gift box, making it a great baby shower option too.
Young Mighty Girls can keep their heads warm with this great wool aviator's cap hat (age 6 months - 4 years), which looks great for pretend play but is perfect for winter weather, too; and their feet warm with these Relax and Fly socks (age 3 - 8), which feature a cute plane design and ABS anti-slip soles.
If your Mighty Girl wants to declare her future career path plainly, check out these two great "Future Pilot" t-shirts: this short-sleeved design is available in sizes from newborn to 12 years, while this colorful design, pictured above, comes in a variety of short- and long-sleeved styles for all ages. Or, if she gets her interest in flight from one of her parents, she'll love either the Mommy's Co-Pilot or Daddy's Co-Pilot shirt (ages newborn to 12.)
Pilots at Play: Toys Inspired By Flight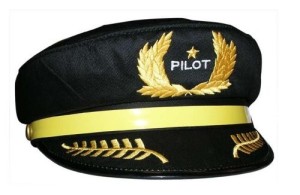 There's no better way for a Mighty Girl to imagine her future in the skies than getting her some great flight-inspired toys. These options should satisfy any hopeful pilot.
If your Mighty Girl loves dress-up, some pilot-inspired costume options are sure to be a hit -- including this Amelia Earhart costume for toddlers! You can get her a great accessory: the wool aviator hat (age 6 months - 4 years) mentioned above could be used for dress-up as well, or you can get a dedicated dress-up piece like this brown felt aviator's hat (age 6 - 14) or this child's pilot's hat (age 3 - 8). Or, if your Mighty Girl is a teen but still wants to pay homage to aviation heroes, check out this adult-sized Amelia Earhart costume, which comes with jacket, pants, headpiece, and boot covers.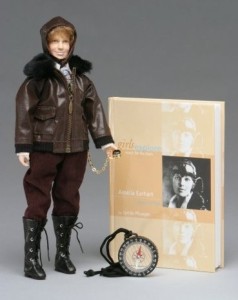 Toy planes and helicopters are a staple of many kids' toy boxes. Even the littlest Mighty Girls can play with Hape's Little Plane or Little Copter (both age 0 - 3), since their solid-wood construction, child-safe paints, and simple but sturdy moving parts are designed for hard use (and the occasional chewing!), while preschool and school-aged girls will love the same company's E-Plane and E-Copter (both age 3 - 7), which are made of renewable bamboo and finished with water-based paints and stains.
If your Mighty Girl imagines herself repairing planes, as well as flying them, she'll love Battat's Take Apart Airplane (age 3 - 6); with 21 pieces to assemble using the included toy power screwdriver, she can dream of building a real plane when she grows up. Or, if she imagines herself in the pilot's seat, consider Playmobils' Cargo and Passenger Aircraft (age 4 - 10), which includes the plane, male / female co-pilots, and other figures, as well as a control tower.
Older Mighty Girls can learn more about the history of flight as they play. Girls Explore has two doll and biography sets featuring female aviators: Amelia Earhart and Bessie Coleman (both age 8 and up). Both sets include a bio, an action figure, and a flight-related accessory for your Mighty Girl. They can also learn more about the science behind flight with the Magic School Bus: Soaring Into Flight set (age 5 - 10), which includes a variety of ways to explore flight, lift, and other physical principles that allows us to reach the clouds.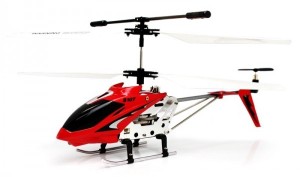 And you can always consider the ultimate challenge for any flight-loving Mighty Girl: remote controlled aircraft! While it's not the same as sitting behind the yoke of a plane, controlling an R/C plane or helicopter helps you turn your theoretical understanding of flight principles into a practical feel for how flight works. Syma's S107 R/C helicopter (age 8 and up) is only 7.5" long, making it easy to fly indoors, and can be charged either from a USB cable or through the controller's AA batteries. She'll be buzzing around the room in no time!
A Room In The Clouds: Flight-Inspired Décor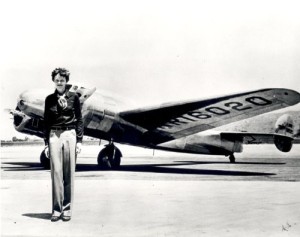 If you want to give your Mighty Girl a space to inspire her pilot aspirations, some plane- and pilot-inspired decor is the perfect way to do it. From wall decals to posters to swirling mobiles, these pieces will add a touch of the open skies to her bedroom.
Wall decals are a great option to pay homage to her love of aircraft. RoomMates makes peel and stick decals that can go on any smooth surface — and get removed and repositioned until they're just right. Their vintage planes decal set pays homage to the vehicles that first got people into the clouds, while their transportation decal set, which includes planes and helicopters as well as buses, taxis, trains, and scooters, is perfect if she loves all things that go.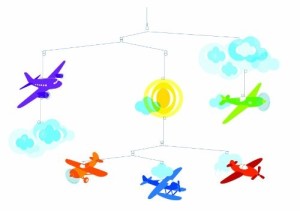 For more permanent flight-inspired artwork, check out these vintage aviator fabric wall hangings or this set of three metal planes, perfect for mounting on the wall. Or, get her some great posters with images of female aviators: these photographic prints feature Amelia Earhart with her Lockheed Electra, and four proud pilots from the WWII WASP program.
And, of course, what would a flight-inspired room be without something in the air? Younger Mighty girls will love this airplane light fixture, with six multicolored planes hanging from a propeller-shaped base. Djeco's flight mobile features colorful, cartoonish planes circling through the clouds around a bright sun, while this airplane mobile from Authentic Models features beautifully detailed vintage planes. She'll be thrilled to watch them soar above her.
"After midnight the moon set and I was alone with the stars. I have often said that the lure of flying is the lure of beauty, and I need no other flight to convince me that the reason flyers fly, whether they know it or not, is the esthetic appeal of flying." — Amelia Earhart
Even if your Mighty Girl doesn't end up sitting in a pilot's seat, a love of flight and flying — and the daring and self-confidence from knowing that she could soar — will stand her in good stead whatever she sets her mind to. We hope that these resources will encourage more and more of the Mighty Girls of the world to take the yoke, start their engines and take to the skies.
Additional Recommended Resources
The organization Girls With Wings seeks to support girls interested in working with aircraft, whether as pilots, mechanics, or engineers. They are currently accepting applications for their spring 2014 flight lessons scholarship program.
You can find more books and other resources featuring two of the pioneering heroes of women in aviation in our Amelia Earhart Collection and our Bessie Coleman Collection.
For more books about pilots, planes, and flying, visit our Planes & Flight section.
Help keep A Mighty Girl growing in the years ahead!
If you discover any books or other resources via this post that you would like to purchase, please use the "Buy at Amazon" link on every A Mighty Girl product page. By doing so, at no added cost to you, you help to support the site and allow us to continue providing you with wonderful girl-empowering resources. Thanks for your support!