By Katherine Handcock, A Mighty Girl Communications Specialist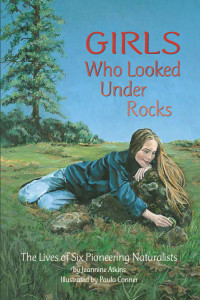 Welcome to the next installment of our blog series, Mighty Careers! In this series, we celebrate careers that your Mighty Girl may be dreaming of pursuing one day. In each blog, we'll profile a career role model and provide recommendations for books, toys, clothing, and even room decor to help inspire your Mighty Girl. Whether she's three or thirteen, there will be resources to help her learn more about her dream job, imagine herself living it, and let the world know what she hopes to be when she grows up.
In this blog, we'll be showcasing a career that can take your Mighty Girl deep into a jungle or to the bottom of a reef: wildlife biologist! Most kids love animals, but for some, seeing them in pictures or in a zoo isn't enough. Instead, they want to watch them in the wild, living in their natural environment. But despite the prominent women who have made great strides in primatology, marine biology, and other fields, it can still be hard to find good resources featuring female characters.
In this post, we've collected a variety of different books featuring female wildlife biologists, as well as toys, clothing, and room decor to encourage and celebrate her love of animals. Whether she's crazy for manatees or giraffes, lions or chimpanzees, you'll find some great options here!
To find the first post from our new series, check out our post, Mighty Careers: I Want To Be An Astronaut.
Role Model: Marine Biologist / Oceanographer Sylvia Earle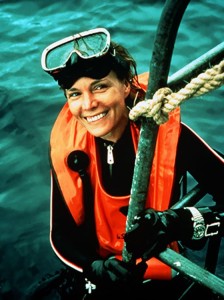 Sylvia Earle discovered a love for the ocean — and all the creatures within it — when she was just a child, swimming in the Gulf of Mexico. She said in an interview in 1991, "I wanted to get out in the water. I wanted to see fish, real fish, not fish in a laboratory." So it wasn't long after she completed her doctorate work that she was doing just that!
In 1970, Earle led the Tektite Project in which she and a team of women aquanauts spent two weeks living in and working from an enclosed habitat situated fifty feet below the water's surface -- a first for women. She strove to reach new depths, to study the more mysterious denizens of deeper water, and in 1979, she set a women's depth record (reaching 1,250 feet) using an atmospheric diving suit.
That wasn't deep enough for her tastes, though! With her husband, Graham Hawkes, she founded Deep Ocean Engineering and worked to design the Deep Rover submarine, which is capable of working at depths over 3,000 feet.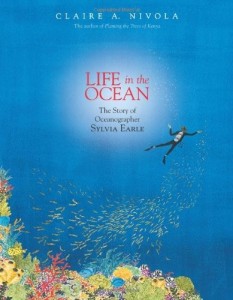 Earle has been chief scientist with the National Oceanographic and Atmospheric Administration and is an explorer-in-residence for National Geographic, where she was nicknamed "Her Deepness" and "The Sturgeon General." And in 1998, Time Magazine named her its first Hero for the Planet.
In 2009, Earle won a TED prize, and used the support to found Mission Blue, an organization that is establishing protected marine areas around the globe. She says, "People ask: Why should I care about the ocean? Because the ocean is the cornerstone of earth's life support system, it shapes climate and weather. It holds most of life on earth. 97% of earth's water is there. It's the blue heart of the planet — we should take care of our heart... [Things] won't get better unless we take the action and inspire others to do the same thing. No one is without power. Everybody has the capacity to do something."
Your children can learn more about Sylvia Earle in the beautifully illustrated picture book Life In The Ocean: The Story of Oceanographer Sylvia Earle by Claire A. Nivola (age 4 - 8), or in Earle's own book Dive: My Adventures In The Great Frontier (age 8 - 12).
Read All About It: Books About Animals and Animal Scientists
If your Mighty Girl dreams of studying animals in the wild, she won't be content with talking-animal stories: she wants to know about the real thing! Fortunately, there are many great Mighty Girl books featuring wild animals. These books will get her dreaming about her own future studying wildlife and biology!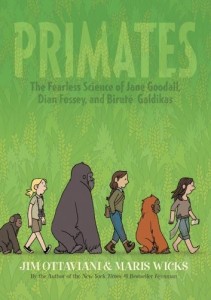 There's one area of biology where female role models are easy to find: primatology! The work of Jane Goodall, Dian Fossey, and Birute Galdikas with three different primate species was a definite turning point for women in science. Primates: The Fearless Science of Jane Goodall, Dian Fossey, and Birtue Galdikas by Jim Ottovani and Maris Wicks (age 12 and up), is an introduction to the three pioneering primatologists who studied chimpanzees, gorillas, and orangutans in their natural habitat. With charming illustrations and a fascinating glimpse into the realities of life in the field (including malaria, bug bites, and other discomforts!), it's a great introduction to three amazing scientists.
Jane Goodall remains a tremendously influential role model for women in science in general and wildlife biology in particular. As one would expect, there are several terrific books about her! For younger Mighty Girls, Jeanette Winter's The Watcher: Jane Goodall's Life With The Chimps (age 4 - 8) or Patrick McDonnell's Me...Jane (age 3 - 8) provide a fascinating glimpse into her patient, watchful childhood and how it helped her when she set her sights on observing chimpanzee behavior.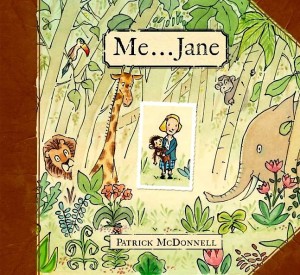 Older Mighty Girls will enjoy Who Is Jane Goodall? (age 8 - 12), an accessible, engaging biography from the Who Was…? series — or reading about her life in her own words, in Goodall's autobiography My Life with the Chimpanzees (age 8 and up). For an excellent video introduction to this pioneering primatologist, check out the documentary Jane's Journey (age 8 and up), which includes interviews, modern video footage of both Goodall's childhood home and her home in Gombe, and even footage from Goodall's own collection.
Dian Fossey's work with the mountain gorillas in Rwanda gets its own examination in the feature film Gorillas in the Mist (age 13 and up). Sigourney Weaver stars as Fossey — a role which earned her an Oscar nomination — as she develops a fierce passion for protecting these gentle animals from poachers and animal traders. Or, to view Fossey's work through pictures, check out Light Shining Through The Mist: A Photobiography of Dian Fossey (age 9 - 12). Tom Matthews' text doesn't shy away from dangers in Rwanda that cost Fossey her life but still celebrates both Fossey's amazing dedication, as well as the fact that the mountain gorillas have survived largely thanks to her advocacy before her death.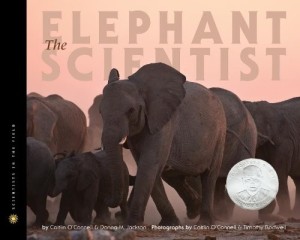 If your Mighty Girl loves orangutans, you'll definitely want to check out the TV series Orangutan Island (age 8 and up)! Starring Danish wildlife conservationist Lone Drescher Nielsen's Myaru Menteng rehabilitation center in Borneo, which is working to rescue orphaned orangutans from illegal sale and teach them how to live in the wild, this series both sheds light on the dangers facing these little-known primates, and on the lives of the orangutans themselves.
But of course, there's so much more animal life to explore than primates! For a broader view of what wildlife biology and the study of nature involves, check out Girls Who Looked Under Rocks: The Lives of Six Pioneering Naturalists by Jeannine Atkins (age 10 and up). With profiles on scientists ranging from Maria Merian to Rachel Carson, this celebration of women scientists whose love of nature has led to remarkable discoveries is sure to inspire your Mighty Girl.
The excellent Scientists In The Field series for ages 10 and up features three books about women biologists studying different species: tapirs, elephants, and Sumatran rhinos. Each book talks about how the scientist in question came to work with the species she loves. Beautiful photography completes these engaging volumes.
Wild Adventures: Imaginative Play Toys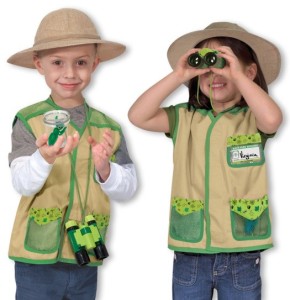 If your Mighty Girl is ready to play at her own wilderness adventures, these toys are a great way to do it! Mighty Girls of all ages will find something to spark their imaginations.
If your Mighty Girl loves dress-up play, the Backyard Explorer costume from Melissa and Doug (age 3 - 6) is a great way to foster her interest in nature and wildlife! The set includes a vest, helmet, binoculars, and bug jar — everything she needs for an adventure close to home.
Young Mighty Girls will enjoy the Duplo Baby Zoo set (age 2 to 4) featuring a female zoo keeper who cares for several baby animals including a giraffe, polar bear, elephant and lion cub. The Duplo line by LEGO is especially designed for very young children with larger blocks that are easy to manipulate for little hands.
Bloco Toys put its unique plastic and foam construction toys to an animal theme with the Savanna in Pajamas playset (age 4 - 9). Blocks with interesting textures and patterns, all in vivid colors, combine to make a variety of imaginary animals, or use the included guide to build a zebra, giraffe, snake, and cheetah.
Animal figurines are also great for encouraging pretend play. Whether she's checking out Wild Republic's Nature Tube - Frogs (age 2 - 7), Melissa & Doug's Litter of Lizards, or exploring one of Safari's Toobs — which include themes like Ocean, the Galapagos, and Arctic life, all for ages 3 - 7) — she'll have lots of fun imagining her own adventures all over the world.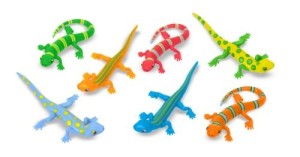 Crafty Mighty Girls can combine their love of arts and crafts with their love of animals with a set of rubbing plates from Roylco! The Birds Around The World set lets you create a wide variety of bird species, while the Animal Tracks set will let her make her own animal paths to follow. Both sets (suitable for age 8 and up) can be used in many ways, including for crayon rubbings, with modeling clay or paper mache, or even with glue and food coloring to create suncatchers!
Learning More: Educational Toys About Animals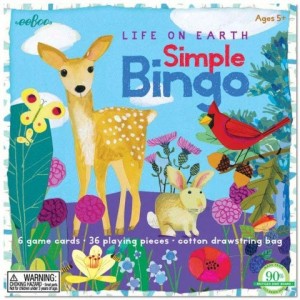 Of course, toys and play are also an excellent way for your Mighty Girl to learn more about animals and wildlife! These educational toys are sure to be a hit with animal-loving kids.
Children may marvel at just how many kinds of animals there are in the world! eeBoo's Life On Earth Bingo (age 3 - 6) is a great way to teach young kids about wildlife.
Older Mighty Girls who enjoy puzzles will love the Tree of Life Puzzle from EuroGraphics (age 11 and up). This 1,000 piece puzzle is made with high-quality materials, guaranteeing a great fit for all the pieces, while the image is printed with vegetable-based inks that are certified by the Forest Stewardship Council. The branching tree shows how different organisms are related to each other, including extinct animals like several species of dinosaur. It will give your Mighty Girl a new perspective on the amazing development of life on Earth.
Another great option is to get your Mighty Girl some equipment she can use to start her own observations! A simple, no-focus set of 2X magnification binoculars is great for children aged 3 and up, while Mighty girls age 6 and up can try these 5X magnification binoculars. A good magnifying glass (age 3 and up) is great for examining details up close.
If your Mighty Girl is fascinated by underwater life, Nancy B.'s Aquascope from Educational Insights (age 8 - 11) will let her examine things under the water with a 5X magnification, and comes with the Underwater Wonders Activity Journal to record the things she discovers.
Indoor Wilderness: Animal- and Nature-Themed Room Décor
If your Mighty Girl wants to bring a little of the outdoors inside, these room decor items are a great way to celebrate her love of animals!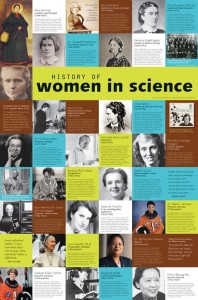 For girl-empowering wall art that will both inspire and educate, this captivating poster of great women of science is a wonderful choice! This colorful poster features photos and short biographies on 22 notable female scientists including several biologists such as Jane Goodall and Rachel Carson.
A quick way to decorate a young Mighty Girl's room is with peel and stick wall decals. Whether you're featuring tropical fish, a jungle adventure, or woodland animals, these decals are a great way to add a little flair to your Mighty Girl's walls.
Wall cards and posters are also a great way to bring animals indoors. You could have an alphabet animal parade and the Tree of Life.
A more dramatic decorating option is a full wall mural! Environmental Graphics makes large-scale wall graphics that apply like wallpaper, which are perfect for bringing a whole nature scene to your Mighty Girl's room. It's made with high-quality paper and have a coat of varnish to allow a quick wipe if walls get dirty. With the dolphins at play wall mural, she'll feel like she's really there!
Animals in the Closet: Animal-Themed Clothing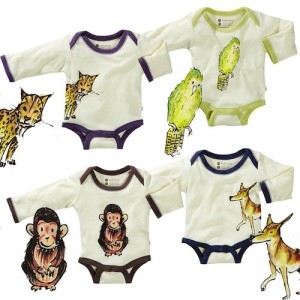 Your Mighty Girl doesn't have to be dreaming of a career in biology to love this animal-themed clothing!
For infants, one great series is the Janey Baby line from Babysoy. Designed in conjunction with the Jane Goodall Institute, these organic sleepers are soft, comfy, and feature great animal designs! You can get sleepers, onesies, T-shirts, and infant bundlers, and a portion of proceeds from each goes to support the work of the Institute. Babysoy also makes these lovely animal sleepers as part of their Oh Soy! line.
Options for preschoolers and school aged kids include a great T-shirt featuring playful dolphins.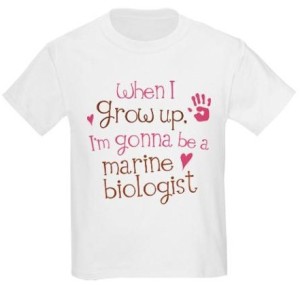 If ocean life is her thing, Mighty Girls of all ages can get this great Future Marine Biologist T-shirt from CafePress; this print-on-demand service allows you to get the design on a wide variety of colors and styles, from infant bodysuits to adult plus sizes.
Teens and adults have some great options for clothing celebrating the animals of the world! Altered Latitudes has a series of performance activewear that recognize the endangered species of the world; their manatee, humpback whale, and Florida panther shirts are a great way to show your love of wildlife while working out.
The Mountain also has a unisex adult T-shirt honoring the manatee; available in sizes from extra-small to 5XL, any manatee-lover will find a size that suits.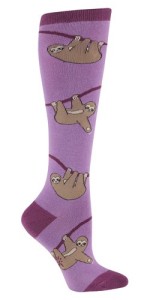 For some snuggly sleepwear, check out Lazy One's Lion Around and Long Day nightshirts! A snoozing lion and sleepy giraffes are the perfect way to cuddle up for a good night's rest.
And fans of Sock It To Me's knee socks will find a vast variety of animal socks to choose from! With realistic versions of giraffes, jellyfish, sloths, and zebras, or more cartoonish, playful versions of whales and manatees, there's something for any animal lover's sock drawer.


"Chimpanzees have given me so much. The long hours spent with them in the forest have enriched my life beyond measure. What I have learned from them has shaped my understanding of human behavior, of our place in nature." — Jane Goodall
Whether your Mighty Girl goes on to study animals for the rest of her life or not, what she learns will give her a special perspective on our world and animals' place within it. We hope that these recommendations will help her develop an appreciation of the importance of conservation, so that she, like all the other Mighty Girls out there, can work to make it a better place for animals and humans alike!
Additional Recommended Resources
Help keep A Mighty Girl growing in the years ahead!
If you discover any books or other resources via this post that you would like to purchase, please use the "Buy at Amazon" link on every A Mighty Girl product page. By doing so, at no added cost to you, you help to support the site and allow us to continue providing you with wonderful girl-empowering resources. Thanks for your support!