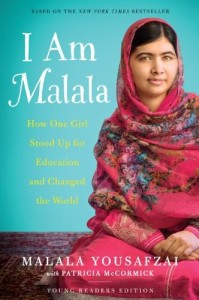 By Katherine Handcock, A Mighty Girl Communications Specialist
When you're looking for a gift for a book lover, the natural choice is a good book! There's nothing more exciting for an avid reader than unwrapping a title they have been dying to read — or discovering an exciting new book they haven't heard of yet.
This year has been an excellent year for Mighty Girl releases, so there are plenty to choose from if you're looking for a newer book for the young reader on your holiday list. In our new post, we've pulled together a selection of 35 new releases for children and teens. From fantasy to biography, from picture books to teen fiction — and even a few titles for parents — these's something for everyone in this collection.
It's also a sneak peek at our upcoming 2014 Mighty Girl Year in Review series, which we'll be releasing at the end of the year. And, if you'd like to learn more or order a copy of any of the books recommended below, just click the links for more detailed descriptions and reviews from other readers.
And, if you'd like to take a look back at last year's fantastic Mighty Girl books, visit our special feature on 2013 Mighty Girl Books: A Year in Review, which includes over 150 books for children and teens.
2014 Mighty Girl Book Releases
Be Patient, Pandora! by Joan Holub, illustrated by Leslie Patricelli (age 1 - 4)
In this retelling of the myth of Pandora's Box, curious Pandora won't open her mother's mysterious box. She'll just touch it, lean on it, sit on it, jump on it... until the box tips and the cupcakes inside fly everywhere! Fortunately for Pandora, her mother forgives her and together they share the one cupcake that's still hiding at the bottom of the box. An author's note includes an overview of the original myth.
Jane feels so ordinary compared to her friends at the circus: who cares about a regular dog when there are elephants, horses, and lions? And when Jane tries to be as elegant, strong, and brave as her family, her efforts fall flat. The Ringmaster, though, loves Jane for who she is — maybe being "a really good dog" is special enough.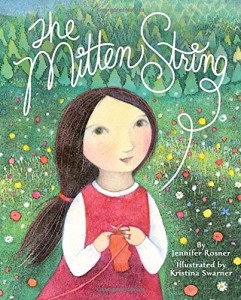 The Mitten String by Jennifer Rosner, illustrated by Kristina Swarner (age 3 - 7)
When her family takes in a deaf woman and her baby, Ruthie wonders how she knows if her baby wakes up at night, and Bayla shows her the string she ties from her son's arm to her own. Ruthie, a gifted knitter, decides to improve on Bayla's ingenuity by making a special pair of mittens joined by a knitted string — and then turns the idea into a way to help the village's children keep their own mittens! This charming story is inspired by the flavor of traditional Jewish folk tales.
Uni the Unicorn by Amy Crouse Rosenthal, illustrated by Brigitte Barrager (age 3 - 7)
Everyone knows that little girls aren't real, but Uni the unicorn can't help but believe in them! Somewhere, Uni just knows there's a smart, brave, kind little girl waiting to be friends. And fortunately, not far away at all, a little girl is dreaming of "imaginary" unicorns. A sweet story about friendship, dreamers, and wishes come true.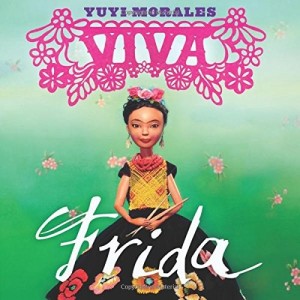 Viva Frida by Yuyi Morales, photography by Tim O'Meara (age 4 - 8)
This unique look at the life of Mexican artist Frida Kahlo has sparse text in both English and Spanish and luminous, dreamy illustrations made of a combination of photographs, digital art, and painting. Morales' strong text captures a creative, driven woman who managed to put her dreams on canvas. An author's note at the end (also in both languages) explains why Morales feels such a connection with this remarkable painter.
In this wordless picture book, a little girl sees a bike in a shop window and falls in love. Determined to earn it, she asks all the neighbors for odd jobs but the only one to take her up on it is one old woman. For months, the girl and the woman work side by side, but will the bicycle still be there when she's done or will the girl's hard work pay off in an unexpected way?
I Am Amelia Earhart and I Am Rosa Parks by Brad Meltzer, illustrated by Christopher Eliopoulos (age 4 - 8)
These two picture book biographies from Meltzer's Ordinary People Change The World series introduce the remarkable stories of adventurer and aviator Amelia Earhart and Civil Rights activist Rosa Parks. Each book captures the essence of the role model it profiles, while communicating an important message to kids: we can all be heroes.
Ninja Red Riding Hood by Corey Rosen Schwartz, illustrated by Dan Santat (age 4 - 8)
The wolf from The Three Ninja Pigs is back; this time, he's hoping to make a meal out of Red Riding Hood! But it turns out that Red has been developing her martial arts skills, so Red and her little old Granny might not be the easy targets the wolf was expecting. This funny story, told in limericks, ends up with the Wolf seeking a new path to enlightenment — and a new meal.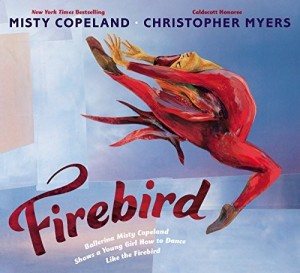 Firebird by Misty Copeland, illustrated by Christopher Myers (age 4 - 8)
A girl looks up at a poster of a star ballerina and despairs: how can she ever achieve the heights that her idol has attained? But the ballerina speaks back, telling the girl the story of her own days as a student, of thousands of hours of practice, and the determination and dedication it took to become the Firebird. Copeland, a ballet soloist with the American Ballet Theater, urges beginners everyone to persevere in pursuit of their dreams.
Louise loves art — both the kind she creates on paper and her little brother named Art. But as any older sibling knows, toddlers have a way of interfering with greatness! When Art puts his own stamp on Louise's masterpiece, will Louise see it for the compliment it is? And even if she does, what do you do when your greatest creation is destroyed? A funny, touching story about creativity, self-expression, and sisterly love.
A young girl decides she is going to build "the most MAGNIFICENT thing!" So, with the help of her faithful dog, she gathers all sorts of interesting bits and pieces and sets down to work. But when building her magnificent thing doesn't turn out to be "easy-peasy" after all, the young inventor learns an important lesson about the creative process. This funny book celebrates creativity, but also the perseverance necessary to get a complicated project done. This delightful picture book is sure to be a Mighty Girl favorite in the spirit of Rosie Revere, Engineer!
King Neptune's 50 mermaid daughters have a myriad of talents, but Minnow only seems to be good at asking questions. But when Minnow finds a strange object floating through the ocean, her curiosity leads her to find its origin and investigate the mysteries and wonders of the human world. Perhaps the curiosity and courage it takes to explore and ask questions are a talent too.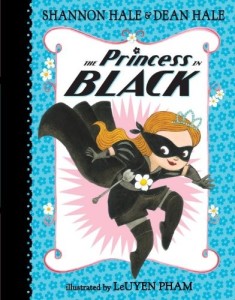 The Princess In Black by Shannon Hale and Dean Hale, illustrated by LeUyen Pham (age 4 - 9)
When the monster alarm sounds, Princess Magnolia becomes masked hero The Princess In Black! But with nosy Duchess Wigtower looking for evidence that Magnolia is not a proper princess, can she keep her secret identity and still keep the kingdom safe? This title is the first of a planned series of early chapter books full of adventure and fun by popular Mighty Girl author Shannon Hale!
Lulu Walks The Dogs by Judith Viorst, illustrated by Lane Smith (age 5 - 9)
Lulu from Lulu and the Brontosaurus is back in this stand-alone sequel that sees the stubborn and rude, but slowly learning, girl struggling to earn some spending money for a mysterious thing she wants to buy! Dog walking seems like an easy option but it's harder than it looks. Lulu will have to team up with her rival neighbor Fleischman if she hopes to reach her goal.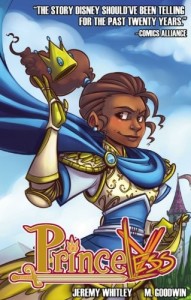 Young fans of Frozen will love this easy chapter book adaptation of the film's story! Daring Anna and her friends Kristoff, Sven, and Olaf will have to face giant mountain peaks, mystical trolls, and magical dangers in order to end Arendelle's eternal winter and reconcile Anna with her sister Elsa.
Princeless: Save Yourself by Jeremy Whitley, illustrated by M Goodwin (age 6 - 12)
Adrienne Ashe hates being a princess — especially when her parents lock her in a tower on her 16th birthday, to be rescued by a prince brave enough to slay her dragon guard. When she finds a sword in her prison, she takes matters into her own hands. She befriends the dragon, breaks out of her tower, and sets off to rescue her trapped sisters! This graphic novel collects the first arc of Adrienne's story. if it leaves you wanting more, check out the sequel Princeless: Get Over Yourself.
Sisters by Raina Telgemeier (age 8 and up)
In this graphic novel, a sequel to Smile, Telgemeier tackles her rocky childhood relationship with her grouchy, unapproachable younger sister, Amara. As the sisters take a long road trip to a family reunion, they must tackle their differences, the challenges facing their family and their true feelings for one another. This book is also available packaged with the bestselling graphic novel Smile in a box set.
Rain Reign by Ann M. Martin (age 8 - 12)
Rose's Asperger's syndrome manifests in a love of homonyms and scrupulous observation of the rules. When her father brings her home a dog, she names him Rain since having a name with three homonyms (Rain, Rein, Reign) makes him extra special. But when she learns Rain may belong to someone else, she'll have to break out of her safe routines to do what she believes is right.
Felicity is a "word collector" and sees words shimmering everywhere but Midnight Gulch is the only place she's seen words like "home" and "friend." If she's going to have any hope of getting her wandering mother to settle there, Felicity will have to find words that will end the curse that drove the magic out of Midnight Gulch and find a way to heal her mother's heart.
When Cleopatra (yes, that Cleopatra) finds herself transported to the far future, she learns she's the subject of a prophecy: she is destined to save the galaxy from an evil tyrant. Of course, first she has to learn combat skills, alien languages, and how to be a good leader! This graphic novel collects the first arc of Cleopatra's story as she meets her talking cat mentor Khensu and struggles with her role as a savior at the same time as she navigates high school drama.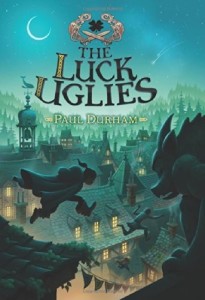 All Four Stars by Tara Dairman (age 8 - 12)
Gladys dreams of gourmet food but her fast-food loving parents don't approve. When she accidentally sets fire to their kitchen as she makes a clandestine creme brulee, Gladys is cut off from her foodie dreams. Then a New York paper mistakenly contacts her to be their new restaurant critic. Can Gladys enlist the help of rival peers and sneak past her parents for the chance at a food-loving girl's dream job?
Rye O'Chanter is convinced that the evil Bog Noblins are returning to threaten her beloved Village Drowning, but no one believes her. Her only hope may be a mysterious, forbidden society called the Luck Uglies — who may no longer even exist. But as Rye navigates the lies, secrets, and rules of her home, she'll discover that, sometimes, good and evil aren't as clear-cut as you think.
El Deafo by Cece Bell (age 8 - 12)
After a childhood illness, Cece is left severely hearing impaired. To attend school, she must wear the Phonic Ear, a powerful and very visible hearing aid. Feeling isolated from her peers, she creates an alter-ego, the superhero "El Deafo." But when she realizes that the very thing that makes her stand out provides her with a real-life special ability, Cece will find a place for herself and the friends she's been longing for.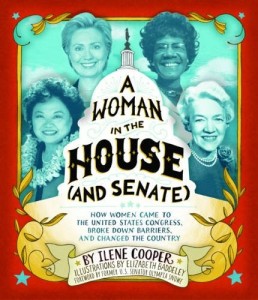 Wheels Of Change by Darlene Beck Jacobson (age 8 - 13)
In Washington D.C., in 1908, Emily is struggling to find herself. She loves her father's carriage barn, but that's no place for a proper lady. But change is coming fast, and soon Papa's beloved carriages are threatened from two sides: by racist neighbors who disdain her father's employees and by new technology that may make carriages obsolete. In order to make change for everyone else, Emily may have to find the courage to change herself.
From the time of women's suffrage to the 2012 election, Cooper outlines the history of women in the United States Congress and Senate. Kids will be amazed to hear how hard women had to fight to be considered for election — and how far we still have to go. Full of archival photographs, fun illustrations, and interesting historical facts, this book provides an excellent overview of influential women in US federal politics.
In 19th century Norway, Astri is horrified when her aunt and uncle sell her as indentured labor to a cruel goat farmer. She becomes determined to escape, find her sister, and then track down their father, who is living in America. During her journey, Astri will cross in and out of reality and folk tales as she searches for her dream. Inspired by the author's family history, this is a fascinating combination of mythology and history.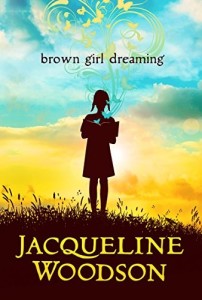 This year's National Book Award winner tells the story of Woodson's childhood in eloquent poetry. Her poems tackle growing up as an African American during the 1960s and 1970s, as she watched the Jim Crow laws die out and the Civil Rights movement flourish. At the same time, she shares her story of how a struggle with reading turned into a love of writing stories. A stunning, personal look at the life of a renowned author.
Orphans Molly and Kip were warned about taking work at the Windsor manor, where all is not right behind the respectable Victorian facade. Soon they discover a malevolent presence, one that curses all those who live within the house. Molly will have to put her gift of storytelling to the test if she can break the Night Gardener's evil enchantments in this suspenseful ghost story.
Pakistani education activist Malala Yousafzai's inspiring memoir is now available in this adaptation for younger readers! From her childhood watching her peaceful area of Pakistan be transformed into an oppressive, violent place, to her public advocacy for girls' education, to the assassination attempt that thrust her into the international spotlight, this book will show kids everywhere that education is a gift — one that many must fight for.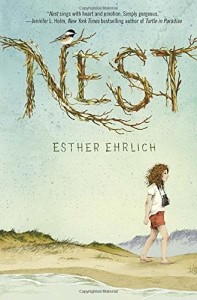 Nest by Esther Ehrlich (age 10 and up)
In Cape Cod in 1972, Naomi — nicknamed Chirp — thinks life is perfect... until her dancer mother is diagnosed with multiple sclerosis. Suddenly, it seems like the only joy for Chirp is watching her beloved wild birds. As Chirp's mother succumbs to depression and her father struggles desperately to work to support the family's needs, Chirp befriends neighbor Joey, who has struggles of his own. Together, they find comfort in dreaming of adventures to come.
Michaela DePrince was Girl 27 in her Sierra Leone orphanage, called the "devil child" because of the vitiligo that bleached spots on her skin. But there she spotted a photograph of a ballerina en pointe that would inspire her dreams. When she was adopted by an American family at age 4, they encouraged her dream of dance and she soared to become the principal dancer at the Dance Theater of Harlem. You can also find her story told for readers age 6 - 9 in Ballerina Dreams: From Orphan to Dancer.
From the Women of Action series comes this look at the daring women of the Great War. Each of the women profiled within stepped forward to serve their country, often at great personal risk — even though most of them could not legally vote. Direct quotes, archival photos, and document and diary excerpts provide an enthralling, immersive look at the brave women of World War I.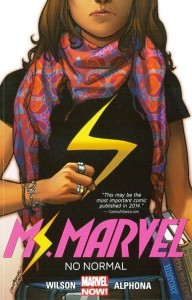 Say What You Will by Cammie McGovern (age 13 and up)
Amy was born with cerebral palsy, and her walker, voice box, and adult helpers have isolated her from her peers since she started school. When she meets Matthew, who struggles with obsessive-compulsive disorder, he challenges her cheerful front and inspires her to ask her parents to hire student aides, not adults, for her final year of high school. She and Matthew have much to learn about one another — and themselves — as their relationship deepens.
Ms. Marvel - No Normal by C. Willow Wilson, illustrated by Adrian Alphona (age 13 and up)
American daughter of Muslim immigrant parents Kamala Khan dons the Ms. Marvel costume in this new comic series that is a favorite of both critics and fans! When Kamala learns of her elastic and shape-changing powers, at first she tries to literally become Ms. Marvel, blonde and sexy in a skintight, skimpy costume. But Kamala has a lot to learn about being a superhero and being herself. This trade paperback collects issues 1 to 5 of the new Ms. Marvel series.
At 13, Jude and her brother Noah are incredibly close; at 16, they're barely speaking to one another. Daredevil Jude and isolated Noah each have half the story of how their relationship fell apart. It will take special people to draw them back together and the sharing of stories to restore what was lost. Told from Noah's perspective in the first half and from Jude's in the second half, this remarkable book is thought-provoking and captivating.
The perfect book for any dad who's been looking for fun, geeky projects to do with his Mighty Girl! Frauenfelder, editor of MAKE magazine, shows how these cutting-edge but affordable projects teach valuable hands-on skills, from using basic hand tools to computer programming, while also providing a special activity for fathers and daughters to do together.
Kids love to tinker, and parents and teachers can do a lot to foster than natural inclination! Doorley, founder of the blog Tinkerlab, provides guidance on helping kids find projects that emphasize the process over the success of the product, which helps kids develop creative and critical thinking and maintain their instinctive curiosity and desire to tinker as they play.
As long as this list is, it's only a sampling of the amazing 2014 Mighty Girl releases that we've already found! Stay tuned in the next few weeks for the launch of our 2014 Year in Review and for additional blogs featuring more of our favorite 2014 titles.
Additional Recommended Resources
Help keep A Mighty Girl growing in the years ahead!
If you discover any books or other resources via this post that you would like to purchase, please use the "Buy at Amazon" link on every A Mighty Girl product page. By doing so, at no added cost to you, you help to support the site and allow us to continue providing you with wonderful girl-empowering resources. Thanks for your support!