A Mighty Girl's top picks of bullying prevention books and guides for tweens and teens.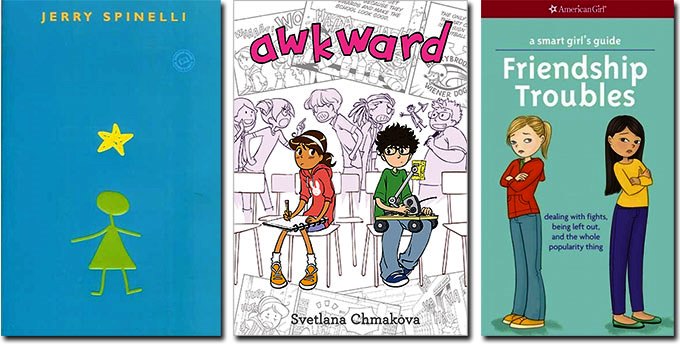 As kids enter puberty and their bodies and emotions start to change, bullying takes on new challenges: not only do relationships become more complex, but self-esteem is often more fragile and popularity can seem so much more important than it did a few years ago. So it's particularly important for parents to continue offering their children resources to develop their understanding of relational aggression and bullying! Whether your Mighty Girl prefers to read fiction about the topic, or enjoys a non-fiction guide, there is material in this blog to help her unravel the complexities of bullying in middle school, high school, and beyond.
For Mighty Girl books on bullying prevention for younger girls, check out our post, The End of Bullying Begins With Me: Bullying Prevention Books for Young Children.. For bullying prevention resources for adults, visit our post, Leading the Way: Bullying Prevention Books for Parents and Educators.
Mean Girls: Fictional Bullies
Fiction can be a safe way to explore a challenging topic, especially for girls this age, who are acutely aware of the changing social dynamic around them. These books talk about bullying for a variety of reasons and from a variety of perspectives, so that your Mighty Girl can learn more about what bullies during the tween and teen years can be like — and how to deal with them.
Real Friends
Shannon and Adrienne have been best friends forever, but things start to change when Adrienne starts hanging out with Jen, the leader of the elementary school's popular clique known as The Group. To be in The Group, you have to do everything Jen says — even if that means bullying others. Shannon will need to decide whether being part of The Group is worth it... and figure out how to stand up for herself if it's not. Young Shannon's day dreams hint at her future as a bestselling author, while LeUyen Pham's appealing illustrations still underscore how alienated Shannon feels with The Group and how comfortable she feels with other friends. This graphic novel memoir from beloved author Shannon Hale about relational aggression and the power of finding true friends will speak to many tweens.
Confessions of a Former Bully
In this unique book, Katie starts keeping a notebook about bullying after she's required to visit the school counselor for bullying a friend on the playground. As Katie explores why she acted as she did, and learns more about bullying in general, she also develops ideas about how to atone for her mistakes. The story also includes sidebars with statistics, quotes, and other factual information about physical, emotional, and Internet bullying. Since part of the challenge for older girls can be the realization that almost everyone has engaged in teasing or bullying at some point — including themselves — it can help to show that it is possible to make things right if you've made a mistake.
Karma Khullar's Mustache
Everything seems to be going against Karma as she prepares to enter middle school: her best friend has found another, blonder best friend; her beloved dadima has passed away; her father has become the new stay-at-home parent while her mother spends most of her time at work; and perhaps worst of all, she's spotted seventeen hairs sprouting on her upper lip. As her classmate's taunts about her mustache grow, Karma wonders if someone like her — half white and half Indian, half Methodist and half Sikh — belongs anywhere. With everyone busy elsewhere, Karma will have to figure out her own way to define her own destiny. Debut author Kristi Wientge tackles body hair, self-image, and bullying in this relatable novel which encourages tweens to imagine themselves in Karma's shoes.
The Second Life of Abigail Walker
Abigail has been ostracized after she refused to put up with being teased about her body by the school's popular girls. Rather than sit alone, Abigail begins to explore the area around her school, and meets a new friend, Anders, whose family situation makes her realize that being unpopular isn't so bad. Soon, she has a new focus to her life — one that helps her discover that helping others can be the best way to help yourself. One of the things that holds the target of bullying — or bystanders — back from standing up to a bully is fear of the isolation it can bring; this book will remind readers that there are more people in the world to lean on.
Jane, the Fox, and Me
Helene has been inexplicably ostracized by the other girls in her class, and she's struggling with her emotions without help from the adults around her. She finds solace in her favorite book, Jane Eyre, but that won't help when she finds herself on a school trip with no escape from humiliation. The sighting of a fox provides comfort for a while, but even that is denied to her before long. Then Helene meets Geraldine, a new girl in school who doesn't seem to care that befriending the outcasts puts herself at social risk. Perhaps bullies have exactly the power that you give them... This stunning, emotionally powerful graphic novel illustrates one way kids can invert the power dynamic between the bullies and the bullied.
Sticks & Stones
Elyse has an unusual condition: ever since she was a baby, the words people use to describe her appear on her skin. Words like "cute" and "adorable" are just an oddity, but as she gets older, she starts seeing words like "loser" and "pathetic" that itch and pull at her skin — and worse, some of them are her own thoughts about herself. Now that's she's twelve, the situation seems dire: the friends who used to accept her are drifting away just as she starts middle school. And then she gets an anonymous message, from someone who says they know what's going on and they want to help. Author Abby Cooper uses Elyse's medical condition as a fascinating metaphor for both self-esteem problems and the impact that words can have upon a person's confidence.
Wolf Hollow
Even Annabelle's small Pennsylvania town has been touched by the two world wars that ravaged the world, but day to day life there has been quiet until the day a new student, Betty Glengarry, comes to her school. Betty is cruel and delights in bullying the vulnerable people around her — including reclusive World War I veteran Toby. Annabelle knows that Toby is kind, but the other people in town see nothing but his odd behavior. As Betty agitates the town against Toby, Annabelle will have to find the courage to be a voice of justice... even if she's standing alone. This poignant novel reminds young readers that bullying isn't new — and neither is the power of a bystander to make a change.
Awkward
Peppi Torres knows that rule #1 in a new school is not to get noticed by the mean kids, and rule #2 is to find a group to protect you. But she fumbles rule #1 badly when she bumps into Jaime Thompson in the hallway and immediately gets labeled the "nerder girlfriend." To defend herself, though, she treats Jaime badly and can't help but feel ashamed. But the group she's settling into, the art club, and Jaime's group, the science club, are archrivals. How can Peppi find a way to make up for her poor behavior? It turns out that sometimes you have to break all the social rules to survive middle school. This newly released graphic novel conveys a powerful message about compassion in the midst of the chaos of middle school.
Stargirl
The perplexing and unique Stargirl captivates everyone at Mica High when she arrives — including Leo, the story's narrator. The adoration turns sour, however, and soon Stargirl realizes she either has to change herself to be "normal" enough to fit in, or remain true to herself and accept her classmates' taunts. Leo pushes her to change, so that they can continue their relationship without him being isolated along with her. But when it comes time for the choice, Stargirl knows she has to choose what's right for herself, not Leo or anyone else. It's important that tweens and teens know that they shouldn't change who they are for the sake of gaining popularity; this book captures that message beautifully. You can also find Stargirl and its sequel Love, Stargirl in a boxed set.
Story of a Girl
Deanna was caught having sex in a car three years ago, at the age of thirteen. Although she has avoided boys since, she can't escape the reputation of school slut. The book is in the form of Deanna's diary, which she writes as if she is telling the story of another girl, and draws out the isolation Deanna feels as she struggles to break out of a role others have assigned her after she made a single choice. Because of several high-profile cases, teens know all too well that a girl's sexual activity — whether consensual or forced — can lead to ongoing bullying; this book tackles that situation head-on.
Orchards
Sometimes you can't make up for what you've said or done. In this book, Kana, an American girl who is half Japanese and half Jewish, has worked hard to blend in with the popular crowd — a crowd that spent some of its time harassing Ruth. But Ruth was struggling with bipolar disorder and committed suicide during the school year. Kana's parents send her to her grandparents' orange groves in Japan for the summer to work — and reflect on the things she has done. In free verse, often directed to Ruth, Kana struggles with coming to terms with the responsibility she may hold for Ruth's death. While there are no definite answers, Kana does realize that, had she stepped in, she may have been able to change things for the better.
The Skin I'm In
Maleeka has long heard constant comments about her dark black skin, which makes it hard for her to see herself as beautiful — or valuable. But a new teacher at the school, whose blotched face draws the same negative attention, shows Maleeka how to hold her head high despite the attacks against her, and when one of the cutest boys in school declares that her "sweet cocoa brown skin" is beautiful, Maleeka begins to see how bullies make you see the world through their lens, rather than your own. This unflinching look at racially-based bullying will open teen readers' eyes to the many cultural facets involved in our response to bullies.
Does My Head Look Big In This?
When young Australian Muslim Amal decides to wear the hijab as an expression of her religious devotion, she discovers how much prejudice can be wrapped up in a piece of cloth. Suddenly , her head covering is all anyone wants to talk about, and classmates who used to have no problem with Amal now see her as a "towel-head" instead of a peer. And strangers in the street — and even prospective employers — seem to feel free to judge her on her choice as well. Teens interested in tolerance-related issues will be particularly intrigued to see how peoples' opinions can change depending on how well someone blends into the majority culture.
What Happened to Lani Garver?
Sexual orientation or gender non-conformity can make someone a target of bullies. In this gripping novel, Lani arrives at school and becomes the subject of intense curiosity, since he dresses androgynously and refuses to define his gender or his sexual orientation. Claire may be in with the popular crowd, but she still feels like an outsider after a year out of school; she befriends Lani, the only person genuinely concerned about who she really is. But on Hackett Island, you fit in or else and soon the harassment against Lani and, by extension, Claire, becomes outright threatening. This powerful book is a harsh reminder that bullying can't just be treated as "part of growing up".
Symptoms of Being Human
A new school and an ultra-conservative congressman father running for re-election are stressful enough, but Riley has a secret: Riley is genderfluid, identifying as a boy some days and a girl others. The strain of playing a role for the community and media is building, so on a therapist's recommendation, Riley starts an anonymous blog about what it's like to be a genderfluid teen. But just as Riley gets settled at school, the blog goes viral — and an unnamed commenter discovers Riley's identity and threatens to expose it to the world. Riley faces a choice: walk away from support, understanding, and a newfound cause, or come out — and risk everything. Jeff Garvin has created a story that tackles online, gender-based bullying in an uplifting way, with a fascinating protagonist, one who faces prejudice and still keeps a sense of humor and stands up for what is right for Riley.
The Truth About Alice
Everyone "knows" that Alice is a slut: she had sex with two boys at a party...or maybe she had sex in exchange for math answers. And then, when Brandon, the quarterback, dies in a car crash, rumors really spin out of control: it was Alice's obsessive texts that caused the accident, surely. As multiple narrators tell the story of how Alice went from the girl who didn't care about being popular to the demonized target of a school's rage, readers piece together how destructive the desire for popularity can be — and how the faster pace of texting and social media turn gossip into a destructive force that seems unstoppable. Equally importantly, the book highlights how, by excusing bullying because "she deserved it," the whole community is culpable.
Taking A Stand: Non-Fiction About Bullying
Some tweens and teens may prefer a non-fiction guide or workbook to help them explore constructive ways to deal with bullying. The books below all offer great information to Mighty Girls of this age group.
Stand Up For Yourself and Your Friends
This book from the American Girl Library is a great starting point for tweens looking for advice on dealing with bullies. Rather than telling girls that there is a "right" way to handle a bully, this book gives a variety of different options, from ignoring taunts to comebacks to involving adults, as well as advice as to how to decide which strategy to use. The book acknowledges that not all mean behavior is necessarily malicious, though, and also provides a guide to knowing how to stand up to a friend who is behaving badly without being mean yourself. Parents and educators can supplement this book with A Smart Girl's Guide: Digital World - How to Connect, Share, Play, and Keep Yourself Safe to show how these dynamics may appear online.
A Smart Girl's Guide: Drama, Rumors, and Secrets
Sometimes, middle school girls don't know what to do about the drama that fills their social lives: from jealousy to cyberbullying to gossip, it seems like there are landmines everywhere! This new guide from the American Girl Library provides an excellent introduction to how drama starts, how it grows — and how you can help stop it in its tracks. Most importantly, it reinforces the message that the most important thing is to be true to yourself. Quotes, tips, and advice from real Mighty Girls make this an accessible, fun guide to a difficult topic.
A Smart Girl's Guide: Friendship Troubles
When a friendship is going sour, this book can help girls respond appropriately and figure out if the relationship can be repaired. Tackling everything from backstabbing to exclusion to being left behind as a friend joins another crowd, this guide gives ways to handle each situation without turning into a mean girl yourself. Additionally, it provides more guidelines as to when a girl can handle a friendship in trouble on her own, and when she should get adults involved. The overall tone of this book is very positive, reminding girls that even friendships that have bumps along the way can often be saved.
lol...OMG!
In an increasingly digital world, it's important that tweens and teens know how to protect themselves, and how to become what Ivester calls "responsible digital citizens." Cyberbullying is a particularly important issue to discuss, since it can feel so much harder to escape taunts on social media or cell phones. This book talks about cybersafety and digital reputation management, touching on a variety of topics, including why peers can be crueler online than face to face, why it's important to think about what you post, and the consequences of misusing technology.
The Bullying Workbook for Teens
Another excellent title from the Instant Help Solutions series, this workbook helps teens deal with the difficult emotions created when you're the victim of bullying or cyberbullying. Using cognitive behavioral techniques, this workbook helps teens identify and manage their emotions, from anxiety to anger to depression, and provides guides to getting help when bullying is getting out of control. By working through the exercises, teens will develop their confidence in handling their bullies and in communicating their emotions to the supportive people in their lives.
It Gets Better: Coming Out, Overcoming Bullying, and Creating a Life Worth Living
Dan Savage's It Gets Better Project has provided hope and inspiration to LGBTQ youth across the country and around the world. This book, edited by Savage and his partner Terry Miller, collects essays from everyone from celebrities to everyday people to teens who are dealing prejudice and harassment against LGBTQ people. The message: even when things seem bleak, each and every person reading is a valuable person with incredible potential, and it does get better.
Bully
In this documentary film, director Lee Hirsch follows five families dealing with different aspects of bullying, including those who have lost a teen to suicide and a mother whose bullied daughter was jailed after becoming so afraid that she brought a gun on the school bus. The film provides an intimate look at the many facets of bullying and, although this raw examination of the subject is difficult to watch, it is nevertheless inspiring as Hirsch demonstrates the effect that a community's actions can have — for the worse, yes, but also for the better.
Tweens and teens are at the age where they begin to see the power they have to change the world. When they work together, there are few things that they cannot accomplish. When we teach our Mighty Girl tweens and teens to stand up for what is right, they can go out and help their peers feel special, loved and safe.
Additional Resources