A Mighty Girl's top picks of books for tween and teen girls about puberty, sexuality, and their changing bodies.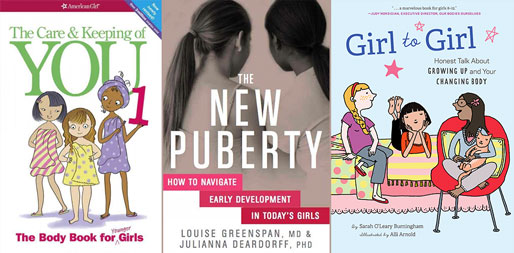 You knew it would happen one of these days: your daughter is a tween. Maybe you just realized that she's looking eye-to-eye with you, or perhaps you're seeing breast budding or other early signs of puberty. Or, your daughter is a teen, and while she thinks she knows everything about her changing body, you want to make sure that she has accurate information and good resources to consult.
Fortunately, in this post, we have many great books to recommend for both tweens and teens — in addition to numerous helpful resources for parents themselves. If your Mighty Girl is a bit younger, check out our previous post on Body Smart, Body Safe: Talking with Younger Girls about their Bodies for resources for preschoolers and younger elementary students. You can also learn about our recommendations on menstruation-related resources in our post Teaching Your Mighty Girl About Her Menstrual Cycle.
Physical and Emotional Changes in Puberty
This, of course, is the main thing your daughter needs to know: how her body is changing, what to expect, and, of course, that what she's experiencing is normal. All of the books below will do a great job of answering her (and your!) questions, whether she looks at them on her own or you read them together.
The Care and Keeping of You 1: The Body Book for Younger Girls
The original Care and Keeping of You has seen millions of girls through puberty, and now it's been updated and divided to apply to even more girls! This new first volume focuses on physical questions (everything from hygiene to development to selecting the right bra), but principally addresses the concerns of tweens. Parents should note that neither this volume, nor the other volumes from the American Girl Library, address sexuality or sexual issues. A companion journal, The Care and Keeping of You Journal 1, allows girls to track their moods, figure out their menstrual cycle, and get a sense of their overall health and well-being.
The Feelings Book: The Care and Keeping of Your Emotions
Another popular offering from the American Girl Library, this book focuses on understanding the fluctuating emotions of puberty, including the difference between feeling an emotion and acting on it. As emotions become more complex, girls often struggle to identify how their feeling; the checklists and quizzes in here will not only help her put a name to her emotions, but learn specific tips for managing them. The companion The Feelings Book Journal provides additional, hands-on experience with her emotional world.
Girl to Girl: Honest Talk About Growing Up and Your Changing Body
The light, conversational approach in this book showcases the author's experience as both a life coach and older sister. This recent release discusses issues like body development, choosing bras and menstrual products, and even common experiences like getting glasses or braces. "Myth Buster" sidebars tackle some of the common misconceptions girls may hear about puberty and development, directly countering misinformation so parents can be confident their daughters know the facts. Arnold's accompanying illustrations feature vivid colors and a diverse group of girls, making this a very accessible, friendly volume.
Ready, Set, Grow!
Lynda Madaras has brought her years of experience teaching puberty and health education to her writing. With a friendly and accessible tone, Ready, Set, Grow! answers questions about a tween's developing body, talking about breast development, height and weight spurts, and hygiene issues from body odor to shaving. It's ideal for parents who wish to begin their discussions without tackling sexuality and dating, since it omits detailed discussion of sex, STIs, and birth control. Her other volume, The "What's Happening to My Body" Book for Girls, includes these issues and is described below.
Is This Normal?: Girls' Questions, Answered by the Editors of The Care and Keeping of You
Another companion to the Care and Keeping of You books, this volume focuses on common questions that the editors at American Girl receive about topics ranging from hygiene to body basics to moods and feelings. The accessible Q&A format will appeal to many tweens, but parents will particularly appreciate the final section, which encourages tweens to keep in touch with the adults in their lives and provides tips to help tweens start key conversations.
Bunk 9's Guide to Growing Up: Secrets, Tips, and Expert Advice on the Good, the Bad, and the Awkward
This puberty book takes an unusual tone by using the voices of nine fictionalized girls to pass on accurate, girl-friendly information about growing up! The girls of Bunk 9 are ready to answer all your questions about puberty — from what changes you'll notice in your body to how to manage mood swings to details about health and hygience that every girl should know. The accessible framework and friendly voices make this a book girls will be eager to read, and the information is all pediatrician-approved!
The Care and Keeping of You 2: The Body Book for Older Girls
Older girls are often ready for a bit more detail, so this second volume of The Care and Keeping of You gets a little deeper into hygiene, body facts, and more. Although much of the information is duplicated between the two books, this volume adds key items like a description and illustration of tampon use and further discussion of how your social world changes as you continue to mature. As with the earlier volume, there is no discussion of sexuality or sexual issues, but early developers or older girls will appreciate the extra information in this text. It also has a companion journal, The Care and Keeping of You Journal 2.
Girl's Guide to Becoming a Teen
As you would expect from the American Medical Association, this book provides an excellent factual guide to the physical and emotional changes your daughter will be experiencing. Different chapters cover body development, including the importance of taking care of your body (through diet, exercise, and good grooming); the reproductive system; how hormones affect your feelings and how to handle these emotional changes; and how to maintain a positive self-image in a time where it seems your body changes week by week.
HelloFlo: The Guide. Period.
This is definitely not your mother's puberty book! HelloFlo founder Naama Bloom's mission is to create informed, empowered young women who are unafraid to ask questions and make the best choices for themselves and their bodies. In The Guide. Period, she's created a celebration of women's bodies and all the confusing, uncomfortable, silly, transformative, and powerful changes that occur during puberty. This full-color book features bright, diverse, approachable illustrations and infographics (on everything from how to insert a tampon to a timeline of body hair trends throughout history), doctor-vetted information, and personal testimonials from real girls and women.
It's Perfectly Normal! Changing Bodies, Growing Up, Sex, and Sexual Health
Parents who liked the frank discussions of sex and sexuality in It's NOT the Stork! and It's So Amazing! from our blog aimed at younger children will definitely want to seek out this title. The familiar bird and bee friends are back, covering conception, puberty for both sexes, and emotions, but this time they also discuss more challenging topics like sexual orientation, masturbation, and making decisions about sexual activity. A new chapter in this updated edition also covers Internet safety, a topic of concern for many parents.
Taking Care Of Your 'Girls': A Breast Health Guide for Girls, Teens, and In-Betweens
Girls are as anxious and confused about their breasts as ever. That's why Marisa Weiss, M.D., an oncologist and breast health specialist, and her teenage daughter, Isabel, decided to create this book. Based on their research, you'll get answers to questions about when to get a first bra -- and what kind to choose; why breasts grow the way they do; and how to take care of your breasts into adulthood. A groundbreaking book for both mothers and daughters, Taking Care of Your "Girls" is a practical guide to breast care and a girl-to-girl conversation about the feelings and emotions that come with the territory.
"What's Happening to My Body" Book for Girls
As with Ready, Set, Grow, this book takes a light, funny, and friendly tone while answering questions about developing bodies, including breast development, menstruation, and grooming issues like skin care, shaving and body odor. However, What's Happening to My Body goes deeper into common issues of concern for teens, tackling eating disorders, sexually transmitted diseases (including AIDS), and romantic and sexual feelings.
Any of these books will provide a good grounding for you and your daughter about the general changes that puberty is going to bring. Chances are good, though, that there's one puberty topic that is on every girl's mind: her period.
Understanding Menstruation
For a girl going through puberty, her cycle can seem strange, mysterious, and a bit scary. Menstruation is such a taboo topic in most cultures that many girls — and parents — will feel even more uncomfortable discussing it than general sexual issues. However, there are books that focus exclusively on menstruation that will help your daughter understand that her period is no more mysterious than getting taller.
For more menstruation-related recommendations beyond those highlighted here, check out our post on Teaching Your Mighty Girl About Her Menstrual Cycle.
Period: A Girl's Guide
This excellent guidebook talks in a straightforward way about what a girl can expect when they begin menstruating. Chapters cover basic reproductive anatomy, the mechanics of menstruation, choosing between pads and tampons, and what happens during a pelvic exam. Throughout, it focuses on the positive, emphasizing that a good understanding of your body and its cycle will help you be comfortable in your skin and stay healthy. Period also includes a parent's guide at the back to help plan a discussion about puberty and menstruation.
Cycle Savvy: The Smart Teen's Guide to the Mysteries of Her Body
For older girls, whose cycles have become more regular, this book talks about how your menstrual cycle affects you on a day-to-day basis. The first book to talk to teens about the advantages of charting cycles, Cycle Savvy talks about ovulation and fertility, as well as body signals and mood changes that happen during your cycle. It also provides accurate terminology for the vulva, labia, and clitoris, and discusses the process of choosing when you are ready for sexual intercourse. Most importantly, Weschler reminds the reader that her period is a critical aspect of her female body and therefore a process that deserves respect.
My Little Red Book
Unlike the books mentioned above, this volume doesn't discuss the mechanics of having your period; instead, it provides a glimpse into the many experiences of women around the world when they begin menstruation. This anthology of stories about first periods was written by a wide variety of voices, from established and respected women authors to modern teens. The stories range from the light-hearted and funny (getting your first period while waterskiing in a yellow bathing suit) to the heart-stopping (discovering your first period just as you're about to be strip searched by Nazi soldiers.) Deeply honest and highly informative, this volume will give your daughter new perspective into the community she enters when her period begins.
Emerging Sexuality
Parents are often uncomfortably aware that puberty signifies their daughter's emergence as a sexual being. Romance and sexual attraction are hard to reconcile with your "little girl", but it's important to remember that her emerging sexuality can be equally confusing for her. Fortunately, these books will help her understand that her sexuality is a natural — and healthy — part of her.
S.E.X.: The All-You-Need Progressive Sexuality Guide to Get You Through High School and College
Any question your Mighty Girl may have considered asking about sex and sexuality probably gets an answer in this book! It includes a comprehensive section on sexual behaviors (including relative disease and pregnancy risks), an in-depth birth control breakdown, and a sexual readiness checklist. It also covers how to find a positive sexual relationship and talks about emerging awareness of sexual orientation. This is truly a volume that can support her throughout her young adult life.
Queer: The Ultimate LGBT Guide for Teens
The teen years are when lesbian, bisexual, gay, transgender, or queer (LGBTQ) girls are likely to really understand their orientation. LGBTQ teens face all the difficulties a heterosexual teen does — from choosing birth control and STI protection to figuring out if the object of their affection likes them back — as well as specific challenges, like deciding when to come out, how to conduct an LGBTQ dating life, and how to handle orientation-based discrimination. This honest, light, and engaging guide for LGBTQ teens is full of practical advice, personal stories from the authors, and sidebars about queer history; it provides an excellent introduction to living a safe and happy queer life.
The Gender Quest Workbook: A Guide for Teens and Young Adults Exploring Gender Identity
With the increasing complexity of the teenage mind comes a more varied understanding of gender — suddenly, it becomes more clear that there are many options, not just two! Whether your teen is questioning her understanding of gender, sees herself as transgender or non-binary, or simply realizes that her view of gender doesn't conform to society's norm, this workbook will help her understand her identity — internally, interpersonally, and in relation to her culture and society. Individual chapters address sex and dating, living with multiple identities or changing identity, and other unique challenges that may arise.
Beyond Magenta: Transgender Teens Speak Out
If your teen is transgender — either already transitioned or just beginning to consider the process — she's likely to feel like no one understands their experience; if she's not, she probably wonders what it's like to feel like your assigned gender doesn't fit. Fortunately, this groundbreaking book can help by sharing the experiences of other transgender or gender-neutral teens and young adults. Susan Kuklin's photographs and interviews thoughtfully and respectfully chronicle the journeys of six individuals before, during, and after their personal acknowledgement of their gender preference. While not a guide in a traditional sense, reading these stories will enlighten teens to the experiences of gender-nonconforming people.
Understanding Your (Nearly Adult) Daughter
Of course, the ultimate goal of every parent as their child nears adulthood is to stay in contact: to find the right balance between space to grow and staying emotionally close. It's a tricky maneuver, but there are ways to foster your understanding of your daughter and to help her understand your own feelings.
The New Puberty: How to Navigate Early Development in Today's Girls
If you think that girls are developing earlier than you remember when you were a tween, you're not entirely wrong; studies show that early puberty is becoming more common, with almost 10% of girls showing signs of early puberty before age 8. But if your daughter is an "early bloomer," she's facing even more challenges than girls who develop later: with the body of a 13-year-old but the brain of an 8-year-old, it can be hard to understand how peoples' responses and attitudes towards you are changing. Louise Greenspan and Julianna Deardorff are experts in early puberty in girls, and in this book, they provide a detailed framework for guiding girls through early puberty that is both reassuring and empowering. By doing so, parents and educators can ensure that girls develop confidence and comfort in their new skins, something that will benefit them their whole life long.
Just Between Us: A No-Stress, No-Rules Journal for Girls and Their Moms
A joint journal is a great way for moms and daughters to stay close — as well as providing a way to make girls feel more comfortable asking questions. This dual journal provides some great ideas to help maintain communication between moms and daughters. The authors, a mother and daughter themselves, have shared a journal since Sofie was nine, and used that experience to create this volume. It's full of writing prompts, pages for drawing or making lists, and lots of space for free writing, and is sure to help inspire dialogue between you and your tween daughter.
Girls & Sex: Navigating the Complicated New Landscape
A generation gap has emerged between parents and their girls. Even in this age of helicopter parenting, the mothers and fathers of tomorrow's women have little idea what their daughters are up to sexually or how they feel about it. Drawing on in-depth interviews with over seventy young women and a wide range of psychologists, academics, and experts, renowned journalist Peggy Orenstein goes where most others fear to tread, pulling back the curtain on the hidden truths, hard lessons, and important possibilities of girls' sex lives in the modern world. In Orenstein's hands these issues are never reduced to simplistic "truths"; rather, her powerful reporting opens up a dialogue on a potent, often silent, subtext of American life today -- giving readers comprehensive and in-depth information with which to understand, and navigate, this complicated new world.
Beyond the Big Talk: A Parent's Guide to Raising Sexually Healthy Teens — From Middle School to High School and Beyond
Parents who liked Debra Haffner's approach in From Diapers to Dating in our blog about body talk for younger girls will love this volume about tweens and teens. As in her first book, Haffner encourages parents to have ongoing discussions with their kids, and emphasizes providing accurate information; at the same time, she shows how parents can communicate their family's values about sex, relationships, and confidence. From guiding tweens through puberty to figuring out what to do when your college students wants to bring a new partner home for a visit, this book provides plenty of suggestions for positive discussions with your kids.
For Goodness Sex: Changing the Way We Talk to Teens About Sexuality, Values, and Health
Vernacchio makes the case for "sex-positive education" in this book, which shows how parents and educators can lay the groundwork for healthy and safe habits. Instead of focusing on the consequences of ill-considered sexual activity — something Vernacchio calls the "disaster prevention" model of sex-ed — you can focus on sexuality as a natural part of life, one that can and should be embraced in age-appropriate ways. By remaining open and positive about sexuality and sex, adults encourage kids to come to them with questions, rather than seeking potentially inaccurate or even dangerous, advice from peers or online. Full of examples from the classroom, quizzes, and sample discussions, this book offers the tools and insights adults need to talk young people and help them develop healthy values and safe habits.
Start Talking: A Girl's Guide for You and Your Mom About Health, Sex, or Whatever
If you want to start discussion with your daughter about sexuality, health, or relationships, you may wonder what to say — in which case, this book is the one for you! Sections are devoted to a variety of issues that are of concern to both girls and moms, from menstruation to body image to dating; each provides information for both mom and daughter, as well as prompts to get conversations started. The accessible Q&A format means that even parents who feel like they don't know enough to have these discussions can go forward confidently, and the Table Talk sections provide helpful prompts. It's a great way to get talking with your Mighty Girl.
Sexploitation: Helping Kids Develop Healthy Sexuality in a Porn-Driven World
One thing that has definitively changed in the past few decades is the availability of sexualized media. Today, instead of finding a magazine under an older sibling's mattress, kids may stumble across highly sexualized images or videos in all sorts of places, from TV commercials to video games to the Internet. And since parents and educators are hesitant to talk about sexual issues, often there is no one to counter the false — or upsetting — information that these depictions provide. Pierce's funny tone invites even those who are uncomfortable with these discussions to read on, but her message is a serious one: it's important that we talk to our kids about what we don't even know they're seeing, so that they develop a healthy understanding of sexuality, relationship, and boundaries.
Dilemmas of Desire: Teenage Girls Talk about Sexuality
Teen girls may feel caught in a trap: not only is their sexuality discouraged while that of teen boys is celebrated, but conflicting messages about what girls can and should do surround them. In this unique look at the world of teenage sexuality, Deborah Tolman interviews girls to ask the questions that stories about teens and sexuality ignore: what they want, what they fear, and what they need from us. These candid voices, drawn from multiple communities, highlight a key discovery: girls who are honest — with others and themselves — about their own desires make safer, healthier choices about sex.
The Secret Lives of Teenage Girls: What Your Mother Wouldn't Talk About But Your Daughter Needs to Know
Although teens may seem like they don't want your input, the truth is that your opinion — and advice — matters more to them than you know. Rush, a certified nurse-midwife who specializes in treating teens, realized over the course of her career that teenage girls are often left to form a sexual identity without adult guidance. As well, she found that girls were often criticized for normal adolescent behavior. Rush tackles the hard topics — pregnancy, substance abuse, and eating disorders — but also the issues facing almost all parents — battles with authority figures, lack of emotional support, and under-achievement — with grace, laughter, and confidence that you and your daughter can get through this difficult time.
This strange blend of little girl and grown woman sitting across the table from you isn't far from adulthood, and soon the resources she'll be looking for will have to do with career selection and independent living. When that day comes, and she is truly on her own, you'll be glad you were a comforting part of her adolescent experience.
Tips for Parents about Tweens, Teens, and Puberty
Make sure your daughter knows that weight gain and increased curves (especially right before a growth spurt) are part of developing a woman's body. Otherwise, she could misinterpret her natural weight gain as unhealthy.
Recognize that your daughter is likely to be uncomfortable with her rapidly changing body, and feeling particularly unsure of herself; be sensitive about any comments relating to her body.
If your daughter has shown any of the early signs of puberty (growth spurt, breast budding, and/or appearance of body hair) make sure that she has menstrual pads with her wherever she goes, especially if she will be away from home overnight.
For male friends and family members: don't stop showing physical affection just because she is starting to mature. Many girls are very hurt when the men in their lives become inexplicably distant after they enter puberty.
Whatever your family's values about sex before marriage are, make sure that your daughter has a clear understanding about birth control and protection from sexually transmitted infections.
Additional Recommended Resources