A Mighty Girl's top 50 books for children and teens about heroic girls and women who fought for justice during the Civil Rights Movement.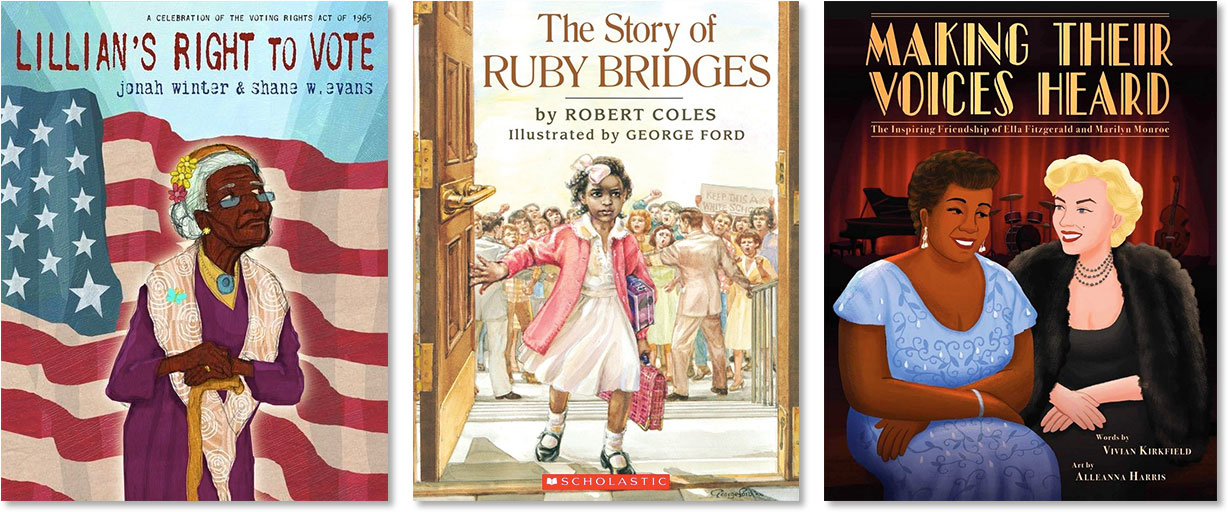 From the Montgomery Bus Boycott, the Greensboro sit-ins, the Freedom Rides, school integrations, the March on Washington, Freedom Summer, the Selma to Montgomery marches, we hear many stories about the pivotal events of the Civil Rights Movement, but so many are about the remarkable men in leadership positions at the time. But what of the women? What of the girls? Rosa Parks' story is a powerful and important one, but surely hers can't be the only story of courageous girls and women in the Civil Rights era.
In this blog post, we highlight numerous books for both children and teens that tell the stories of girls and women's contributions to the monumental events of this period and to the national movement to bring full civil rights and equality under the law to all Americans. In the first section, we've featured books about real-life girls and women who fought for justice, while in the second section, we've shared fictional stories about the Civil Rights Movement for both children and teens. By sharing these stories of past champions of civil rights, we can inspire the current generation of Mighty Girls to be the champions of the future.
For more books about the experience of African-American girls and women throughout history, visit our African-American History & Historical Fiction collection.
Heroes of the Movement: Biographies
From Ruby Bridges, a 6-year-old child who desegregated the first elementary school in the South, to Rosa Parks, whose refusal to switch seats on a bus is only one example of her devotion to civil rights causes, there are many Mighty Girls and women who contributed to the Civil Rights Movement. These books will teach children and teens about these heroes and their dedication to justice.
Celebrate the courage and determination of Rosa Parks in this board book version of the New York Times bestselling biography I Am Rosa Parks! The friendly Ordinary People Change The World biography series teaches kids that everyone has the power to be a hero — they just need to figure out how to unlock it. This board book's simple rhyming text and short sidebars reminds young readers that, just like Rosa Parks, they can "Stand strong and do what's true."
Fighting for justice: Historical Fiction
In order to understand the impact the Civil Rights Movement has had on American history, kids need to learn what life was like before these hard-fought changes. These works of historical fiction depict life during segregation, as well as the fierce resistance that civil rights campaigners and groundbreakers faced every day.
Additional Recommended Resources