A Mighty Girl's top picks of books about Mighty Girl immigrants historically and in modern times.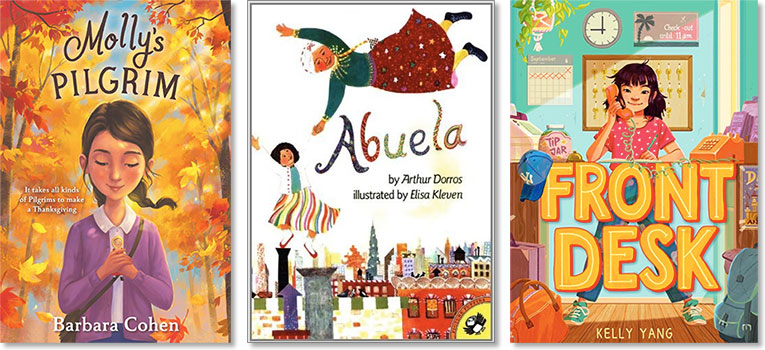 It takes courage, determination, and hope to travel hundreds or thousands of miles and start a new life in an unfamiliar country, and yet for generations, people have immigrated into new lands and cultures in search of a better life. While many things have changed about the immigrant experience over time, some things remain the same: new immigrants face unfamiliar customs and sometimes new languages, and a challenging balance between blending in to their new home and maintaining the traditions they loved from their old one.
A great way to help new immigrants realize that they're not alone in their struggles — and to build empathy among the people in their neighborhoods — is to share stories about the lives and experiences of immigrants both past and present. With that in mind, we're sharing a selection of Mighty Girl stories about coming to a new country, and all the excitement, anxiety, and adjustment that entails. By reading these stories, young readers — whether they were born in their countries or came from another one — will come to understand why people will leave behind everything they know to come to a new country and how we all benefit from the diversity that immigrants bring to our communities.
For girl-empowering books specifically focused on refugees, check out our blog post, Seeking Safety in a New Land: Books About Mighty Girl Refugees.
Across the sea: immigration in the past
For hundreds of years, people have sought new opportunities — often at tremendous cost — by traveling to new lands, through long and perilous journeys. These works of historical fiction about immigration will remind modern readers that it's a rare family that doesn't have immigration as part of its story.
When Anna's family comes to America to escape the persecution facing Russian Jews, they had only the clothing on their backs to connect them with the country they loved but had to flee. So when Anna outgrows her beloved dress and scarf, her mother decides to create a very special quilt: "It will be like having the family in back home Russia dance around us at night." From that day forward, the Keeping Quilt appears at each important family event, always with stories about the family members that each scrap of cloth represents. Based on a true story from beloved author Patricia Polacco's family, this book captures the connection immigrants still feel to their countries of origin, even as they weave themselves into their new home. Fans of this book will also want to check out the companion about another priceless piece of family history, The Blessing Cup.
Immigrants in modern times: Stories From 1950 and Later
While stories from a hundred years ago emphasize how much immigrants have contributed to our society, stories set since 1950 provide a good reminder to young readers that immigrants still come to their country every day — and that they still face many of the same challenges, from language barriers to cultural differences. These books talk about Mighty Girls living through modern immigration experiences.
Additional Recommended Resources