A Mighty Girl's top picks of books for children and teens on understanding and managing emotions to build their emotional intelligence.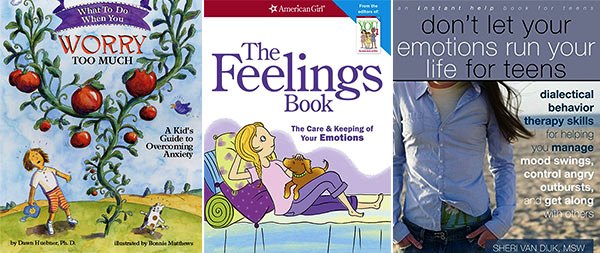 The release of the Oscar-winning film Inside Out prompted many Mighty Girls and their parents to start thinking more about feelings: what feelings they have, how they interact, and how to manage them in positive ways. Whether you have a preschooler struggling to name how she feels, a tween wrestling with newly complex emotions, or a teenager who needs to find ways to incorporate her emotional life into adult decision-making, parents can do a lot to help kids navigate their emotional world. But sometimes, it's hard to know where to begin.
Fortunately, there are some great books out there to help parents and kids learn about their feelings — and how to express them appropriately. In this blog, we're sharing some of our favorite books that help kids name, tame, and manage their emotions. These books for toddlers to teens are funny, poignant, and heartfelt, but most importantly, reassuring that no matter what you're feeling, you can come out the other side.
In addition to the recommendations below, you can find several books related to the Disney/Pixar film that address handling emotions in our Inside Out Collection.
How Are You Feeling?: Naming And Expressing Emotion
The first thing kids need to learn to do to have a healthy emotional life is name what they're feeling! But as any adult can attest, emotions are complex and sometimes confusing, especially when several of them interact. And even once you've named an emotion, you still have to express it in an appropriate way so that you can get the support that you need. These books help kids, tweens, and teens learn how to articulate their emotions to the people they love.
The Feelings Book
Sometimes it's hard to name a feeling with a single word; sometimes, it's easiest to explain how you feel by saying what it makes you want to do! In this book, familiar emotions like happy and sad are side by side with phrases like "Sometimes I feel like standing on my head." Parents can use these phrases to help kids start identifying more complex feelings — maybe you feel like wearing funny underwear because you're feeling silly and excited today! Fans of Parr's artwork can also get this set of Feelings Flash Cards to extend the conversation.
Eggspressions
Some kids may find it helps to get hands on while they express their emotions, and they'll love this toy and book set. Read the Scrambled Feelings storybook while you play with six eggs with facial expressions representing different emotions. Solving the eggs' problem in the story will require sharing their feelings and working as a team, which provides a great lesson for kids in the value of expressing how they feel.
My Many Colored Days
This unique book from beloved children's author Dr. Seuss' provides a concrete way for children to talk about their emotions. Each mood is matched with a color: black days are mad and loud, yellow days are busy and buzzy, green days are cool and quiet. And, of course, some days include a bit of everything! This charming, reassuring, and beautifully illustrated concept book is available in both paperback and board book editions, so even the youngest children can enjoy.
Inside Out: Box of Mixed Emotions
Fans of Disney-Pixar's hit film Inside Out can continue the discussion about how emotions shape our actions with this boxed set of five books, each featuring one of Riley's Emotions: Joy, Disgust, Fear, Sadness, and Anger. The five books fit into a slipcover that includes a cutout so kids can feature their Emotion of the Day, making this set a useful tool for parents and caregivers to talk about moods!
Sketch Monsters: Escape of the Scribbles
Just because a child can name how she feels doesn't mean she'll feel comfortable expressing those feelings, but it's important for kids to know that sharing their emotions is better than bottling them up. 8-year-old Mandy doesn't show what she feels; instead, she draws her feelings in a sketchbook her sister gave her before she left for college. But when the emotions escape off the pages of her sketchbook, they start causing real havoc! Mandy will have to learn how to bring her emotions to heel — without restricting them so much that they explode again. This colorful graphic novel is a great way to teach kids how to express their emotions respectfully but honestly.
In My Heart: A Book of Feelings
Happiness, sadness, bravery, anger, shyness...our hearts can feel so many feelings! And those emotions often come with physical sensations, too — happiness might make you feel like you can take off into the sky, while sadness might make you feel heavy and slow as an elephant. In lyrical language, this book introduces toddlers to a wide variety of emotions. Kids will enjoy the playful illustrations and the die-cut heart that travels through the whole book, reminding them that they can find their emotions everywhere.
Today I Feel Silly: And Other Moods That Make My Day
From silly to angry to quiet and sad, this little girl goes through them all...and is reassured that moods come and go, and that it's okay to feel what you feel. An interactive page at the end that asks "How do YOU feel today?" comes complete with a wheel that allows you to change the expression of a face's eyes and mouth. This light, fun book is written in exuberant rhyme that lends itself to being read aloud.
Thoughts and Feelings Card Game
Kids may find it easier to express emotions with a prompt. This set includes 35 cards to encourage kids to talk about everything from day to day frustrations to major emotional issues like grief, trauma, and anxiety. It's a great way to get kids feeling comfortable talking or to prompt a broader discussion about emotion, and adults sharing their own answers to prompts like "I feel scared when..." will show kids that everyone has these feelings sometimes.
The Emotions' Survival Guide: How to Deal With How You Feel
Disney/Pixar's Inside Out takes you to a place that everyone knows, but no one has ever seen: the world inside the human mind. Tweens -- both girls and boys -- will love this nonfiction feelings survival guide featuring advice from the Emotions. Vetted by an industry expert, this hardcover book features full-color illustrations and has all the heart and humor of the film! Topics include everything from recognizing and controlling emotions, to goal-setting, to bullying, all narrated by the five Emotions
The Feelings Book: The Care and Keeping of Your Emotions
Once kids hit their tweens, emotions start to become more complicated: not only are there more shades of emotion to experience, but rapidly changing bodies and minds also lead to erratic and sometimes upsetting moods! This book from the American Girl Library is an excellent companion to their books about physical development; this one focuses exclusively on the new emotional intensity many tweens are experiencing. Tweens will learn that their feelings are normal and how to reach out to loved ones for help when they're struggling, as well as getting a reminder that it's still important to express emotion appropriately. Pair it with The Feelings Book Journal to give her a hands-on way to explore her new emotional life.
Don't Let Your Emotions Run Your Life
And if your teen is finding that intense emotions make her struggle at school or in relationships with others, check out this workbook from the Instant Help Solutions series for teens. As teens work through the steps in the book, they'll learn techniques from dialectical behavior therapy to help teens manage their emotions when they feel out of control. Knowing she can handle whatever feeling wells up will give her new confidence to handle anything that life throws at her.
More Than Feeling Blue: Sadness and Depression
Whether it's a passing moment of sadness or a stretch of clinical depression, kids need to know that it's okay to be sad — and that it is possible to come through sadness and find happiness again. These books will help kids express and understand their sadness.
Flyaway Katie
Sometimes, kids will have a sad day for no clear reason...and they may want to find a way to change their mood. The imaginative heroine of this book wakes up "feeling grey" and decides that the colorful painting on her wall would be a much happier place to be. To get there, she transforms herself into a bright colored creature with a green hat, yellow tights, and more — then magically sprouts wings and flies off for an afternoon of fun! This whimsical story is a reminder that imagination can be a powerful tool for changing your mood.
Virginia Wolf
The imagination of a family member that can draw you out when you're feeling sad. In this book, which was inspired by Virginia Woolf and her sister, painter Vanessa Bell, Virginia wakes up one day positively wolfish: she growls, she snarls, and she hides in her bedroom and refuses to come out. It's not until Vanessa begins painting Bloomsbury, Virginia's marvelous imaginary place where everything is perfect, that wolfish Virginia can transform back into a little girl. With its evocative illustrations from Isabelle Arsenault, this book works as both the story of a single bad mood, or as an allegory to help kids understand depression.
Emily's Blue Period
Sometimes, the reason for sadness is easy to understand. Art-loving Emily is struggling with her feelings after her parents separate. She remembers that when the artist Picasso was sad, he painted only in blue; maybe Emily needs to have her own Blue Period. This picture book in four parts follows Emily's journey through the complex emotions a child feels when her family changes forever. Kids will enjoy seeing how Emily's art expresses her emotional landscape as she grieves, accepts, and finally adapts to her new situation.
Juna's Jar
Loved ones may know just the trick to help you feel better when you're feeling sad! Juna loves collecting treasures in empty kimchee jars with her best friend Hector — until the day he moves away without even getting to say goodbye. Juna's older brother, Minho, sees her sadness and gives her small gifts hoping to cheer her up, including a cricket. But it's not until Juna's vivid imagination takes her on a cricket ride to Hector's new bedroom — complete with a kimchi jar still on the windowsill — that she's reassured enough to be ready to make new friends. This whimsical and dreamy story is sure to prompt conversation.
My Happy Life
Even if kids have more than one reason to be sad,  it's important for them to know they can move forward despite it all. Dani's first days in school are brightened by a new friend...until Ella moves away. Dani wonders if she'll ever get over feeling sad about her lost friend, but remembers that, even though she was deeply sad after the mother died, she eventually found other ways to be happy again. This early chapter book handles difficult subjects with a gentle and optimistic touch, perfect for reassuring kids that they can make it through their own struggles.
The Red Tree
Illustrations can also help older kids capture feelings they can't express in words. This exquisite picture book targeted at older readers begins "Sometimes the day begins with nothing to look forward to..." As the story continues, evocative collage images depict a variety of imaginary landscapes ranging from subtly off-kilter to deeply oppressive. On each page is a single, glimmering red leaf, but how can the girl pick up on that hint of hope when things around her are so dark? When she finally returns to her room, though, a red tree is growing, ready to reinvigorate her. This beautiful metaphorical book can provide a new way for tweens to talk about emotions that can seem indescribable.
Beyond the Blues: A Workbook to Help Teens Overcome Depression
Teens will likely know the difference between a passing sadness and something more serious, and since 20% of teenagers show symptoms of clinical depression, it's important to provide them with resources if they feel sadness is becoming overwhelming. This workbook focuses on making small changes to improve your mood, as well as helping teens know when they may need to seek counseling to help them through. Dealing with these feelings is difficult, but teens will feel better knowing that there are things they can do to make themselves feel better.
Ready To Blow: Frustration and Anger
Sometimes things that go wrong don't prompt sadness: they make you bubble up and explode instead! These books help kids get to grips with the ferocious emotions of frustration and anger.
No Fits, Nilson!
For many kids, learning to self-soothe when they get angry can be a challenge. Amelia is an expert at soothing her giant, fuzzy friend's floor-shaking tantrums...but when Amelia loses her cool, it's Nilson who has to step up and help her calm down. In the last picture, parents and kids alike will giggle when it's revealed that Nilson is actually an average-sized stuffed gorilla, perfect for cuddling when Amelia is upset.
Sometimes I'm Bombaloo
The feeling of anger or frustration running out of control can be downright scary for kids. Katie's temper makes her feel like a totally different person, and Bombaloo, who uses fists and feet instead of words, is a frightening person to be. Fortunately, firm but caring people in Katie's life ensure that Bombaloo gets both the time to calm down and the love that she needs to turn into Katie again. And once that happens, Katie knows she can find ways to make up for the mistakes she made.
Emily's Tiger
It's important for kids to learn how their temper affects others. Emily's ferocious tiger temper results in a lot of damage whenever she gets angry or frustrated. But when her Granny visits, she lets Emily in on a secret: she has a tiger too, but one that knows how to control itself... something that results in more happy days than angry ones. Emily is intrigued, and a day of hard work taming her own tiger ends in a magical night, with Emily and Granny's tigers playing together. This metaphorical look at the importance of taming anger is sure to be a favorite.
The Most Magnificent Thing
Bigger frustrations require more complex techniques to soothe! In this story, a girl's grand design turns into major frustration when she can't make her project turn out like she envisioned. She ends up smashing at her invention, and finally exploding with rage ("It was not her finest moment.") But while she is tempted to quit, a long walk with her dog provides the calm — and the new perspective — she needs to make something truly magnificent.
Millie Fierce
Kids also need to learn to draw the line between anger that's out of control and anger that's justified — and appropriately expressed. Millie begins her story a little too far on the mild side — people don't listen to her, or notice when they've done something that hurts her feelings. But when she decides that the solution is to become fierce, Millie ends up swinging too far the other way and ends up acting downright monstrous and mean. When she's confronted with the consequences of being too fierce, Millie finds a happy balance: nice enough to apologize, but fierce enough to stand up for herself.
The Anger Workbook for Teens
During the teen years, many kids need to revisit the causes of their anger and frustration — as well as the ways that they express those emotions to the world. This workbook provides ten-minute worksheets to help teens understand their triggers, control their emotions, and express their feelings in a healthy way. For any teen who's feeling like she's losing her cool, this book can provide strategies to feel back in the driver's seat.
But What If: Fear and Anxiety
There are a lot of unknowns in life, and kids in particular may feel decidedly unprepared to handle them. These books will help kids understand how to use a feeling of anxiety and fear as a way to prompt appropriate caution and planning, rather than allowing those feelings to overwhelm them.
Wemberly Worried
The first day of school is a common source of worry for young children — it's a major transition from the simple, familiar world of daycare, preschool, and home to the elementary school full of bigger kids! Wemberly's already inclined to be a worrier, and school provides many more things to worry about. But when Wemberly's clever teacher introduces her to another young worrier, the two friends soon discover that there are more fun things to do at school than worry!
First Day Jitters
Sometimes it helps kids to know that they're not alone in being nervous. Sarah Jane resists every step involved in getting her ready for the first day of school. It takes a lot of patient prodding to get her up, dressed, and in the doors. The big punchline comes when the principal introduces the new arrival...Mrs. Sarah Jane Hartwell, the new teacher!
Fraidyzoo
Little T is reluctant to go to the zoo with her family: something scared her there, but she can't remember what! With some crafty silliness, her family takes a tour through the alphabet trying to think of what scared T...and while she doesn't remember, the laughter makes her realize the zoo might be fun after all. In a twist that younger siblings will appreciate, when they get to the zoo, it's T's big sister who ends up spooked...but this time, the family will know just how to solve that problem.
Black Dog
This story provides a more metaphorical look at overcoming fears. When a huge black dog appears outside the Hope family's house, they're all terrified...except for Small, the youngest, who chases the rapidly shrinking dog throughout the whole neighborhood. By the time they get back to the house, Small's courage has shrunk the dog enough that it fits through the cat door, and the Hopes agree that he doesn't seem so scary after all — and invite him into the family. This book will remind your Mighty Girl that many fears seem larger than life, but once faced, can quickly become part of the daily routine.
What To Do When You Worry Too Much: A Kid's Guide to Overcoming Anxiety
As kids get older, they can start to learn techniques to manage their anxiety. This interactive self-help book designed to guide kids and their parents through the cognitive-behavioral techniques most often used in the treatment of generalized anxiety. Parents of younger children can read it aloud and discuss the concepts with their little worrier, while older kids can use it independently to better understand and manage their fears. Engaging, encouraging, and easy to follow, this book educates, motivates, and empowers children to work towards change. The techniques described in this book will help your child take control.
Wilma Jean, the Worry Machine
For some kids, fears and anxieties cross the line and become an obstacle to day-to-day life. If your child wrestles with anxiety, she'll appreciate the story of Wilma Jean, who worries so much that she wakes up sick with worry; all her brain seems to do is spit out more scenarios to worry about. Through this story, Wilma Jean learns that she can find ways to manage her worries...and adults learn ways to help kids with more serious anxiety.
A Smart Girl's Guide: Worry
Every girl worries from time to time. Maybe it's an argument with a friend, or a big test, or a performance in front of a crowd. Maybe it's her body. Maybe it's even something fun, like a slumber party or overnight camp -- or something really big, like moving away or her parents' divorce. For many girls, even small worries can take on a life of their own and get in the way of enjoying life. But this book will help take charge over your worries. You'll learn tried-and-true ways to overcome fears and create a sense of calm. The book is packed with proven techniques for handling worry and creating confidence -- freeing you to be the girl you're meant to be.
The Anxiety Workbook for Teens
If your teen is finding herself paralyzed by anxiety and worry, this workbook can help. When you're a teen, it can seem like there's a lot to worry about: friends, school, parents, and the upcoming transition from high school to the world beyond. This workbook provides tools for understanding and managing your worry, as well as for understanding when you should seek additional help for your anxiety. Teens will appreciate the encouraging, positive tone, which reminds them that the don't have to feel trapped by their fears.
Growing Emotions: Parenting for Emotional Awareness
Parents can do a lot to teach their kids how to manage their emotions! If you've been looking for parenting guides to help coach your kids to understand and control their feelings, these books are sure to help.
The Whole-Brain Child: 12 Revolutionary Strategies to Nurture Your Child's Developing Mind
As kids develop emotional maturity, they integrate the two aspects of the brain: the logical mind, which is capable of advance planning and thoughtful decision-making, and the emotional mind. In younger kids, the emotional mind holds sway, which is why frustrations, fears, and disappointment can lead to tears and tantrums. With the twelve strategies in this book, parents can help kids take the emotionally overwhelming moments of their lives and use them as an opportunity to foster emotional understanding and integration, helping to reach a happy and mentally healthy future.
Raising An Emotionally Intelligent Child: The Heart of Parenting
Parents are quick to teach kids intellectual skills, but sometimes it's easy to forget that emotional skills are just as important: kids who are emotionally intelligent have more confidence, less nerves in school, and healthier relationships. This book provides a five-step emotion coaching process that helps kids develop the strategies they need to identify and manage their own emotions. Starting with teaching parents how to respond to their children's emotions, and then moving to guiding kids to come up with their own solutions, the authors provide an excellent framework for supportive parenting that still encourages emotional independence.
The Parents We Mean To Be: How Well-Intentioned Adults Undermine Children's Moral and Emotional Development
Teaching kids about their emotions means providing space for emotions that many parents think of as negative. Richard Weissbourd argues that parents' focus on their children's happiness — and the corresponding emphasis on personal satisfaction over empathy — results in children with a fragile sense of self and a fear that anything other than contentment is a sign of failure. By teaching kids to view themselves as part of a larger community, Weissbourd shows that kids — and their parents — can grow to be kinder, more emotionally intelligent people.
The Opposite of Worry: The Playful Parenting Approach to Childhood Anxieties and Fears
One of the nearly universal unpleasant emotions that children experience is fear and worry; from the monster in the closet to speaking in front of the class, it's a rare kid who's anxiety-free! Lawrence J. Cohen, the author of Playful Parenting, shows parents how lighthearted parenting techniques — including lots of emphasis on physical play — can help kids and their parents overcome everything from temporary nerves to ongoing fears.
Anxious Kids, Anxious Parents: 7 Ways to Stop the Worry Cycle and Raise Courageous and Independent Children
Helping kids overcome anxiety is harder if you're an anxious parent — or if you're getting worried that your child worries so much! Reid Wilson and Lynn Lyons show parents that they can break the cycle of anxiety in this book, which identifies some common anxiety-enhancing patterns and provides advice on how to change your responses in ways that foster courage and confidence. By following their advice, parents will not only model confidence for their kids; they'll also learn to become more confident themselves.
Stressed-Out Girls: Helping The Thrive in the Age of Pressure
As kids get older, anxiety and stress can mount — something that's increasingly a problem for teenage girls. This book uses clinical work, interviews, and a comprehensive survey of over 3,000 teen girls to address why girls are increasingly feeling the weight of seemingly unachievable expectations. Using this insight, parents and educators can identify girls who are at greater risk of anxiety, build their resiliency, and remind them that, despite the imperfections that every person has, they are still worthy and loved.
The Disappearing Girl: Learning the Language of Teenage Depression
Parents of teenage girls are also likely to be concerned about depression: how do you tell the difference between a stretch of the blues and something more serious? Dr. Lisa Machoian teaches parents how to spot the difference between typical teen troubles and problem behavior, as well as how to identify if your daughter may be particularly vulnerable due to specific issues in their family, school, friendships, or romantic life. Included conversation starters will help parents engage girls to make healthy decisions and develop resilience — both now and in their adult lives.
When to Worry: How to Tell If Your Teen Needs Help - and What To Do About It
Of course, for some kids, behaviors really do reach the point where outside help is needed, but how can parents and educators recognize the line between the typical teen and one who needs urgent attention? Lisa Boesky wrote When to Worry to help parents decipher the difference. Boesky's compassionate and reassuring guide highlights several different problem behaviors, including spurts of sadness or anger, anxieties and fears, rulebreaking, and potentially destructive behaviors like a focus on dieting or substance use, and helps adults determine whether they're severe enough to justify outside intervention. For most parents, working through things as a family is enough, but for those teens who need specialized assistance, this book can be a literal life-saver.
With a little help, every girl can learn to understand and manage her emotional life in a healthy way — and who knows? Having these conversations may help you deal with emotions that you still find tricky as an adult. No matter what, talking about emotions with your Mighty Girl is sure to bring you closer. You can't help but feel good about that!
Additional Recommended Resources