A Mighty Girl's top picks of books about the Holocaust for children and teens in recognition of Holocaust Remembrance Week.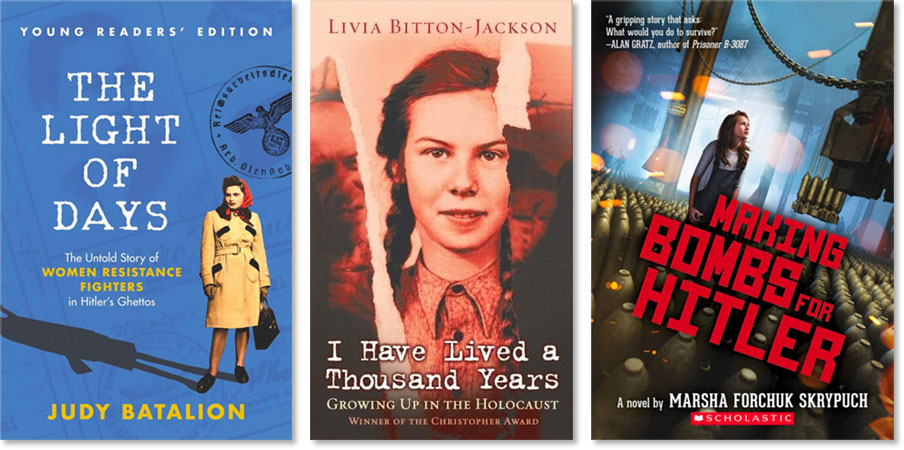 "Silence helps the oppressors." — Leslie Meisels, Hungarian Holocaust survivor
Each year on International Holocaust Remembrance Day, we take time to remember those who died — and those who survived — during the infamous Nazi regime. It is a difficult topic for any of us, but particularly difficult to discuss with children. How do you talk about something so beyond most children's contemplation in a way that respects the experience of those who lived it?
Here at A Mighty Girl, we are marking International Holocaust Remembrance Day with two blog posts. This post will introduce you to books for all ages that talk about the Holocaust from a variety of perspectives. These books range from picture books to novels, memoirs to fiction, but all of them treat this challenging subject with care and dignity. Our follow-up post, Hope in a Hidden Room: A Mighty Girl Salutes Anne Frank, focuses on Anne Frank, whose diary chronicling the emotional life of a girl in the midst of the Holocaust puts a personal face on what can otherwise seem like distant history to a child growing up today.
What Was The Holocaust?
How do you explain the Holocaust — the deliberate attempt to dehumanize and exterminate a whole race of people on such a vast scale — to children, especially young children? It's certainly not an easy task, but there are some books out there to help you tackle it.
This powerful graphic novel introduces the story of the Holocaust in a gentle way. When Elsa's grandmother Dounia has trouble sleeping after a nightmare, Elsa begs her to share why she is so sad. In response, Dounia shares a story even her own son has never heard: a story of a confused child being ostracized by neighbors and teachers, forced to wear a yellow star, and finally, concealed in a secret panel in a wardrobe while her parents are arrested and taken away. Dauvillier handles this difficult topic in an age appropriate way, but without concealing the hard truths of history. Illustrations by Marc Lizano and Greg Salsedo capture the humanity of the people involved without being fully realistic, making this title suitable for early school-aged children.
Acts of Bravery: Rescue and Escape
When faced with horrors they know are wrong, not all people turn a blind eye. Even under threat of arrest or death, brave, compassionate people would not stand by and watch others be sent to camps. And, of course, many courageous people facing death hid and even escaped, and were often able to help others do the same.
Living Through The Holocaust
It would do disservice to the topic to avoid discussing the reality of life in the concentration camps and ghettos. The confiscation of personal property and police violence in Jewish ghettos; to the "processing" of the camps — including number tattoos, stripping, and shaving — the forced labor; the deprivation of food and medical care; and at last the Final Solution: these books refuse to shy away from the experiences of those who lived and died in this horrible time. Due to the subject matter, these books are mainly for tweens and teens.
The Aftermath
Of course, an experience like the Holocaust does not end in the moment of liberation. The aftermath of separated families, seized property and traumatized people still resonates today. Still, some tales about the time after the Holocaust was over help to remind us all that, as long as there is life to be lived, good can be found in the world again.
We Remember
"I believe in the sun / even when it is not shining...." — Anonymous poem written on the wall of a cellar in the Cologne concentration camp
Historical periods like the Holocaust shine a harsh light on the best and the worst of humanity. The easy course is to decide that these topics are too complicated, too frightening, too uncomfortable to share with children. But those who lived and died in that horrible time — those who ran, those who hid, those who protected others — deserve more from us than that. They deserve to know that we will remember.
Further Resources