A Mighty Girl's top picks of books about the Holocaust for children and teens in recognition of Holocaust Remembrance Day.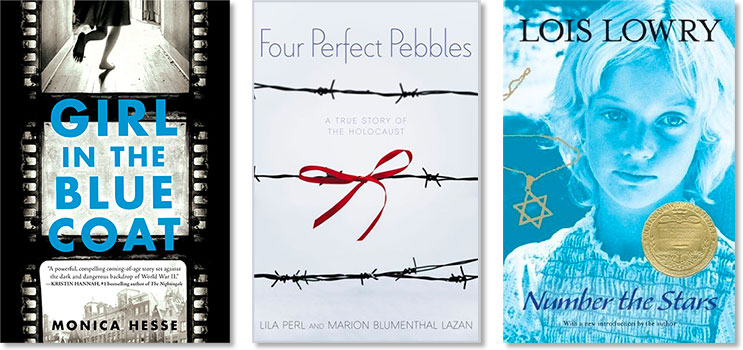 "Silence helps the oppressors." — Leslie Meisels, Hungarian Holocaust survivor
Each year on Holocaust Remembrance Day, we take time to remember those who died — and those who survived — during the infamous Nazi regime. It is a difficult topic for any of us, but particularly difficult to discuss with children. How do you talk about something so beyond most children's contemplation in a way that respects the experience of those who lived it?
Here at A Mighty Girl, we are marking Holocaust Remembrance Day with two blog posts. This post will introduce you to books for all ages that talk about the Holocaust from a variety of perspectives. These books range from picture books to novels, memoirs to fiction, but all of them treat this challenging subject with care and dignity. Our follow-up post, Hope in a Hidden Room: A Mighty Girl Salutes Anne Frank, focuses on Anne Frank, whose diary chronicling the emotional life of a girl in the midst of the Holocaust puts a personal face on what can otherwise seem like distant history to a child growing up today.
What Was The Holocaust?
How do you explain the Holocaust — the deliberate attempt to dehumanize and exterminate a whole race of people on such a vast scale — to children, especially young children? It's certainly not an easy task, but there are some books out there to help you tackle it.
Stone Angel
This picture book introduces Holocaust history through the eyes of a Jewish girl from Paris, fleeing the Nazi invasion to avoid being sent to a concentration camp. The girl and her family are helped along the way by resistance fighters — and a hearty helping of good luck, which the girl envisions as the influence of the stone angel near her beloved Paris home, watching over them. Although the family faces many dangers, this story of threat and escape is a gentle way to introduce the atmosphere of mixed fear and hope that the Holocaust brought to so many people.
Hidden: A Child's Story of the Holocaust
This powerful graphic novel introduces the story of the Holocaust in a gentle way. When Elsa's grandmother Dounia has trouble sleeping after a nightmare, Elsa begs her to share why she is so sad. In response, Dounia shares a story even her own son has never heard: a story of a confused child being ostracized by neighbors and teachers, forced to wear a yellow star, and finally, concealed in a secret panel in a wardrobe while her parents are arrested and taken away. Dauvillier handles this difficult topic in an age appropriate way, but without concealing the hard truths of history. Illustrations by Marc Lizano and Greg Salsedo capture the humanity of the people involved without being fully realistic, making this title suitable for early school-aged children.
Star of Fear, Star of Hope
An old woman remembers a night she wishes she could take back: her ninth birthday. Lydia, her best friend, is Jewish, and for some time Helen has been confused: why are people talking in low voices, hiding in odd places, and using strange names? And why does Lydia wear a yellow star on her jacket? Lydia was planning to stay the night for Helen's birthday when word comes that the Nazis are arresting Jews; Lydia tells her friend she wants to be with her family, but all Helen can think about is her ruined birthday fun. The childish exclamation of "You're not my friend anymore!" marks the last time Helen sees Lydia, and it's only later that she realizes what her friend was facing. All she can do now is hope that she will see Lydia again someday... This powerful book is age-appropriate, but still carries the emotional weight the subject deserves.
Hedy's Journey: The True Story of a Hungarian Girl Fleeing the Holocaust
In 1941, Hedy's Hungarian Jewish family faces tough decisions: Hitler's armies are beginning to round up Jews across Europe, and no one is safe, but the family's circumstances don't allow them all to travel together. At 16, Hedy must travel across Europe by train — alone — in hopes of reaching a port where she can board a ship to America. Along the way she encounters good luck and bad, kind helpers and cruel soldiers; she dreams of happy reunions and fears that, instead, she'll find herself alone forever. This thoughtful picture book from the Encounter: Narrative Nonfiction Picture Books series includes a note at the end that follows Hedy's story after she arrives in America, capturing the aftermath and epilogue of her refugee experience.
When Hitler Stole the Pink Rabbit
Anna is growing up in Berlin, and thinks of herself as a German like everyone else she knows. Hitler's face on posters around the city doesn't mean anything to her — until one night her father disappears. Her mother explains that he had to leave, and soon, they will join him. Escaping Nazi Germany means a life as a refugee, leaving everything Anna knows behind. Anna's confusion in the face of these upsetting changes captures the experience of children during the rise of the Nazi party, and keeping the discussion of Nazi policies towards "undesirable" races at a distance makes for a more gentle introduction to the topic.
A Faraway Island
Sometimes it can be easy to forget that the people facing these trials were ordinary — including tweens, worrying about the same things that tweens do today. 12-year-old Stephie Steiner and her sister Nellie have been sent from Vienna to safety with a foster family in Sweden, and while Nellie adjust quickly, Stephie struggles. At the same time as she deals with world-shattering issues like disagreements with her foster mother and worries about her parents, she's also facing snide insults from the villagers and the enmity of the most popular girl in school. Kids reading this book will be struck by how similar Stephie's coming of age is to their own... and at the same time, how dramatically different.
The Children of Willesden Lane: A True Story of Hope and Survival During World War II - Young Readers Edition
As the Nazi regime rose — and people began to suspect its aims — one program, the Kindertransport, brought 10,000 children into the United Kingdom for safety. Lisa Jura was a 14-year-old musical prodigy whose parents were offered the chance to send one of their three children; they chose her. In a home for refugee children she yearned for her family and dreaded what news might come, but at the same time, her music offered hope to both her and many around her in the midst of the war. This youth adaptation of the biography for teens and adults, The Children of Willesden Lane: Beyond the Kindertransport: A Memoir of Music, Love, and Survival, captures both the pain caused by the war — even for those who didn't live through its horrors directly — as well as the power of music to lift everyone up.
Acts of Bravery: Rescue and Escape
When faced with horrors they know are wrong, not all people turn a blind eye. Even under threat of arrest or death, brave, compassionate people would not stand by and watch others be sent to camps. And, of course, many courageous people facing death hid and even escaped, and were often able to help others do the same.
The Butterfly
Monique's small French village has been occupied by Nazis for some time when she wakes up to see another little girl at the foot of her bed. Sevrine is Jewish, and Monique's mother has been concealing her and her family in a hidden room in the basement. When a neighbor discovers them, though, both families will have to flee. Based on the real experiences of Polacco's aunt, this story is a good introduction for young children to ideas surrounding racism, Nazi occupation, and the courage to do what's right.
The Whispering Town
In Denmark, the Resistance successfully saved nearly the entire Jewish population across the sea to safety in Sweden, and this picture book captures the suspense and heroism of this incredibly brave act. Anett's family lives in a small Danish fishing village, and they're concealing Carl and his aging mama, the last pair they need to get aboard a fishing boat and to safety. But with the occupying soldiers getting suspicious, and a cloudy sky that will prevent Carl from seeing which way is safe from patrols, it takes Anett's clever idea of a chain of whispers to smuggle them safely to the harbour.
The Hiding Game
At the Villa Air-Bel, with the help of Daniel Bénédite and Varian Fry, Aube and her family are playing a hiding game. Bénédite and Fry are working together to help some of Europe's great Jewish minds escape Nazi persecution — which means that Aube's days are surrounded by music and poetry, and the perspectives of great thinkers like Marc Chagall and Max Ernst. But while her days are hopeful, Aube can't help but think of the many people outside the Villa's walls, "waiting for someone to set them free." Based on the true story of a young Holocaust survivor, this riveting picture book captures the power of mutual support and courage with a sense of imminent danger, all though a child's eyes.
Jars of Hope: How One Woman Helped Save 2,500 Children During the Holocaust
In Poland's Warsaw Ghetto during WWII, a young nurse and social worker went about her daily work, caring for the sick — and smuggling Jewish children out to safety. Irena Sendler knew what she was risking, but she couldn't bear to watch children suffer and do nothing. And after every child was safe — over 2,500 children in total — she meticulously recorded their name in hopes that, someday, they could be reunited with their families. Irena Sendler's inspiring true story is also told in two other books, Irena's Jars of Secrets for ages 6 to 10 and Irena Sendler and the Children of the Warsaw Ghetto for ages 9 to 12.
The Cats of Krasinski Square
People who resisted the Nazis had to use every ounce of creativity to protect themselves, and one little-known story is told in this book. A young Jewish girl and her sister are helping members of the resistance smuggle food into the Warsaw ghetto when the Gestapo plans to bring dogs to sniff out the smugglers. How will the smugglers evade the dogs? Why, with cats! Dozens of cats from Krasinski Square get crammed into baskets and brought to the train station — and released as the train arrives. In the ensuing chaos, the resisters slip off into the crowd... and people living in the Ghetto get the food they need for one more day.
Erika's Story
Even people who have no memory of the Holocaust benefited from the sacrifices of those who around them. In 1944, as an infant, Erika was thrown from a cattle car bound for a concentration camp: "On her way to death, my mother threw me to life." A German woman risked her own life to raise Erika, who eventually married and had her own children. Vander Zee tells this true story, which she heard from a woman she met in a German village, with elegance and poignancy; it is a story of love, hope, and goodness.
Number the Stars
Some of the heroic efforts to rescue people targeted for extermination occurred on a grand scale. In Lois Lowry's Newbery Medal-winning book, she tells the remarkable true story of how the Danish Resistance moved nearly seven thousand Jewish people — almost the entire Jewish population of Denmark — across the sea to safety in Sweden. Through the eyes of fictional 10-year-old Annemarie, whose family conceals her Jewish best friend, Ellen, this incredible moment of courage and conviction is given a personal quality for tween readers.
Irena's Children: A True Story of Courage - Young Readers Edition
In Irena's Children: The Extraordinary Story of the Woman Who Saved 2,500 Children from the Warsaw Ghetto, Tilar J. Mazzeo told Irena Sendler's incredible story of smuggling children out of the Jewish ghetto to foster families in order to keep them safe; this edition makes that story accessible to younger readers, who will be fascinated to read about the many ways Sendler helped children escape — from hiding them under her overcoat to slipping them through secret passages — and about her incredible determination not to reveal their names and locations, even at risk of losing her life.
Odin's Promise
The choice to aid others in the face of great personal danger makes for a difficult coming of age. 11-year-old Mari lives in a safe, protected world until Hitler's armies invade Norway. Mari and her elkhound Odin are used to roaming freely; suddenly, not only is that a risk, but Mari starts seeing all the ways people around her are defying the Nazi regime: a hidden radio at her grandmother's, family and friends working for the resistance, neighbors operating a black market. With Odin by her side, Mari feels like she still knows what's right... but when Odin becomes the soldiers' target, she's faced with the realization that "right" and "legal" are no longer the same thing. Mari's story continues in the sequel, Bjorn's Gift, in which Mari becomes more involved in resistance activities and wonders if the occupation of her home will ever end.
Women Heroes of World War II: 26 Stories of Espionage, Sabotage, Resistance, and Rescue
Instead of fiction, your children (and you!) might enjoy reading historical accounts of the rescuers and resisters of the second World War. In this book, they'll learn about over two dozen real women who risked everything for what they believed was right. People as disparate as housewives and entertainers, high school students and highly trained agents, all played their parts in resisting the Nazi regime. This title, which is part of the Women of Action series, is sure to fascinate teens and adults alike with its remarkable tales of daring real women.
The Book Thief
It's just a small story really, about among other things: a girl, some words, an accordionist, some fanatical Germans, a Jewish fist fighter, and quite a lot of thievery... Set during World War II in Germany, Markus Zusak's groundbreaking new novel is the story of Liesel Meminger, a foster girl living outside of Munich. Liesel scratches out a meager existence for herself by stealing when she encounters something she can't resist -- books. With the help of her accordion-playing foster father, she learns to read and shares her stolen books with her neighbors during bombing raids as well as with the Jewish man hidden in her basement before he is marched to Dachau. This is an unforgettable story about the ability of books to feed the soul. The Book Thief has also been made into a feature film of the same name recommended for ages 13 and up.
In My Hands: Memories of a Holocaust Rescuer
This memoir by a real-life Holocaust rescuer is a powerful read for any teen. When World War II began, 17-year-old Irene Gut was a nursing student, a typical teenager preparing for a future career; by the end of the war, she had suffered brutality from both German and Russian soldiers, provided food to the Jews starving in the ghetto, and even agreed to become mistress to a German major in exchange for protection for Jewish friends. Her courage in the face of terrible experiences and hard choices is sure to be an inspiration.
The Girl in the Green Sweater
Any place could become a hiding spot for desperate fugitives during the war -- even the hidden passages beneath our feet. In 1943, Krystyna Chiger was among a group of Polish Jews in Lvov who escaped arrest and exile by hiding in the city's sewer system. Chiger, the last surviving member of the group, has shared her story and the story of Leopold Socha, the Polish Catholic and former thief who risked his life to provide food, medicine, and supplies. The story was also made into the 2011 motion picture Into Darkness.
Edith's Story: The True Story of How One Young Girl Survived World War II
This memoir shows the struggles of those Jewish people who tried to conceal themselves amidst other families. Edith van Hessen was an ordinary high school student when Hitler invaded Holland in 1939. In the same month that Anne Frank went into hiding, Edith concealed herself in a Protestant family, concealing her identity behind their name. For her memoir, she mines her teenaged diaries and wartime letters, as well as her adult memories, to create an emotional depiction of the experience of living through the Holocaust, even as one-third of concealed Dutch Jews — including most of her family — were killed. Despite it all, though, Edith's life is a testament to the power of the love and courage of ordinary people.
The Girl in the Blue Coat
It's 1943 Amsterdam, and Hanneke is mourning her boyfriend, who was killed on the Dutch front lines as the Nazis invaded — and she's also operating as a courier delivering black market goods, her small act of rebellion. But on one delivery, a desperate neighbor asks for help finding a person: a Jewish teenager she was hiding in a secret room who has vanished without a trace. Hanneke's work until now has been mostly safe, but she can't ignore Mrs. Janssen's pleas. Her efforts to find the missing teen will open her eyes to the true horrors that the Nazi regime means and compel her to take desperate action. Thought-provoking and gripping, this novel asks questions about love, guilt, and moral responsibility that will keep teens talking.
Living Through The Holocaust
It would do disservice to the topic to avoid discussing the reality of life in the concentration camps and ghettos. The confiscation of personal property and police violence in Jewish ghettos; to the "processing" of the camps — including number tattoos, stripping, and shaving — the forced labor; the deprivation of food and medical care; and at last the Final Solution: these books refuse to shy away from the experiences of those who lived and died in this horrible time. Due to the subject matter, these books are mainly for tweens and teens.
Let The Celebrations Begin: A Story of Hope for the Liberation
As rumors of the coming Allied forces spread even to the residents of the camps, hope sprung anew. Miriam and the other women of Hut 18 are abuzz with the word that freedom is on its way. Unlike the younger children, Miriam remembers a time when she had plenty of food to eat and lots of toys to play with. So she and the other women set themselves to planning a great celebration, carefully making toys for each of the children out of scraps from their clothing, ready for when the doors open and they are finally free. This beautiful story, originally published in 1996, is based on a reference to a small collection of stuffed toys made in the Belsen camp; its tone of hope and joy will leave you cheering for the human spirit.
The Cat with the Yellow Star: Coming of Age in Terezin
Ela Stein was 11 when she was sent to Terezin with her fellow Czech Jews; when the camp was liberated in 1945, she was 15. In the years in between, despite it all, she grew up, forging lifelong friendships with girls in the barracks, and even playing the pivotal role of the cat in a children's opera the adults helped them perform. Meanwhile, the specter of death — or the next closest thing, a spot on the transport trucks to the death camps — always loomed. This touching book beautifully captures the alternating joys and fears Ela experienced while in captivity in Terezin, creating a portrait of a unique coming of age.
Fireflies in the Dark: The Story of Friedl Dicker-Brandeis and the Children of Terezin
In the midst of the Terezin concentration camp, one woman, Friedl Dicker-Brandeis, taught art to children. She — and the majority of her pupils — died in Auschwitz, but after the war two suitcases were discovered that contained over 5,000 works of art. Many of them are reproduced in the pages of this book, along with excerpts from diaries and interviews with camp survivors. This intense book simultaneously captures the terror of children ripped from their families, and the beauty that can be found in the darkest of times and places.
Hana's Suitcase
This book recounts the remarkable true story of Hana "Hanička" Bradová, a 13-year-old girl who was killed at Auschwitz, and Fumiko Ishioka, who as director of Tokyo's Holocaust Education Resource Center worked to discover and share Hana's story with Japanese children and the world. The story begins when a suitcase labeled "Hana Brady" arrives at the resource center. The children who saw the suitcase were full of questions about what happened to its owner. Ishioka embarks on a quest with her students to find the answers and uncovers Hana's story in the process.
No Pretty Pictures: A Child of War
Anita Lobel is a Caldecott-winning children's illustrator, but few would guess her past from her drawings. Between age 5 and 10, Lobel and her family ran from the Nazis, only to be caught, marched from camp to camp, and forced to endure dehumanizing conditions. Lobel tells her story from the first person, in the voice of the child she was, and does not shrink from the terrors and horrors she experienced. Yet the final words of her epilogue capture the tremendous spirit that she and other survivors possess: "My life has been good. I want more."
Four Perfect Pebbles: A True Story of the Holocaust
Marion Blumenthal was a young child when Hitler rose to power, and her family found themselves trapped in Nazi Germany. They eventually managed to escape to Holland, only for the German army to invade — and found themselves sent to Bergen-Belsen, a prison camp back inside Germany's borders. There, Marion convinced herself that, if she could find four pebbles of the same size and shape, it would be a sign: she and her family would survive, reunite, and find safety after the war. The newly released twentieth anniversary edition of this powerful Holocaust memoir includes new material by the author and aditional photographs, as well as a reading group guide.
Yellow Star
Jennifer Roy shares the experiences of her aunt, Sylvia Perlmutter — one of only twelve children to survive the Lodz ghetto — in this harrowing story in free verse. Five chronological episodes tell a lightly fictionalized version of Perlmutter's story, and are surrounded by historical notes about the period. Inspired by a series of taped phone interviews more than 50 years after the fact, this vividly descriptive book is haunting, both because of the subject matter and because of Roy's admission that, until the moment her aunt picked up the phone, these were aspects of her family's history that no one talked about.
The Devil's Arithmetic
This classic historical fantasy novel about life in the camps helps today's kids imagine themselves in the same situation. Hannah thinks Seder with her relatives is boring, and her grandfather and great-aunt, with their camp tattoos and grim stories, are upsetting. Why should she have to remember these terrible things that have nothing to do with her? But when Hannah is transported to 1940s Poland, stepping into the identity of Chaya, a girl her age, and experiences being shipped to a concentration camp first-hand, she learns more than she expected about compassion, identity, and memory.
Paper Hearts
In Auschwitz, making a birthday card was an act of defiance punishable by death — and yet, in 1944, a girl named Zlatka dared to do so for her friend Fania. After stealing and bartering for paper and scissors and carefully folding an origami heart, Zlatka and the other girls at the work tables filled the paper with wishes for happiness, love, and freedom. This novel in verse, which is based on the real story of Zlatka and Fania and one of the few art objects created within the walls of Auschwitz (now on display in the Montreal Holocaust Memorial Centre), aptly captures the vibrant culture and history of European Jewish communities that even the oppression of the concentration camps could not destroy.
I Have Lived a Thousand Years: Growing Up in the Holocaust
Life as a teenager in the infamous Auschwitz concentration camp was harrowing, physically grueling — and yet, somehow, still held potential for hope. Livia Bitton-Jackson, who was born Elli L. Friedmann in Czechoslovakia, was 13 when she, her mother, and her brother were taken to the camp. In a gripping first-person narrative, she talks about the roundups, selections, forced labor, shootings, and more. Yet, always, there is a sense of hope, and the victims in Bitton-Jackson's tale never lose their humanity.
Esfir Is Alive
Esfir Manevich's story starts in a Polish town in 1936. In just a few short years, she goes from facing anti-Semitism at school to the bombing of her hometown, occupation by first the Russians and then the Germans, confinement in the ghetto, and then in 1942 — shortly before her thirteenth birthday — being forced onto cattle cars to be shipped out for "processing" at the mass killing fields of Bronna Góra. This work of historical fiction, inspired by three paragraphs of testimony from the sole survivor of Bronna Góra, is an unflinching look at how communities moved from prejudice to violence so quickly — and a reminder of the individual people who represent the statistics we quote about Holocaust casualties.
Rose Under Fire
In this sequel to Elizabeth Wein's acclaimed novel Code Name Verity, she captures life in the notorious Ravensbruck, the women's concentration camp where Nazi medical officials conducted brutal experiments on young Polish women, nicknamed "rabbits" by their torturers. Through the eyes of Rose Justice, an American pilot captured while on a mission over France, we witness the true horrors of the concentration camps, as well as the determination of the residents to survive — and ensure the truth is told. In addition to its stunning depiction of life in the camp, Rose Under Fire also depicts the lingering effects on its residents; while the rabbits left with obvious wounds, no one left the camps without scars.
The Cage
It's important to also remember the hope that sustained many camp residents, as well as to show that not all Germans — or even all Nazis — had no compassion for those they detained. When Riva's widowed mother is arrested shortly after the invasion of Poland, she struggles to keep herself and her two brothers together as a family. When she is transported to Auschwitz, then other labor camps, she swears that she will survive to find her family. And when she becomes seriously ill, a camp doctor convinces the commandante to allow her to be treated in a civilian hospital — a kindness that saves her life.
The Aftermath
Of course, an experience like the Holocaust does not end in the moment of liberation. The aftermath of separated families, seized property and traumatized people still resonates today. Still, some tales about the time after the Holocaust was over help to remind us all that, as long as there is life to be lived, good can be found in the world again.
One Candle
The aftermath of these events is still a part of family histories around the world. This little girl's Hanukkah celebrations are made more meaningful by the story of her grandmother and her great-aunt Rose. In the midst of their struggle for survival in Buchenwald, they manage to steal one precious potato. Rather than eat it, though, the two women hollow it out and make a Hanukkah candle, celebrating the Festival of Light — and the dream of hope — in a place desperately lacking both. Today, in the midst of plenty, Grandma makes another potato candle and reminds her granddaughter of the power of love and hope to overcome the darkest of times.
One Thousand Tracings: Healing the Wounds of World War II
When the war was over, many people on both sides were left with nothing — but even then, amazing stories of generosity appear. One American family started a remarkable movement when they sent badly needed shoes to a German family. The family wrote back and asked if there might be other families willing to help with this desperate need. Soon, hundreds of tracings of shoeless feet were traveling across the ocean...to be matched with donated shoes from hundreds of American families. This touching story, inspired when the author found some of the tracings in her grandmother's attic, avoids any discussion of enemies and allies: instead, it focuses on the importance of humanitarianism, both during and after wartime.
The Search
This graphic novel treatment of a fictional Holocaust aftermath story captures the uncertainty that so many survivors of the Holocaust faced. Esther tells her grandson Daniel about how she escaped from the Nazis by hiding in the countryside — and how her parents were not able to follow her. She knows that they both died in the camps, but with Daniel by her side, Esther decides to learn the stories of the last months of her parents' lives. While this graphic novel does address the experiences of those who lived and died in the concentration camps, it also captures a common experience of survivors after the war: a desperate desire to learn the fate of those they loved.
Lily Renee, Escape Artist: From Holocaust Survivor to Comic Book Pioneer
Lily Renee Wilheim lived a privileged life in 1930s Vienna which was shattered by the Austrian invasion. In a short space of time, her family's possessions are confiscated; her uncle is sent to Dachau; windows are smashed and people beaten and arrested on Kristallnacht...the horrors keep seeming to come. Lily escaped to England, and eventually traveled to America, where the determined, brave young woman would become one of the first female comic book artists. Detailed endnotes provide additional context to Wilheim's story both during and after the war.
Life in a Jar: The Irena Sendler Project
Irena Sendler was a courageous Holocaust rescuer who saved the lives of over 2,500 children and nearly died at the hands of the Gestapo -- and yet as the years after the war went on, her story was nearly forgotten. Then something remarkable happened: three high school girls from Kansas stumbled across a reference to Sendler's heroism and turned her life story into a play. What began as a high school history project ended up being seen across the country and around the world, bringing Sendler the recognition she never asked for but so rightly deserved. A combination of Holocaust history and the history of those who "rescued the rescuer," this book provides an important reminder: the aftermath is ongoing, and we need to remember.
Briar Rose
Rebecca has always been enchanted by her grandmother Gemma's violent version of Sleeping Beauty featuring black boots, shining eagles, and a deadly mist, in which no one but the heroine lives happily ever after. But she's shocked when Gemma makes a proclamation on her deathbed: "I am Briar Rose." Her determination to fulfill her promise to "find the castle, find the prince, and find the spell-maker" — and her need to tease out Gemma's truth from Gemma's fiction — leads Rebecca on a heartrending journey to Poland and into history: into the heart of the concentration camps and the imagination of a woman who used stories to manage the horrors she had seen. Jane Yolen expertly uses fantasy to show how the stories we create can both protect and sustain us.
We Remember
"I believe in the sun / even when it is not shining...." — Anonymous poem written on the wall of a cellar in the Cologne concentration camp
Historical periods like the Holocaust shine a harsh light on the best and the worst of humanity. The easy course is to decide that these topics are too complicated, too frightening, too uncomfortable to share with children. But those who lived and died in that horrible time — those who ran, those who hid, those who protected others — deserve more from us than that. They deserve to know that we will remember.
Further Resources