The best books for kids, teens, and adults about women who dared to fly!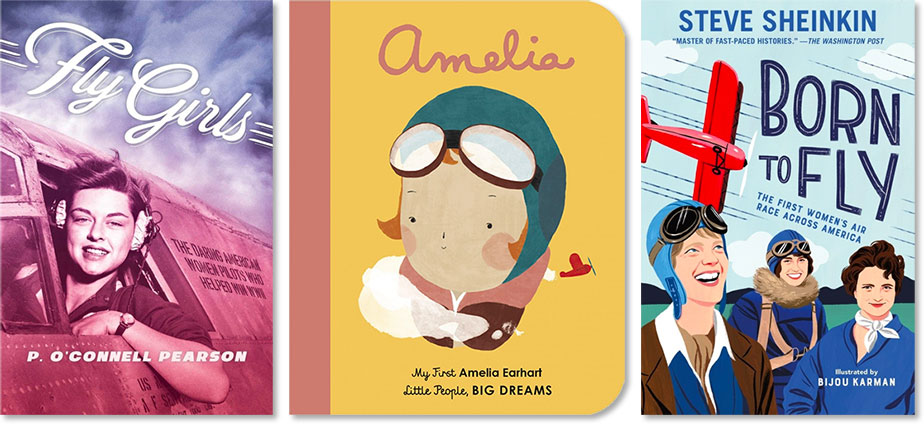 From the earliest days of aviation, women have played a role — but few people know the stories of the daring women who opened the throttles, pulled back on the stick, and soared into history! Even when a name like Amelia Earhart or Bessie Coleman comes to mind, many kids don't know exactly how they made history, and few of them have heard of other groundbreaking women like Sophie Blanchard or Jerrie Mock. So it's time to celebrate these women who founds ways to take flight, even when the world told them they were reaching too high.
In this blog post, we've featured our favorite books for all ages about trailblazing female pilots throughout history. Whether they were on the cutting edge of the development of flight, breaking records and testing the limits of what newer and better airplanes could do, or thrilling crowds with their daredevil maneuvers, these airwomen were bold and daring. And, for the Mighty Girls that read them, these books might just be the inspiration for their dreams of a life in the clouds!
Books About Trailblazing Female Pilots
Young Amelia Earhart dreamed of flying like a bird, so as an adult, she decided to learn how to fly a plane! Female pilots were few and far between, but Amelia wanted to prove that women could fly just as well as men. First, she set a female world record by flying at 14,000 feet; then, she flew across the Atlantic and Pacific oceans; and finally, she decided to try flying all around the whole world. This board book from the Little People, BIG DREAMS series, which also includes a board book about Maya Angelou, will inspire and empower the littlest readers.