56% of girls say they have been sexually harassed at school, but little is being done to help them and 79% of schools claim there were zero incidents of sexual harassment during the entire school year.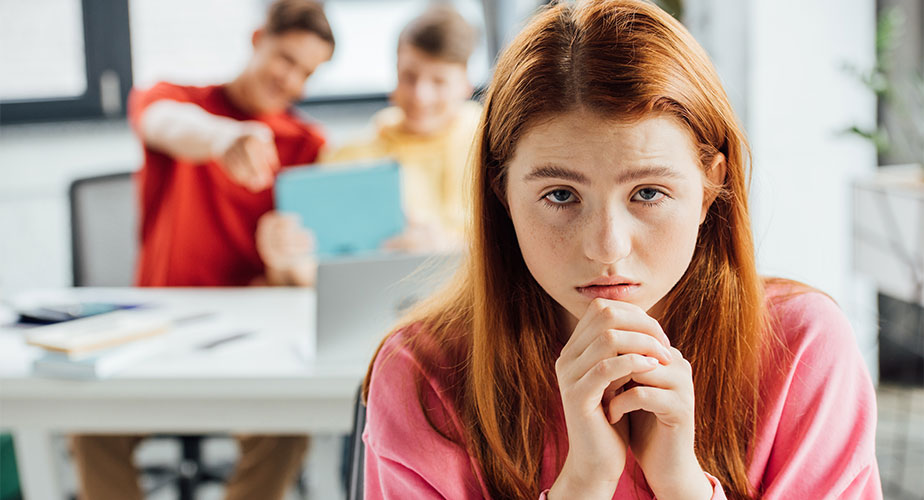 For many women, their first experience with sexual harassment doesn't happen in college or at a job: it happens when they are schoolgirls. Among girls in grades 7 to 12, one national study found that 56% of experienced sexual harassment at school, and the impact of this harassment on girls' well-being was often substantial with 22% reporting trouble sleeping and 37% not wanting to go to school as a result. Adults are sometimes hesitant to talk about this topic in middle school, but there's increasing evidence that these discussions about boundaries, respect, and consent can pay off in unexpected ways. "Sexual and gender-based harassment can be difficult subjects to broach, but abuse thrives on silence," writes Dr. Jasmine D. Williams, a research scientist at the Committee for Children. "By taking harassment seriously, educators and families help empower students to address [these] issues."
Among middle schoolers specifically, a 2016 study found that 43% had experienced verbal sexual harassment, like sexual comments, jokes, and gestures, in the past year, while 21% of students reported "having been touched, grabbed or pinched in a sexual way" and 18% of students said "peers had brushed up against them in a suggestive manner." What's worse, researchers found that many students were "dismissive of these experiences, even though they described them as very upsetting." According to Dorothy L. Espelage, the study's lead investigator, "students failed to recognize the seriousness of these behaviors — in part because teachers and school officials failed to address them." While much of this harassment took place in places where teachers and administrators might witness them — like hallways, locker rooms, and even classrooms — the researchers observed that many adults failed to acknowledge sexual harassment could be happening in their school.
Students' perception that adults don't care about these incidents is reinforced by reports from school administrations themselves. In 2017, the American Association of University Women (AAUW) found that 79% of public schools reported zero incidents of sexual harassment. The vast discrepancy between students and school administrations' reports of sexual harassment demonstrates how negligent most schools are in addressing this issue —  and such neglect sends a clear message to kids that harassment in a non-issue. As a result, many students sexually harassing their peers fail to understand the impact it can have on others with 44% of harassers saying it was not a big deal and 39% saying they were trying to be funny. And contrary to the the tired trope that boys tease girls because they like them, only 3% of them said they liked the target of their harassment and only 6% thought that the target liked the harassment.
What Parents and Educators Can Do About Sexual Harassment in Middle School
Introducing books that explore the topic of sexual harassment in middle school like Maybe He Just Likes You and That's What Friends Do provide an excellent way for parents and educators to start conversations about harassment and boundaries with their tweens. Talking about a fictional character's feelings provides a safe way for both girls and boys to explore this topic, building their empathy for girls experiencing sexual harassment and helping them understand the negative effects of these "jokes" and "games." Holding discussions about harassment through the lens of a story in books clubs and classrooms also provides an opening for adults to show that they consider this behavior inappropriate and that they will act upon reports. Parents can also read such books together with their children and use the opportunity to let their Mighty Girls know that they will support them if they experience similar harassment.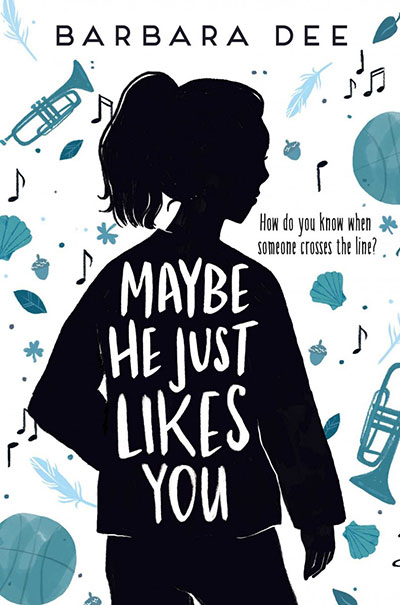 In addition to sharing titles like these, along with others featured in the resource section below, with tweens and opening up discussions about sexual harassment, there are more steps that concerned adults should take to tackle this widespread problem. Adults need to take reports about harassment seriously and take decisive action: just because the kids involved are only 10 or 12 doesn't mean that sexual harassment should be waved off as "teasing" or "bad behavior."
It's particularly important for schools to understand their duty to respond and adequately train teachers and staff on how to respond to sexual harassment among students. This is a part of staff training that's overlooked in many districts or viewed solely as a potential problem among the adult staff. Espelage notes that one teacher told her that "most of the sexual harassment training was viewed as a 'human resource' responsibility, aimed at adults in the workplace and not as a problem that students experience."
Parents should ensure they are knowledgeable about their school's sexual harassment policies — and if there isn't one on the books, there should be. Although people usually think of Title IX legislation in relation to college campuses, Title IX also applies to elementary, middle, and high schools. The non-profit Stop Sexual Assault in Schools offers this fact sheet to inform parents of their children's rights if they experience sexual harassment, including an overview of what the school is obligated to do to remain in compliance on Title IX's sexual harassment policies. There is also a U.S. Department of Education checklist for schools addressing harassment that parents and teachers can reference. If these policies aren't followed, don't let the subject drop; speak to your school district's Title IX coordinator.
Parents should have regular discussions with their kids about respecting boundaries, especially during the tween years when romantic feelings start emerging and kids may struggle with finding the line between flirting and harassment. Our article, 8 Ways Parents Can Prepare Their Daughters for Dating and Healthy Relationships, offers tips for parents on having these important conversations with their daughters. Since many girls are told that when a boy is mean, it's a sign of his affection, it's necessary to address this toxic message head on. Parents should make it clear to girls that harassment is never an acceptable way to show affection and studies have even demonstrated that this unhealthy cliché has no basis in reality.
Girls are often shocked and unsettled by their first experience with sexual harassment. Many are left feeling uncertain, scared, or embarrassed, and they may even experience feelings of guilt by thinking that they somehow encouraged the harasser or are at fault for his behavior. While many parents believe their daughters will naturally come to them after such an experience, more often than not, if this isn't a topic that they've broached with her previously, many will not tell their parents even when harassment is on-going. This is another reason that it's essential to discuss sexual harassment with girls early. By doing so, and making it absolutely clear that she will have your support no matter what has happened, it significantly increases the likelihood that your daughter will reach out to you for support if she ever needs it.
These conversations aren't always comfortable, but they've never been more important — for both our girls and our boys. We can no longer shy away from the topic saying they're "too young" since many girls experience harassment from their peers in middle school and some experience it starting in elementary. By having these conversations and building respect for boundaries early on, we set the framework for healthy relationships for all of our kids, now and for the rest of their lives.
Books About Teaching Boundaries and Respect at Every Age
It's important for kids to understand that bodies have boundaries, and that everyone has a right to their own personal space. Jayneen Sanders, an experienced early years educator, provides simple and familiar scenarios — from giving a hug to pushing to get to the front of a line — to illustrate how "body bubbles" surround everyone and how to figure out when and if it's okay to cross those boundaries. Throughout, she empowers kids to speak up if their body boundaries have been crossed. Notes at the end include suggestions for adults reading the book with kids to further the discussion, building an understanding of respect and consent that will serve them throughout their lives. For another of Sanders' books that empowers kids to assert their boundaries, check out My Body! What I Say Goes! for ages 3 to 7.