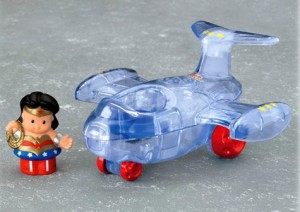 By Katherine Handcock, A Mighty Girl Communications Specialist
Lots of kids, both girls and boys, love having their own special friend and, with that in mind, we're showcasing ten of our favorite Mighty Girl dolls and action figures from our extensive collection of empowering dolls.
This selection features dolls that are diverse and dynamic, just like your Mighty Girl, and offer a wide range of both nurturing play and pretend play opportunities. After all, her new best friend should be as amazing as she is!
For more great options, check out our Dolls / Action Figures section, which is divided into separate categories for Dolls, Action Figures, and Stuffed Animals.
For more toy recommendations, we've included our top toy picks for 2013 in A Mighty Girl's 2013 Holiday Gift Guide. The guide features over 200 carefully-selected, girl-empowering toys for babies, kids, and teens and is sortable by age and ten different themes, including science toys, pretend play, arts & crafts, dolls & action figures, and women's history. And, for small gifts perfect for stuffing in a stocking, check out our Small but Mighty Stocking Stuffers Collection.
Mighty Girl Dolls & Action Figures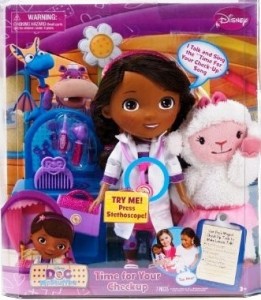 1. DC Super Friends Wonder Woman with Invisible Jet (age 1 - 4)
You can introduce Wonder Woman to even the youngest Mighty Girls thanks to Fisher Price's DC Super Friends line! The Wonder Woman Little People figure is true to character -- complete with her Lasso of Truth -- but safe for toddlers, and the translucent plastic jet makes sound effects and character phrases when Wonder Woman sits in the cockpit. She'll be dreaming of being a superhero in no time!
2. Elise (age 1 - 5)
This colorful soft doll from Haba is ready for play! 12" tall Elise has soft chenille hair, fun (and durable) clothes, and and embroidered expression that says she's ready for some fun. Unlike many dolls for this age, her clothes are fully removable, so even toddlers and young preschoolers can play with different looks for their different adventures.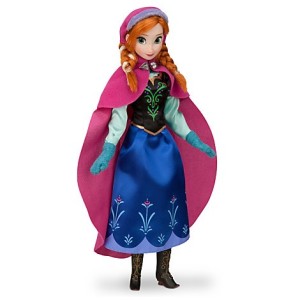 3. Doc McStuffins Talking Doll (age 3 - 6)
Any would-be doctor is probably already in love with Doc McStuffins, who practices caring for her stuffed animals while dreaming of being a doctor like her mom. This official Doc McStuffins talking doll set includes her friend Lambie and a set of doctor's tools that make sounds as she performs a checkup; the doll itself also says phrases and sings the Check-Up song. She'll love getting to practice her own medical skills with Doc!
4. Frozen Classic Anna Doll (age 4 and up)
Fans of Frozen will love this 12" version of Anna! This beautifully made doll is full of careful details, including the white streak in Anna's hair, and features a deluxe version of the flower-hemmed dress she wears when she charges off on her adventure to help her sister Elsa. She'll love getting to play with this silly, loving, and brave character.
5. Frida Kahlo Plush Doll (age 5 and up)
Dolls can also be a great way to amazing people of history like Mexican artist Frida Kahlo. This plush doll pays attention to details, with her traditional Mexican outfit, a full head of yarn hair that's carefully styled, and accessories based on Kahlo's actual wardrobe like a pearl necklace and red scarf. She's about 12 inches tall, a perfect fit for your Mighty Girl's arms and a great introduction to this innovative painter.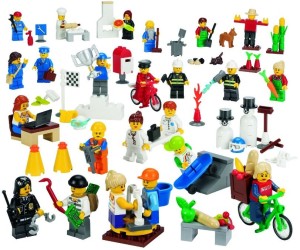 6. Veterinarian Lauren with Vet Kit (age 3 - 9)
If she dreams of being a vet, she can practice with Veterinarian Lauren! This fully articulated figure from Breyer comes with a vet bag complete with a stethoscope, thermometer, syringe, bandages, and other gear she'll need to check on her patients. In fact, she's accurate enough that the American Association of Equine Practitioners recognizes her as a great representation of a real large-animal vet. Your Mighty Girl will love helping get animals back on their feet.
7. LEGO Community Minifigures Set (age 4 - 12)
If your Mighty Girl loves LEGO but gets frustrated by the last of gender representation in the minifigures, this set is the perfect option. The 256 piece set includes parts to build 22 different male and female figures. The female figures are featured in a great variety of occupations, including computer programmer, pilot,  doctor, farmer, police officer, and fire fighter; it also includes a variety of accessories to encourage lots of pretend play.
8. Funko POP! Mary Poppins Figure (age 5 and up)
This perplexing and delightful nanny is now available in a great pop-culture version! Funko's vinyl POP figures are around 3 ¾" tall, making them perfect for pretend play or display. In this version, Mary Poppins is wearing her nanny's outfit and, of course, carrying her rather magical bag and umbrella. Perfect for a Mary Poppins fan, or for anyone who enjoys collectibles.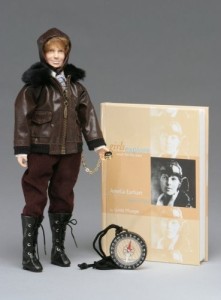 9. Katniss Everdeen Action Figure (age 6 and up)
The determined, fierce Katniss Everdeen action figure is ready to take on the Capitol. Wearing an outfit inspired by the one in the film, and carrying the silver bow and quiver of arrows, this doll is accurate down to the tiny mockingjay pin. She's perfect as a collectible for an older fan of the films, or as a dynamic alternative to a traditional 12" fashion doll for younger girls.
There is also a similar Katniss doll featuring the costume from the recently released Catching Fire movie.
10. Amelia Earhart Doll and Biography (age 8 and up)
If your Mighty Girl dreams of flight, check out this terrific doll and biography set! This Amelia Earhart doll is approximately 12 inches tall and wears a detailed pilot uniform with leather jacket and boots and a flight helmet. The 124 page biography features black and white photos and is well suited to introducing her to this woman's incredible story. As an extra bonus, the set includes a compass for your Mighty Girl to take on her own adventures!
Additional Recommended Resources
Help keep A Mighty Girl growing in the years ahead!
If you discover any books or other resources via this post that you would like to purchase, please use the "Buy at Amazon" link on every A Mighty Girl product page. By doing so, at no added cost to you, you help to support the site and allow us to continue providing you with wonderful girl-empowering resources. Thanks for your support!