By Katherine Handcock, A Mighty Girl Communications Specialist
In our Mighty Careers blog series, we celebrate the careers that Mighty Girls around the world are dreaming of pursuing one day! In each blog, we provide a career role model, as well as recommendations for books, clothing, and toys to support and encourage her aspirations. Whether she's three or thirteen, you'll find options here to teach her more about her dream job — and help her start preparing to live it!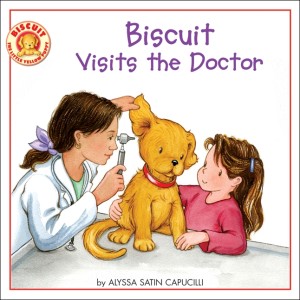 In this post, we're highlighting resources for budding veterinarians! Whether your Mighty Girl pictures herself in a small animal practice, taking care of beloved dogs and cats; a large animal practice, caring for horses and cattle; or a more specialized practice like caring for exotic or zoo animals, her dream job requires a combination of a love for animals and a fascination with science.
And she's not alone in her aspirations: as of 2009, women actually outnumbered men in the American Veterinary Medicine Association, and as of this year, women make up 78% of veterinary medicine students. But it takes determination, drive, and an awful lot of work to earn your Doctor of Veterinary Medicine (DVM) scrubs, so the support she gets from her family and friends will make all the difference in the world to her future success.
To support your Mighty Girl's interest in veterinary medicine, we've collected a variety of books, toys, clothing, and decor that celebrates an interest in animal medicine. With these resources, you can help her achieve her goal of adding the coveted DVM to her name!
For more Mighty Career ideas, check out our earlier posts on engineers, pilots, wildlife biologists, and astronauts.
You can find more stories about Mighty Girl animal lovers in our blog Animal Friends: 20 Mighty Girl Stories About Caring for Animals.
Elite Zoo Vet: Kathryn Gamble, DVM for Lincoln Park Zoo
When you're a zoo vet, you might start your morning with a tiger, check on the bald eagles after lunch, and consult about the pythons before you leave for the day! It takes a special vet to handle such a broad range of animal types; fortunately, Kathryn Gamble, DVM and director of veterinary medicine for Chicago's Lincoln Park Zoo, is up to the challenge. She declared she wanted to be a zoo vet at the age of 9, and went on to get a Bachelors degree in veterinary medicine and her DVM degree from Texas A&M University.
Gamble began her career as an associate vet at the Dallas Zoo and Aquarium, and during her time there, continued to pursue the advanced education necessary to adequately care for so many different animals. She completed a Master's in clinical pharmacology in 1995, and in 1999, she received Diplomate status from the American College of Zoological Medicine (ACZM) — something only 160 people in the world can claim.
In 2002, she became the director at the Lincoln Park Zoo, which she has now established as an accredited teaching institution for the ACZM. "Every veterinary resident who finishes his or her residency here is to become ACZM board eligible, which in itself is a prestigious recognition in the veterinary field," Gamble has said proudly. In 2013, Gamble also became the first American and first woman to receive Diplomate certification with the European Council of Zoological Medicine. "This type of cross continental mentorship is extremely valuable and speaks to the global nature of zoo medicine," Gamble said in a press release about her achievement. She hopes that the Lincoln Park Zoo can become accredited to teach candidates for the ECZM as well.
While completing the grueling study and exams necessary for these certifications, Gamble has also mentored fifty senior veterinary students and conducted her own research, including an examination of great ape blood typing which was used to help save a chimpanzee's life in Africa, and research into the high rate of heart problems in zoo chimpanzees, as well as studies on diseases and treatment of birds and reptiles.
In the end, Gamble said in an interview with Meg Mathis in Michigan Avenue magazine, "It's like being a country doctor. You know who's moving in and who's moving out, who doesn't get along with whom, who's pregnant.... It's fun to be a part of those animals' lives from beginning to end."
Vets On Paper: Books About Vets and Veterinary Medicine
While it's easy to find books about a wide variety of animals, finding books about veterinary medicine for your Mighty Girl can be tricky! These books for a variety of ages feature female vets in fiction, as well as non-fiction about what a career as a vet is really like — and even a few guidebooks to help your Mighty Girl how to make her dream of being a vet into a reality.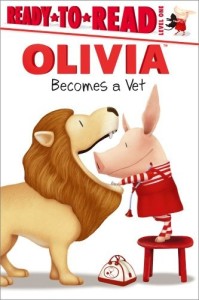 The youngest Mighty Girls might be curious what a vet visit is like for their pet — is it like when she visits the doctor? In Biscuit Visits The Doctor by Alyssa Satin Capucilli (age 4 - 8), Biscuit and his Mighty Girl take a trip to the vet's office for a checkup. As his loving friend looks on, Biscuit gets weighed, measured, and checked so he can be given a clean bill of health. It's a great first introduction of what a vet visit is like — especially if your Mighty Girl is nervous for her animal friend.
Fans of Olivia will enjoy Olivia Becomes A Vet (age 4 - 6), an early reader story about what happens when the irrepressible pig imagines herself running a vet clinic. As always, Olivia's wild imagination goes far beyond seeing regular pets like cats and dogs — soon, she's checking lions, elephants, and camels! Whether your Mighty Girl plans to be a zoo vet, or expects to take care of less exotic animals, this book is sure to make her smile.
From the First Facts series, A Day In The Life Of A Veterinarian by Heather Adamson (age 6 - 9) follows a typical vet through a day at work. As the vet goes through her day, clocks on the pages show the passing of time, and Q&A-style sidebars provide additional information about what's involved in a career as a vet. A glossary and additional resources section at the end provides more great details for would-be vets.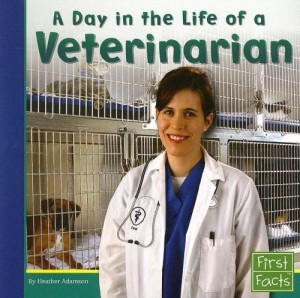 Running a vet practice is one thing, but just as emergency human medicine is different from a general practice, emergency vet medicine is its own specialty. In ER Vets: Life In An Animal Emergency Room by Donna M. Jackson (age 9 - 12), your Mighty Girl will get a look at the challenges facing vets who deal with animals in urgent need of care. The book doesn't pull any punches, whether it's detailing what emergency surgery is like or recognizing that not all emergency patients can be saved, but its stories of vets who will do nearly anything to rescue an animal are sure to inspire your Mighty Girl.
If your Mighty Girl has considered volunteering at a vet's office, Fight For Life, the first of the Vet Volunteers series by Laurie Halse Anderson (age 9 - 12) is sure to be of interest. Maggie's grandmother runs a vet clinic, and Maggie loves helping out. But when she notices a pattern of sick, injured, and abused puppies coming to the office, she realizes the common denominator: a local puppy mill. This adventure with a strong message about animal welfare and rescue is sure to thrill your would-be vet.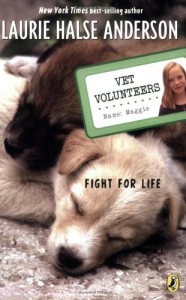 For a historical look at women vets, Diane Lee Wilson's Firehorse (age 12 and up) depicts the challenges facing a 15-year-old girl who dreams of being a vet in 1872 Boston. After meeting Governor's Girl, an injured firehorse, Rachel nurses her back to health and begins to imagine what it would be like to be a vet. Soon Rachel is facing bigger problems than discrimination, though, when an outbreak of fires happens at the same time as all of the city's firehorses fall sick. The Great Boston Fire is on the horizon, and no one, not even Rachel, can see it coming, but perhaps Rachel's bond with Governor's Girl will save more than one horse's life — and give Rachel the chance to realize her dream.
Another great title that captures the struggles of women vets in the past is the new release The Curious World of Calpurnia Tate, by Jacqueline Kelly (age 9 - 13). In this follow-up to The Evolution of Calpurnia Tate, science-loving Callie Vee discovers a new passion when her brother starts bringing home wildlife, and starts an informal apprenticeship under the town vet, Dr. Pritzker. But in 1900 Texas, girls just don't do such things, and Callie's remarkable talent is ridiculed, while her brother's lesser contributions are praised. Nevertheless, the indomitable Calpurnia has no intention of leaving of her newfound interest. Perhaps a girl can be both a vet and a proper lady...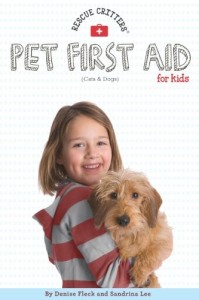 If your Mighty Girl enjoys these stories, but wants more information about preparing for a career as a vet, there are some great guidebooks to animal medicine she can check out! To get her started taking care of her own pets, check out Pet First Aid for Kids by Denise Fleck and Sandrina Lee (age 8 and up). She'll learn the basic steps necessary to take care of an injured or sick vet until she can get to the vet's office. With clear step-by-step instructions and a guide to putting together a pet first aid kit, she'll be ready for anything!
Brian Rogers' Career As A Veterinarian (age 9 - 12) and Dr. Zachary Patterson's How To Become A Veterinarian (age 10 and up) both provide details about the path she'll need to take if she wants to add DVM to her name. Career As A Veterinarian provides details about what a vet's career is really like, as well as what training is required and what career paths a DVM can begin. How To Become A Veterinarian assumes the reader already has a good basic idea of what veterinary medicine is like, and focuses on specific ways to prepare yourself for applications to veterinary colleges, from choosing the right courses in high school to picking the right veterinary program. Both will help your Mighty Girl know what she needs to do in order to achieve her dream.
Vet At Play: Animal Medicine-Themed Pretend Play Toys
If she's already trying to bandage the dog's paws or check the cat's temperature, she'll love getting to play with these great vet-themed pretend play toys!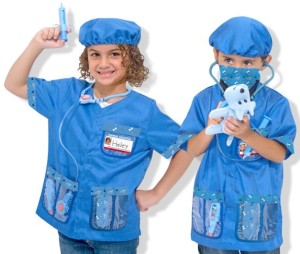 To get ready to meet her patients, your Mighty Girl will love Melissa and Doug's Veterinarian Costume Set (age 3 - 6), which includes a scrub-style jacket, surgical mask, and cap — all machine-washable to make life easy for the ones doing the cleanup afterwards! The set also includes a sound-effect stethoscope, a syringe, a bandage, and a plush puppy patient. And if she has a beloved 18-inch doll, such as one from the American Girl series, her doll can assist in this Doctor/Vet Outfit (age 5 and up).
You can expand her range of tools with Creative Playthings' 30-piece Play Vet Set (age 3 - 8), which includes a dog and cat patient as well as a set of scales, bandages, surgical and grooming tools, and even healthy pet food or Battat's Dalmation Vet Kit (age 2 - 8), which includes a selection of vet tools and a plush dalmation puppy, plus a puppy carrier for transport to and from the vet's office. To give her a wider variety of patients to see, Unipak's plush Animal Hospital (age 3 - 8) includes five beanie animals — dog, cat, bird, bear, and moose — so she can practice her large-animal vet skills too. Or, the littlest would-be vets can check out Toysmith's Critter Clinic (age 2 - 6), which has toddler-safe vet tools and a set of color-coded keys for the hospital kennels to encourage color recognition and matching.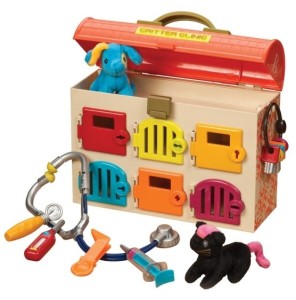 If your Mighty Girl would rather roleplay vet life with an action figure, there are some great options for her. The littlest Mighty Girls can check out the DUPLO Vet, a four piece set that includes a vet figure and a rabbit patient, or the DUPLO Farm Nursery, which is perfect for an aspiring large animal vet with its farm animal babies (both age 18 months - 5 years.)
If your Mighty Girl likes Schleich animal figures — whether pets, farm animals, or zoo animals — the Veterinarian figure (age 4 - 7) will be a perfect addition to her games.
Fans of the Breyer horse figurines will want to check out Veterinarian Lauren (age 3 - 9), a fully-articulated figure in scale with Traditional Breyer horses that comes with a vet bag full of the tools she'll need to take care of horses; she's even been recognized by the American Association of Equine Practitioners for the accuracy of the figure. The Breyer Vet Care Set (age 5 - 12) includes a 6" articulated vet (in scale with Classic Breyer horses) and her foal patient, as well as a friendly barn cat and dog for company! You can also outfit her for more serious vet visits with the Mobile Vet Clinic, a Classic-scale vehicle with real lights and sirens that's ready to handle any emergency in the field.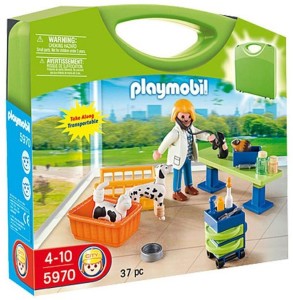 German toymaker Playmobil has a wide variety of vet-themed playsets that can be used separately or combined to create truly large pretend play worlds! Whether it's a traveling vet in her car, a Vet Operating Room which includes a CT scanner, X-Ray equipment, and a surgical table, or an Animal Nursery for caring for large animal patients, your Mighty Girl can find something that matches her future career here. They even have a vet set for travel -- a 37-piece Vet Clinic Carrying Case .
And your animal-loving puzzler will love Ravensburger's At The Vet 100 piece puzzle (age 6 - 10). This high-quality puzzle features an amazingly detailed image of a vet's office, complete with posters on the walls, a wide variety of pet patients, and some excited — or frazzled — human friends! The detail and humor in the picture will encourage your Mighty Girl to study all the action once the assembly is done.
Vet-Themed Wall Art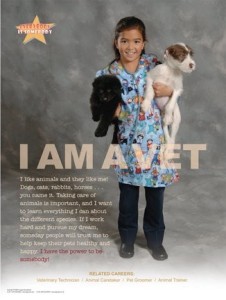 Aside from images of animals, your Mighty Girl may want some other wall art to show off her career dreams! These pieces of wall art will help her create the perfect space and start her dreaming of decorating her own clinic someday.
Imagine This' inspiring I Am A Vet poster features an image of a girl holding a pair of puppies, along with an encouraging and optimistic description of the love for animals that motivates a person to become a veterinarian. When she's uncertain of her path, it's sure to inspire her! The poster also includes a list of related fields like vet technician and animal trainer.
Vets — both current and future — will love this Reserved Parking: Veterinarian sign. With a vinyl graphic on an aluminum base, it's suitable for indoor or outdoor use, so she could use it in her room for now — and on her parking space in the future! Aspiring zoo vets can find a similar sign for zoo veterinarians here.
Dress Code: Vet-Themed Clothing
There's no better way to show off her future career than with a great T-shirt! These vet-themed shirts will let everyone know that her love of animals is going to drive her future.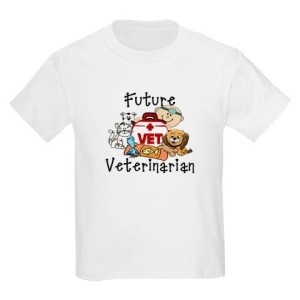 The youngest Mighty Girls will love this Future Veterinarian shirt, with a cartoony graphic showing a variety of different pet patients — and a very young DVM! It's available in infant, toddler, and youth sizes, in a variety of styles including long- and short-sleeved shirts and infant bodysuits. And for those who want to shop green, several of the styles are also available in organic cotton. Older Mighty Girls will want to check out idakoos' Future Veterinarian shirt; made from 100% cotton and available in sizes ranging from US women's sizes 0 to 20, it's sure to be a hit for any soon-to-be veterinary student.
Teens will also like idakoos' Veterinarian Ninja t-shirt, which reminds everyone that a masked face doesn't automatically mean ninja — it might be that she's about to scrub in for surgery!
Mighty Girls and women of all ages will love the Girls Can! Veterinarian shirt, featuring a great cartoon portrait of a female vet. It's available in a wide variety of styles, including T-shirt, baseball jersey, and infant bodysuit, and in sizes ranging from infants to women's and women's plus sizes. Several styles are also available in organic cotton.
And for Mighty Girls who are well on their way to a veterinary career, let them know that she's not just going to be a veterinarian — she's going to be an epic veterinarian! This great juniors T-shirt lets everyone know just how hard she's going to work for her animal patients.
"I felt that I had a duty to other women who might in their ignorance of actual conditions desire to enter the field. It is the duty of a pioneer to blaze a trail, to set up markers for the guidance of those who come after."
— Dr. Mary Knight Dunlap, 1933 graduate of Michigan State University DVM program and founder of the Association of Women Veterinarians
Dr. Dunlap would no doubt be proud to hear that women make up such an active part of the veterinary medicine community today. Someday, your Mighty Girl can proudly join them!
Additional Recommended Resources
Help keep A Mighty Girl growing in the years ahead!
If you discover any books or other resources via this post that you would like to purchase, please use the "Buy at Amazon" link on every A Mighty Girl product page. By doing so, at no added cost to you, you help to support the site and allow us to continue providing you with wonderful girl-empowering resources. Thanks for your support!