By Katherine Handcock, A Mighty Girl Communications Specialist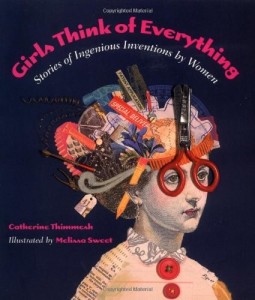 In our Mighty Careers blog series, we celebrate the careers that Mighty Girls around the world are dreaming of pursuing one day! In each blog, we provide a career role model, as well as recommendations for books, clothing, and toys to support and encourage her aspirations. Whether she's three or thirteen, you'll find options here to teach her more about her dream job — and help her start preparing to live it!
In this post, we'll talk about the Mighty Girls who dream of designing the future as engineers. From the first day your infant Mighty Girl tried to figure out how to make her stack of blocks taller, she's been engineering; but, while numbers are rising, in most nations fewer than 12% of engineers are female. We're betting this generation of Mighty Girls will change that, but to do so, they need all the support and encouragement we have to give!
If you want to foster your Mighty Girl's interest in engineering, this blog will give you the resources to do that. Whether you're sharing stories of women engineers, tinkering with some great engineering toys, or getting her a shirt that lets her declare to everyone what she wants to be when she grows up, you'll be letting her know that her dream can become reality.
For more Mighty Careers posts, check out the earlier entries in the series about astronauts, wildlife biologists, and pilots.
The Other Engineer: Jeanne L. Crews, NASA Aerospace Engineer
Jeanne Crews was interested in science from an early age long before women in science were common. In an oral history interview for NASA, she says, "My parents were wonderful.... Whatever I wanted, so they really encouraged [me]. I think that's one of the basic things, and [they] never said 'You can't do this. You can't do that.'" She showed her mettle as an engineering freshman at the University of Texas by scoring in the top ten in a faculty test of the freshman class; her high placement earned her a chance to participate in an experimental engineering science program.
After graduating, Crews was hired by NASA in 1964. She says, "I was one of the first women engineers there. They didn't know what to do with me." In one early project, she remembers, she coordinated extensive work on lighting for the Gemini and Agena rockets; "I noticed how Dean [Grimm] said, 'Another engineer and I.'... I was the other engineer. But I really had to work hard to get the responsibility. Everybody wanted to hold my hand." And although she loved flying the simulators for the lunar module, she says, "[Donald K.] Slayton said, 'You will not be photographed getting in and out. We don't want them to think there's a woman astronaut.'"
One of Crews' biggest concerns working for NASA was the potential for spacecraft to be damaged by space debris. "I started testing things, just different materials, to see how they would withstand impacts. It wasn't good.... Nobody was telling the engineers, 'Hey, your spacecraft are not being designed right.'" As she pushed for better protection for NASA's vessels, she met Burt Cour-Palais, who had a similar interest in protecting spacecraft from debris. When she introduced herself, she said, "We are going to go fix this problem. Between your experience and your expertise in this stuff, and my determination and knowledge with the crew, we're going to do it."
The pair's conflicting ideas pushed them both to work harder. Crews decided to work with a ceramic fabric called Nextel, and to create a series of layers that would shock particles over and over, breaking them apart and diffusing their energy. In the end, she created a multi-layered, multi-fabric shield she called a "space bumper", lighter than a single sheet of aluminum but capable of stopping the vast majority of space debris. Crews is proud that she's made current and future astronauts' lives a little safer: "I like the big picture, and I really enjoyed trying to get people convinced of things, and I was so proud of it when they would realize it."
You can read more about Crews in her oral history interview with Rebecca Wright or in the book for ages 8 to 12 Girls Think of Everything: Stories of Ingenious Inventions By Women by Catherine Thimmesh.
Making It Work: Books About Engineers and Engineering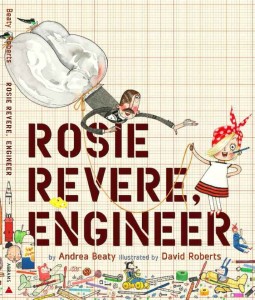 If your Mighty Girl loves the idea of building something new, she'll love reading these books about Mighty Girls and women that do just that! Whether she's reading a piece of fiction or a fascinating biography, she'll love hearing about how other girls managed to make their big ideas work in real life.
In Rosie Revere, Engineer by Andrea Beaty (age 4 - 9), quiet Rosie dreams of becoming a real inventor. When her great-aunt Rose (of Rosie the Riveter fame) comes to visit, Rosie learns that her daring aunt has one unfulfilled dream: to fly. Rosie is determined to make Aunt Rose's dream come true. And even though Rosie's contraption doesn't make it off the ground, her Aunt has some words of wisdom: the only true failure is giving up. By providing both an engineering girl role model and an important lesson in perseverance, this book will help her realize that she can achieve what she wants.
Real-life engineer Mattie Knight was inventing things long before people believed that women could be inventors. And though she had to fight to be recognized — she spent time in a courtroom fighting a man who claimed her invention for making square-bottomed paper bag was his, since a woman "could not possibly understand the mechanical complexities" — she was eventually nicknamed "the Lady Edison" for creating so many new machines. There are two great picture books about Mattie Knight: Marvelous Mattie: How Margaret E. Knight Became an Inventor by Emily Arnold McCully, and In the Bag!: Margaret Knight Wraps It Up by Monica Kulling and illustrated by David Parkins (both age 5 - 8).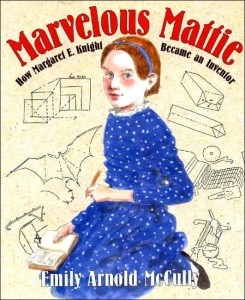 Mattie Knight is also featured in Girls Think of Everything!: Stories of Ingenious Inventions By Women by Catherine Thimmesh and illustrated by Melissa Sweet (age 8 - 12). In this book, you'll learn how everything from windshield wipers to Liquid Paper to chocolate chip cookies were created by women. Mixed in with the stories of these household items are more unusual inventions, like Kevlar and space shields. Best of all, the book includes a short guide to help your own inventor get herself started.
If your Mighty Girl thinks of engineers and inventors as men with thick glasses and crazy hair, the graphic novel Hedy Lamarr and a Secret Communication System by Trina Robbins and illustrated by Cynthia Martin (age 8 - 11) will show her that anyone can be an engineer! Hedy Lamarr is best known as a glamorous movie star from Hollywood, but during World War II, she and musician George Anthiel developed spread spectrum technology, a technique that she thought would help defeat the Nazis. While it was not used during the war, Lamarr's idea is the forerunner of technologies we use every day, including Wi-Fi, GPS, and Bluetooth.
And to learn more about how a wide variety of women ended up in engineering careers, check out Women of Steel and Stone: 22 Inspirational Architects, Engineers, and Landscape Designers by Anna M. Lewis (age 12 and up). Part of the Women of Action series, this 2014 release celebrates women with a passion for building who persevered through discrimination and other challenges to accomplish their goals.
You can find books about engineers and inventors in our Science / Technology book section.
Dressing For the Job: Engineer-Themed Clothing
She can show off her dreams of an engineering career with these great clothing options!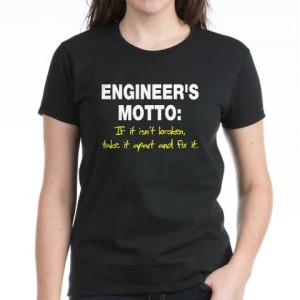 For everyone from the littlest Mighty Girls to teen Mighty Girls on their way to an engineering degree, the Future Engineer T-shirt is the perfect way to show off her dreams! It's available in sizes from infant bodysuits to adult T's, and you can even get the design on a water bottle or messenger bag.
If her love of engineering comes from a love of building, she'll enjoy this Live, Love, Build T-shirt, which is available in sizes from toddler to adult. It's the perfect thing to wear as she builds her latest invention.
It's the search for perfection — greater efficiency, higher power output, easier use — that drives most engineers. That's why, as this shirt declares, the engineer's motto is "if it isn't broken, take it apart and fix it"! The design is available in multiple adult and adult plus styles, including both long- and short-sleeved shirts, a maternity shirt, and even a pair of pajamas. It's a great way to remind people that there's a good reason why engineers are always tinkering.
Engineer At Play: Building and Engineering Toys
From the first set of building blocks to complicated robotics kits for teens, toys are a great way to encourage Mighty Girls' interests in engineering. Below are a selection of great options to get your Mighty Girl started!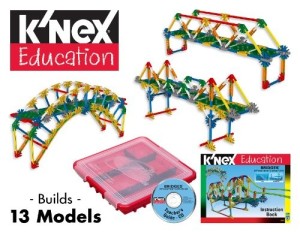 Building toys are a great place to begin. From classics like sets of Duplo (age 18 months - 5 years) and Lego blocks (age 4 - 12) or the original K'Nex set (age 7 - 12), to newer toy systems like Magna Tiles (age 3 - 7) and Magformers (age 3 and up), which use magnets for assembly, or Wedgits (age 3 - 8), which allow you to stack and interlock complex shapes, building toys encourage the beginnings of an engineer's mindset. What pieces fit and which don't? How can I make my structure taller, stronger, and better? Any of these toys will foster open-ended, exploratory building play.
Older kids can explore more complex building concepts with K'Nex's Intro To Structures: Bridges set (age 8 - 15). Kids learn about tension and load, suspension and cantilevering, and other concepts as they build seven different bridge types. It's a great way to show older Mighty Girls how building play can still help them prepare for an engineering career.
A good understanding of basic machines is important for engineers. Even preschoolers can learn how gears interlink with toys like Gears! Gears! Gears! (age 3 - 10) and Gearation (age 3 - 7). School-aged kids can learn how wheels and axles can combine with Goldie Blox and the Spinning Machine (age 4 - 7), which challenges kids to build machines of increasing complexity as they advance along the included storybook.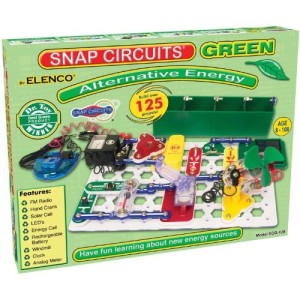 Older kids can explore Mindware's Contraptions (age 7 - 12), which lets you experiment with a variety of different marble runs. Or, they can learn about all the simple machines with K'Nex's Intro to Simple Machines series (age 8 - 14), which has kits for learning about Gears, Wheels, Axles, and Inclined Planes, and Levers and Pullies.
Chances are good your would-be engineer is also curious about electrical engineering, and that's knowledge that isn't out of place no matter what she decides to do! There are some great options for kids to learn the basics of electric circuits. For a simple introduction to electricity and circuits, the Snap Circuits SC-300 kit (age 8 and up) is a great place to begin. The modular circuit components snap together to create a variety of different projects, including switches, integrated circuits, digital circuits, and fuses. Plus, additional Snap Circuits kits can be combined with this one to create new projects, including the very popular Snap Circuits Alternative Energy Kit, which will teach your environmentally conscious Mighty Girl about alternative energy sources.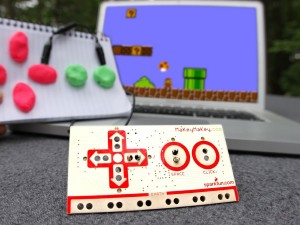 littleBits provides similar learning opportunities with their littleBits Base Kit (age 10 and up). Their modular components click together with magnets; components included in this kit include a button, light sensor, dimmer, buzzer, and LED. The included activity kit provides a variety of circuits to duplicate, and kits can be combined to make larger and larger circuits, making this a very flexible learning toy.
To really spark your Mighty Girl's creativity, check out MaKey MaKey, which lets you turn almost anything into an input device for a computer. Make a touchpad out of a piece of paper, piano keys out of bananas, or a keyboard out of the letters from a can of alphabet soup! Any material that will conduct a bit of electricity will do. Not only does it provide some great imaginative engineering fodder, but it's also a brilliant way to combine engineering with art, music, and other disciplines. Kids as young as 3 can use it with adult assistance, or let older Mighty Girls explore on their own.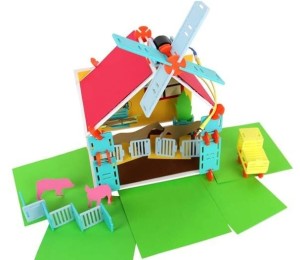 Of course, it's fun for Mighty Girls to work on projects involving more than one kind of engineering at once! Roominate (age 6 - 12) is a modular room-building kit that allows your Mighty Girl to build a room and furniture, then wire a variety of different projects — a fan, an elevator, lighting, even a water slide! It was designed by two female engineers, Alice Brooks and Bettina Chen, to help get girls engaged in hands-on engineering experiences. The Roominate Basic Kit will let your Mighty Girl build a single room, while the Deluxe Kit allows for more complex and even two-storey structures. It's a great way to combine engineering practice with pretend play.
And for a real engineering challenge, check out the LEGO Mindstorms EV3 robotics kit (age 10 and up). Build a variety of robots — either following their suggested designs, or creating your own — and then program them to perform a wide variety of actions! The programming interface is easy and intuitive, but exploring how to take a bunch of bricks and turn it into a functioning robot is sure to have her busy for hours!
"I was always interested in how things work and science, and I love all sorts of science….I had no restrictions, because I didn't know enough about what had been done for anybody to say to me, 'You can't do it.' In fact, I never did know what the words 'You can't do it' means in my whole life." — Jeanne L. Crews in a NASA oral history interview with Rebecca Wright
The tinkering Mighty Girls of today are going to be the engineers who change the world tomorrow! By continuing to support and encourage their dreams, who knows what they will create?
Additional Recommended Resources
Help keep A Mighty Girl growing in the years ahead!
If you discover any books or other resources via this post that you would like to purchase, please use the "Buy at Amazon" link on every A Mighty Girl product page. By doing so, at no added cost to you, you help to support the site and allow us to continue providing you with wonderful girl-empowering resources. Thanks for your support!