A Mighty Girl's top picks of books for children and teens about real-life girls and women who fought for a more just, equal, and peaceful world.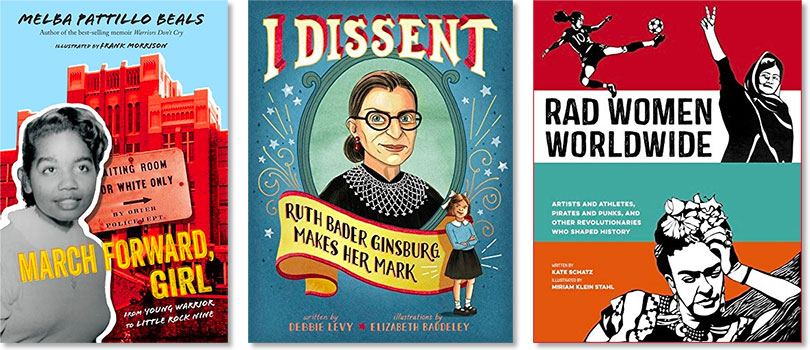 When people think about what it means to love their country, some assume patriotism requires unwavering support, and that questioning or disagreeing with their government's choices is unpatriotic, disruptive, and even dangerous. But the truth is that dissent makes countries stronger: when citizens demand the best from their leaders and their countries — justice, accountability in government, and equal rights for all — everyone benefits. In fact, throughout history, progress for every country has come from people's willingness to stand up for what they believe in and insist on being heard, even if their beliefs counter those of the people in power. In other words, dissent isn't distracting or divisive: it's patriotic!
To explore this topic with children and teens, we've showcased 40 of our favorite books about girls and women who resisted —  who dared to stand up against the laws and social norms of their day to fight for societies that were more just, tolerant, and equal. These people, from all walks of life, fought hard for causes they believed in, including women's suffrage, labor rights, civil rights, environmental protection, and more. They argued, they disagreed, and they protested — and today, we hail them as heroes whose courage and determination led to positive change and helped create a better future for everyone.
For hundreds of books about girls and women who have made an impact, visit our Role Model Biography section.
Books About Girls and Women Who Fought For Change
All Bessie wants is to go hiking with her father and brothers... but girls don't get to go hiking in 1896, so she's left behind at home. Soon after, however, she gets to meet an intriguing visitor: Susan B. Anthony, in town for a rally in hopes of passing the first referendum on women's suffrage. Inspired by Anthony's speech, Bessie recruits a friend to join her as she helps at the suffrage headquarters. There may be lots of things that Bessie can't do, but perhaps, someday, those restrictions will finally be lifted. Although the 1896 referendum did not pass, this inspiring story hints at the change to come thanks to the efforts of the suffragists: Bessie's mother learns to ride a bicycle and her father decides to take her hiking after all. For more books for all ages about this trailblazer for women, visit our Susan B. Anthony Collection.
Additional Recommended Resources